Divers close in on three spots in red lake while GPR technology is on standby in search for slain victims
Divers and robotic camera operators are focusing on three areas within the red lake on Thursday, in search of a missing Filipina who is believed to have been murdered by alleged serial killer Nikos Metaxas.
(Click here for an update to the story)
Police investigators believe that a third suitcase could contain the body of 30-year-old Maricar Valdez Arquiola from the Philippines, who went missing on 13 December 2017.
Three areas within the red lake have been confirmed as possible targets, following sonar data analysis on Wednesday evening. A diver and a robotic camera operator are checking those points based on coordinates given by the sonar equipment.
Ground penetrating radar on stand by
According to media reports, if the three marks in the red lake yield nothing, it is expected that ground penetrating radar will be used to search for objects underneath the surface of the lakebed. Tha GPR can show objects buried underneath the mud at the bottom of the lake or other types of underwater layers.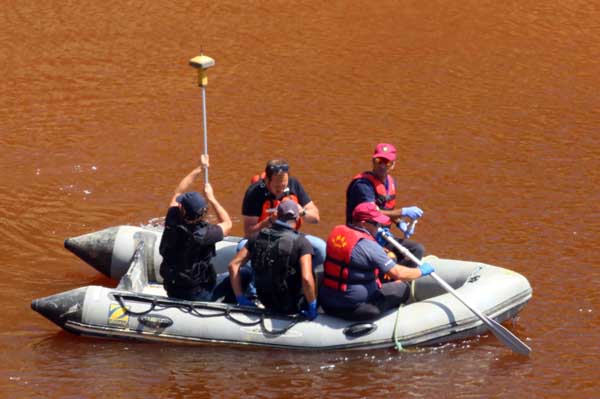 Metaxas, the alleged serial killer who reportedly confessed to seven murders, had indicated specific areas where he said he had dumped Maricar's body, as well as two other suitcases. The bodies of a Romanian mother and her child were previously recovered from the red lake but divers failed to locate the third victim due to worsening conditions with visibility said to have dropped down to zero.
False alarm over unknown object
On Wednesday, a diver pulled out of the toxic waters an unknown object, with forensic pathologists rushing to the scene. While it appeared initially that a body bag could have been found, officials said the object turned out that be unrelated to the search.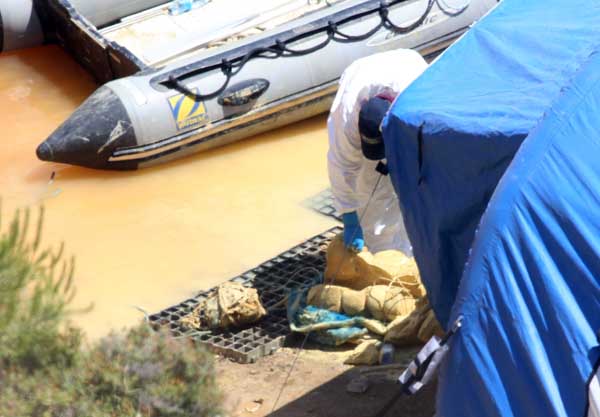 According to local media, the find contained a few sponges wrapped around a long piece of wood, with everything wrapped inside a rug. No explanation was given but reporters noticed member of the bomb squad showing up and leaving a short time later.
A few miles west of the red lake, another search is taking place in XIliatos reservoir where the suspect said he dumped six-year-old Sierra Graze Seucalliuc. Metaxas, also known as Orestis, also reportedly confessed to killing her mother whose body was discovered by chance in mid-April.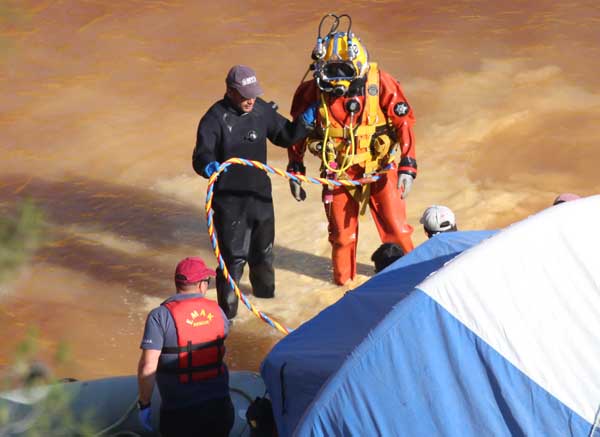 - Marry Rose Tiburcio, 38, Philippines (DNA confirmed)
- Sierra Graze Seucalliuc, 6, Philippines (missing, feared dead)
- Αrian Palanas Lozano, 28, Philippines (DNA confirmed)
- Maricar Valdez Arquiola, 30, Philippines (presumed dead)
- Livia Florentina Bunea, 36, Romania (body identified)
- Elena Natalia Bunea, 8, Romania (body found)
- Asmita Khadka Bista, 30, Nepal (DNA pending)