Kovesi visits Nicosia to get support and iron out administrative challenges in fight against corruption in the EU
Europe's newly-appointed chief prosecutor paid a visit to the Republic of Cyprus on Monday, where she held talks with the island's Law Office in an effort to iron out Nicosia's administrative challenges and concerns in the EU's fight against corruption.
Cyprus' Law Office on Monday made statements of support to European Chief Prosecutor Laura Kovesi, who came to Nicosia to tackle a number of issues to ensure her office could work well together with Cypriot authorities in tackling crime against the EU budget.
Kovesi had been pushing for a full-time appointed prosecutor in Cyprus, after telling media back in January that around 10% of all pending fraud cases against the EU budget were linked to the island
A press release following the meeting said Attorney General George Savvides told Kovesi she could count on "continuous and full support" from him and Deputy Attorney General Savvas Angelides, both of whom had served as ministers before becoming the nation's chief law enforcers in late June 2020.
"The Republic of Cyprus has always been a great supporter of the establishment of the European Public Prosecutor's Office and has chosen to voluntarily participate in EPPO, whose aim is to deal with criminal offences affecting the financial interests of the Union," Savvides was quoted as saying in the press release.
Kovesi thanked Savvides for his "support and cooperation in tackling the administrative issues related to the operation of EPPO's office in Cyprus," according to the same press release.
The European Chief Prosecutor had been pushing for a full-time appointed prosecutor in Cyprus, after telling media back in January that around 10% of all pending fraud cases against the EU budget waiting to be tackled by her office were linked to the island.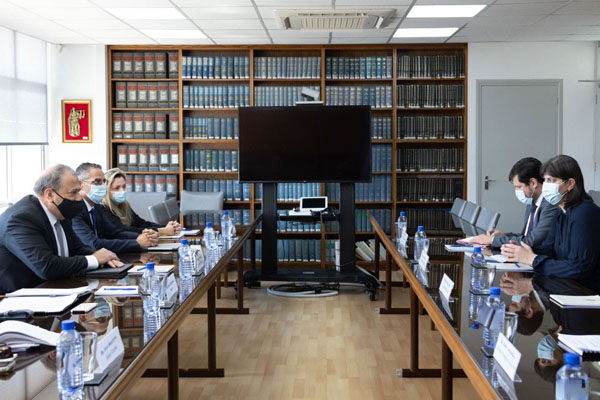 "That is a lot of work and this is the reason why we need to have full-time prosecutors there in Cyprus," Kovesi had said at the time.
Participating countries must appoint at least two persons to act as delegated national prosecutors who would carry out work for EPPO.
Katerina Loizou, a seasoned prosecutor who works in the attorney general's office, was appointed in July 2020 as European Prosecutor for Cyprus, while another individual in the same office is understood to have been appointed as a backup.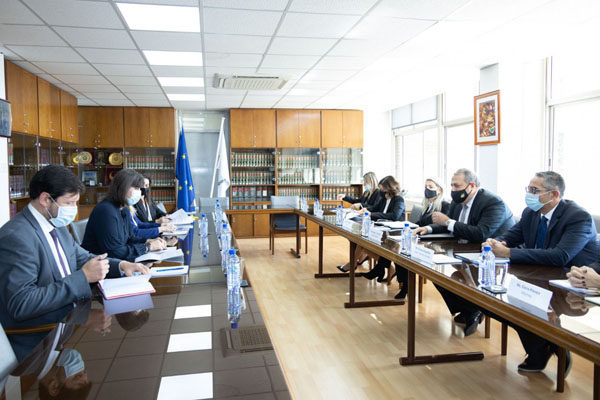 During Monday's meeting, views were exchanged regarding EPPO's work while attempts were also made to clarify contentious issues regarding the application of EU law and national law regarding criminal prosecutions conducted by Nicosia on behalf of EPPO.
During long discussions in Brussels before setting up EPPO, Cyprus and other EU member states kept insisting that delegated prosecutors carry out the main functions in criminal prosecutions to preserve national competences, while disfavoring a central role by the European Public Prosecutors Office.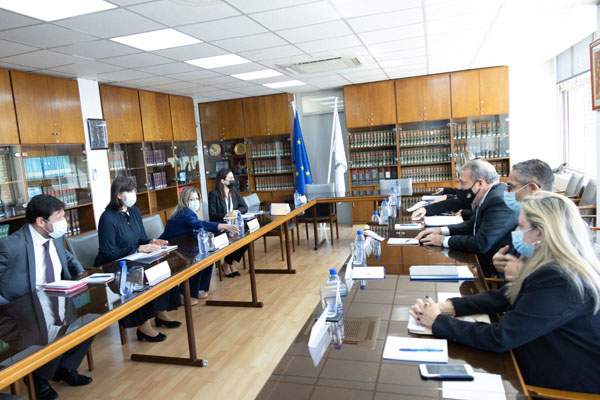 Kovesi has also spoken in the past in favor of EPPO delegated prosecutors not taking on other duties so that they could avoid being bogged down with work unrelated to her office. She had suggested based on media reports that Cyprus was one of two countries that fell in that category.
According to the Law Office press release, the two Cypriot delegated prosecutors carry out their duties from their offices in Nicosia.
"In accordance with the agreement reached between the Law Office and EPPO regarding the appointment of the first Cypriot European Delegated Prosecutors, one of the two Cypriot legal officers has been serving as a full time European Delegated Prosecutor since June 1, 2021 and the second will be providing her services when it is deemed necessary," the statement said.