ExxonMobil announced today a major offshore gas find in Cyprus Block 10.
It is estimated that the size of the natural gas reservoir ranges between 5 and 8 trillion cubic feet.
The discovery is the largest find in the Cyprus Exclusive Economic Zone so far and concerns the Glaucus 1 prospect.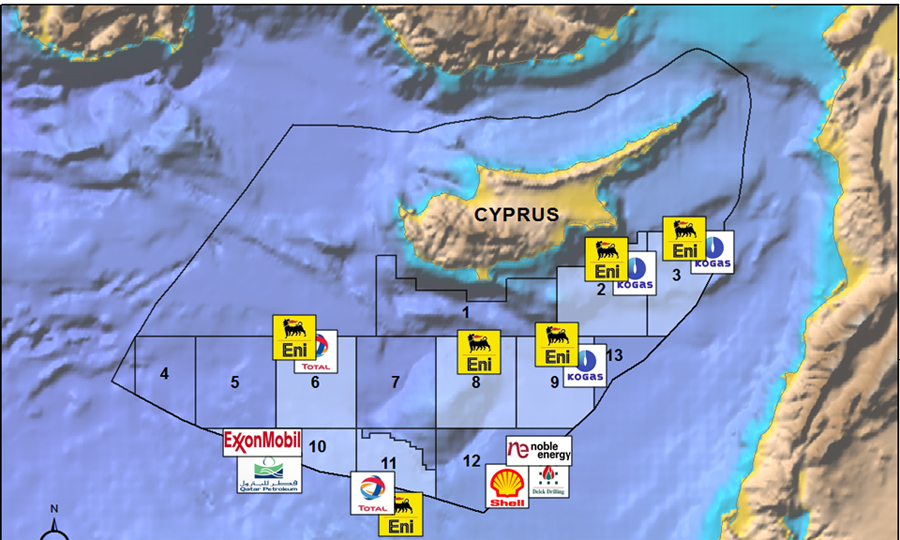 The positive outcome was announced by Energy Minister Yiorgos Lakkotrypis and ExxonMobil Vice President Tristan Aspray at a press conference in Nicosia.
In order to accurately assess the amount of natural gas contained in the Glaucus reservoir, further evaluation work will be carried out within the next months. It was also announced that the first exploratory drilling in Delphyne 1 did not lead to the identification of commercially viable reserves.
Mr. Lakkotropis said that the results demonstrate the energy potential of the Eastern Mediterranean and particularly of the Cyprus EEZ. The Minister said that at the Glaucos well a 133 meters gas column has been identified and that the deposit is of excellent quality.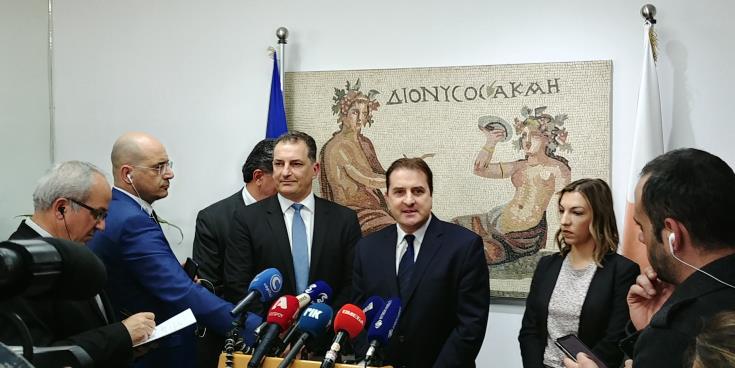 He added that the findings provide a good basis for examining the possibility of creating an LNG terminal, noting however that even larger quantities will be needed. The Minister of Energy pointed out the need to adopt a specific energy program in order to fully utilize the discoveries.
Mr. Aspray expressed enthusiasm for the discovery at Glaucos 1, adding that the US company will continue analysis of the results. He said that the first goal is to find ways to transport gas to onshore facilities while also stating the interest of ExxonMobil for further exploratory drillings in the Eastern Mediterranean.
ExxonMobil in a press release said that the well, located in Block 10, encountered a gas-bearing reservoir of approximately 436 feet (133 meters). The well was safely drilled to 13,780 feet (4,200 meters) depth in 6,769 feet (2,063 meters) of water.
Based on preliminary interpretation of the well data, the discovery could represent an in-place natural gas resource of approximately 5 trillion to 8 trillion cubic feet (142 billion to 227 billion cubic meters). Further analysis in the coming months will be required to better determine the resource potential.
"These are encouraging results in a frontier exploration area," said Steve Greenlee, president of ExxonMobil Exploration Company. "The potential for this newly discovered resource to serve as an energy source for regional and global markets will be evaluated further."
Glaucus-1 was the second of a two-well drilling program in Block 10. The first well, Delphyne-1, did not encounter commercial quantities of hydrocarbons.
Block 10 is 635,554 acres (2,572 square kilometers). ExxonMobil Exploration and Production Cyprus (Offshore) Limited is operator and holds 60 percent interest in the block. Qatar Petroleum International Upstream O.P.C. holds 40 percent interest.
@ExxonMobil & @QatarPetroleum make a world-class discovery offshore #Cyprus at #Glaucus. A high-quality reservoir 5-8 TCF of #NatGas is added to the country's reserves and demonstrates the emergence of the Republic's #EEZ as an alternative indigenous source of supply to the #EU. pic.twitter.com/BkE0VKrKTS

— Georgios Lakkotrypis (@GLakkotrypis) February 28, 2019