Shemaine Bushnell Kyriakides
On the occasion of Children's Day, celebrated annually on June 1st, an enchanting event unfolded at the Gardens of the Presidential Palace last Saturday morning the 24th of June, organized by the First Lady, Filippa Karsera Christodoulides. Children from various parts of Cyprus, living in vulnerable circumstances, were invited to partake in the festivities.
The young guests were warmly welcomed by President Nikos Christodoulides, accompanied by his wife and the children of other officials and employees of the Presidency. The summer children's party had been a heartfelt desire expressed by the children during previous interactions with the First Lady.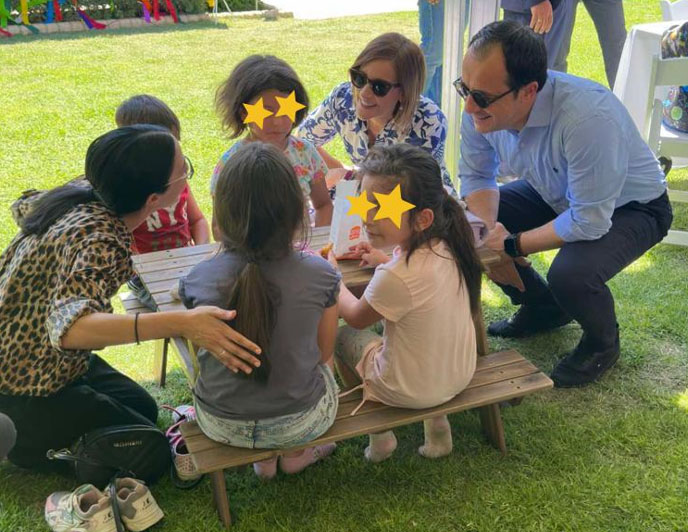 Throughout the morning, the children enjoyed a range of activities, fostering an atmosphere of camaraderie and enabling them to make new friends. They reveled in the presence of President Christodoulides, who actively engaged with them, adding to the joyous ambiance.
Expressing her delight, the First Lady emphasized the significance of the children's presence at the Presidential Palace, which was specially opened for the occasion. She extended her gratitude to the sponsors and volunteers for their invaluable support in organizing the event, showcasing the enduring goodness in people's hearts, even amidst challenges. Additionally, she thanked the dedicated staff of the Presidential Palace and the Ambulance Service for their contributions.
Deputy Minister of Social Welfare, Marilena Evangelou, highlighted the ministry's commitment to ensuring that every child grows up in a healthy and secure environment, offering equal opportunities for their overall development. She emphasized the government's responsibility to safeguard children's rights, assuring that children remain a focal point in governmental policies.
Mrs. Evangelou lauded the First Lady for orchestrating such a beautiful event, extending her wishes to the children for a memorable time amidst the captivating gardens of the Presidential Palace.
As the day drew to a close, laughter and cheerful memories echoed through the gardens, providing a heartwarming celebration of Children's Day.