The information that does occasionally come to light mentions numbers as high as 6 or 7 (in more conservative scenarios) or as high as 15-20.
by Yiannis Ioannou
Three years ago today, in December 2019, Turkey publicly announced the first-ever permanent deployment of the TB-2 Bayraktar drone in the occupied territories. The entire Turkish press at the time reported on a Turkish-"TRNC" "agreement" for the permanent relocation of Turkish drones in the occupied territories. This development sparked international debate about Turkey's forward-basing doctrine in the eastern Mediterranean, using the geographical space of Cyprus. It took a UAV of this type five hours to travel from Turkey to the illegal airport of Tymvou. Since then, Turkey has developed a plan for maintaining drones in the occupied territories for the purposes of regional power projection and intelligence gathering, culminating in 2021 with the completion of the installation ("basing") in occupied Lefkoniko.
The number of TB-2s allegedly permanently stationed in the region has not been confirmed; the only information available is primarily journalistic and refers to figures as high as 6 or 7 (in more palatable scenarios) or as high as 15-20. (mainly in the Turkish press).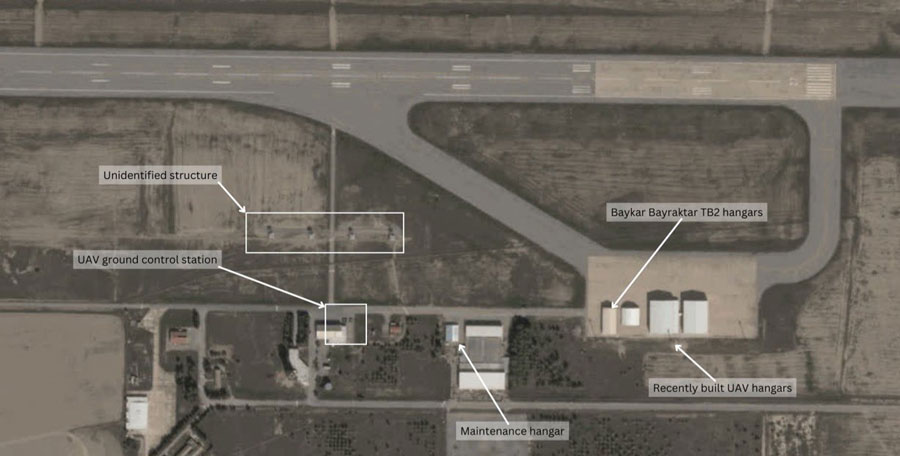 Satellite image of the Turkish drone base in Lefkoniko that is widely circulated in OSINT (Open Source Intelligence) analyst circles in NMD and imagery intelligence (IMINT) forums. It can be clearly seen (right of photo) that in relation to 2021 and the initial shots of the area, Turkey has in recent months increased the hangars of the base by adding three more. This is a sign that it wants to expand the number of UAVs it can launch from Cyprus, which could include larger drones than the TB-2, such as the Akinci or, in the future, the upgraded TB-3, based on the size of the two new hangars. Also visible in the photo is an unidentifiable structure running parallel to the runway, while the drone's flight control station has not moved. Naturally, due to the significant limitations, analyzing a shot like this does not provide a 100% reliable method for drawing conclusions (e.g. the resolution of the shot). But in this instance, the addition of new facilities is amply documented.  Source: Twitter, Sarah Hansen, Planet Labs Netherlands
A pattern can be seen
The work to upgrade drone flight capabilities in the occupied territories should not come as a surprise given Turkey's open rhetoric about upgrading both the base at Lefkoniko and establishing a naval base at Bogazi - as a motif for both creating artifacts and in the context of the operational use of the occupied territories to project Turkey's power in the eastern Mediterranean.
The interesting aspect of these drone flights over the buffer zone is that they occur all the way along its length. OSINT analysts and well-known platforms like Flight Radar are now keeping track of Turkey's drone operations in the area based on the occupied territories.
[This article was translated from its Greek original]