Kathimerini Greece Newsroom
A new horror is unfolding in Izium, bringing back memories of the atrocities in Butcha last April. According to information reported by Reuters, citing eyewitnesses, many bodies of people have been found in mass graves, their bodies tied with ropes around their necks and arms.
According to the Ukrainian police, most of the people buried in the mass grave discovered in the town of Izium are civilians, and a spokesman for the United Nations Human Rights Commission said that a mission to the town was planned in order to see the atrocities firsthand.
The Ukrainian authorities have identified the site of the mass burial site with some 440 bodies, calling it evidence of war crimes committed by the invaders in territory they have controlled for months. "Russia is leaving death behind everywhere and must be held accountable," Ukrainian President Volodymyr Zelensky said.
The mass burial site was discovered at the former Russian force's stronghold of Izium, which was recaptured by Ukrainian forces after thousands of Russian soldiers fled the area, leaving behind weapons and ammunition.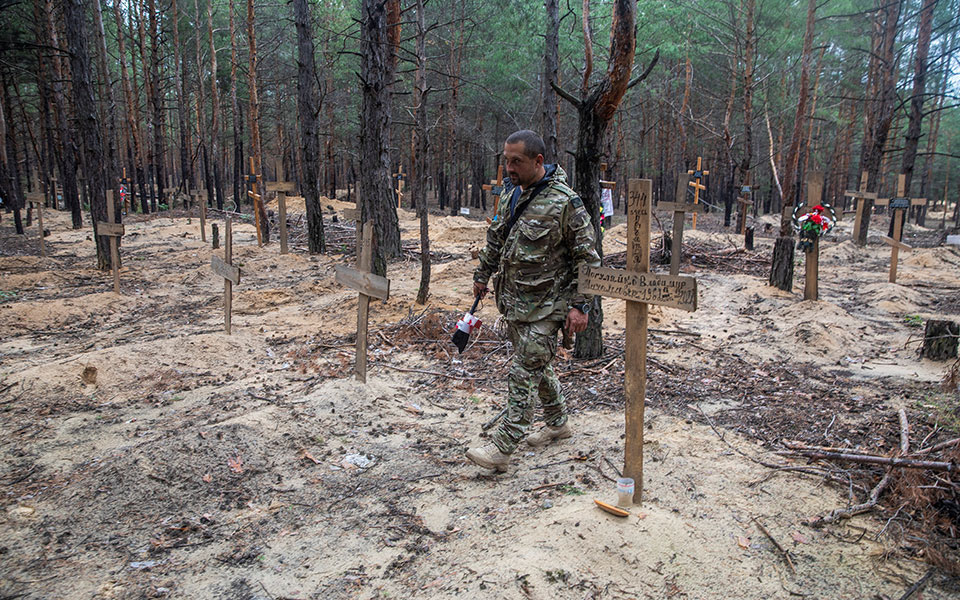 REUTERS/Oleksandr Khomenko
"For months, terror, violence, torture and mass killings have dominated the occupied territories," Mikhailo Podolyak, an adviser to Zelenetsky, said in a Twitter post in English over a photo showing a forest, with the muddy ground strewn with wooden crosses. "Does anyone else want to 'freeze the war' instead of sending in tanks? We have no right to leave people alone with evil."
In his post, Podolyak refers to "450 graves".
450 graves... Only one of the mass graves discovered near Izyum. For months a rampant terror, violence, torture and mass murders were in the occupied territories. Anyone else wants to "freeze the war" instead of sending tanks? We have no right to leave people alone with the Evil. pic.twitter.com/YxGyOZfm1Y

— Михайло Подоляк (@Podolyak_M) September 16, 2022

Torture chambers in Kharkiv
"Ten torture chambers" have been discovered in areas near the Kharkiv region in northeastern Ukraine, which Ukrainian forces recently retook from the Russians, national police chief Igor Klimenko said.
"To date, I can speak of at least ten torture chambers (discovered) in areas of the Kharkiv region," including two in the small town of Balakliya, he said, according to Interfax-Ukraine.
Two prosecutors killed in bomb blast
In eastern Ukraine, the prosecutor general of the Moscow-backed self-proclaimed Lugansk People's Republic (LPR) and his deputy were killed today in parallel by a bomb blast at their offices, according to local officials and emergency response agencies.
"According to preliminary data, LPR Prosecutor General Sergei Gorenko succumbed to his injuries as a result of an explosion that occurred in his office," a spokesman for the emergency response service said, Russian news agency Interfax reported.
The state news agency TASS - for its part - reported, citing a colonel of the separatist Lugansk Interior Ministry, that the deputy prosecutor was also killed in the same explosion. Russian news agencies quoting emergency response services and local officials reported that the explosion was caused by a bomb.
Moscow-backed separatists in Kherson said Ukrainian forces bombed government buildings today, killing at least one person and wounding others.
Kirill Stremusov, the deputy head of the Kherson district, appointed by Moscow, told Russian state television that a wing of the administration building in Kherson had been virtually destroyed by the strike, in which he said US-made HIMARS rockets were also used.
He said it is still too early to determine the exact number of casualties, but many people have been killed or injured.