UN chief kicks off hard-to-read second day of informal meetings on future of Cyprus talks
UN chief Antonio Guterres started his day with a full plate on Wednesday, with reports saying efforts could be made to draft a joint statement in Geneva despite the two Cypriot leaders reportedly painting different pictures of their priorities during the 5+1 meeting.
President Nicos Anastasiades met on Tuesday with UN Secretary General Antonio Guterres, with the Greek Cypriot leader telling his host in Switzerland he was focused on the need for a functional state that will be effective in the EU, according to the Cyprus News Agency.
Anastasiades elaborated extensively on his vision regarding the Cyprus problem, focusing on key terms such as prosperity of all Cypriots as well as security and stability in the region.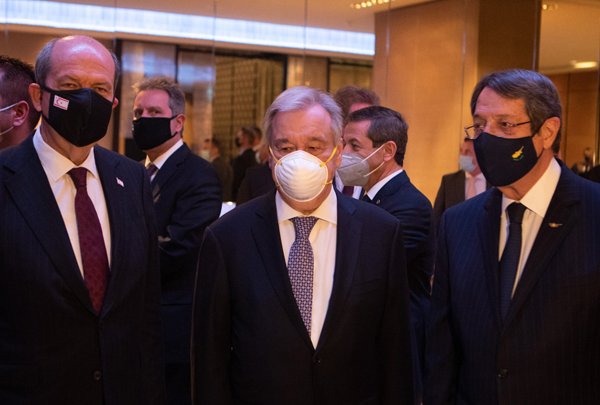 CNA said Anastasiades found the meeting with Guterres to be "very useful" with the president reiterating his commitment to previously-agreed parameters set by the UN chief himself in solving the Cyprus problem.
Turkish Cypriot leader Ersin Tatar, who also met with Guterres separately, told Turkish media he found the meeting with the Secretary General to be "productive."
Tatar, who sat down across from Guterres for the first time after his election last year, flew to Switzerland with a new vision for a two state solution, backed by Turkey but opposed by Greece and Greek Cypriots.
"When I say two states, I obviously mean the recognition of the Turkish Cypriots," Tatar said before flying to Switzerland.
After his meeting with the UN chief, Tatar said ""Guterres knows the Cyprus issue well. Now he will discuss the issue with the other side. We will discuss the issue intensively tomorrow and the day after."
According to Kathimerini Cyprus, the informal sitdown from April 27 to 29 was expected to be extended through Friday, after it emerged that some meeting arrangements were being made to accommodate another trilateral meeting, but it turned out that the conclusion would take place on Thursday.
Reports said it was hard to get a read on the situation but media noted that Guterres met for an hour and forty minutes with Anastasiades, while the UN chief's meeting with Tatar lasted about an hour and a half, in both cases exceeding the allotted time.
Guterres is hosting this week the two Cypriot leaders along with foreign ministers of Greece, Turkey, and the United Kingdom in an effort to ascertain whether a common ground could exist to push forward with a new effort to settle the Cyprus Problem.
But UN official Stephane Dujarric warned reporters at the UN Palais des Nations that his boss was being "realistic."
"This is an issue that he knows well, he has participated in discussions before," said Dujarric, who also called on the parties to be creative and "use diplomatic language in a sincere and frank manner."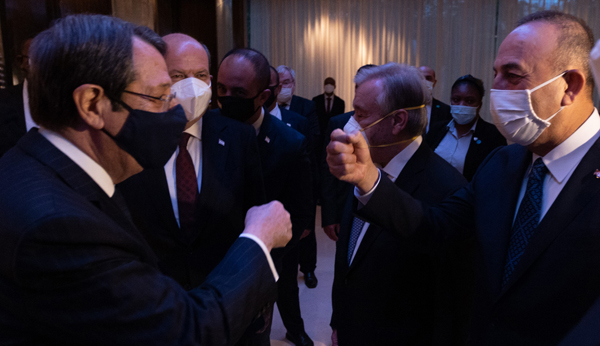 According to a revised schedule provide by the UN, Guterres kicks off Wednesday meetings at 11am CY time with all five parties in attendance of an informal conference in the Swiss city.
Anastasiades and Tatar are expected to address everyone before the foreign ministers of the three guarantor powers take the floor
In the early afternoon, Guterres will consult with Turkish Foreign Minister Mevlut Cavusoglu, then Greek Foreign Minister Nikos Dendias, and finally British Foreign Secretary Dominic Raab, with each meeting set to last an hour.
Guterres will then meet again separately with the two Cypriot leaders before holding a dinner for all five delegation heads plus a guest each.