watch video
Turkish Cypriot officials say 'no cause for alarm' following crashed missile on Cypriot soil
Turkish Cypriot officials confirmed Monday that they believe a part of a Russian-made S200 missile reached Cyprus early morning and caused multiple explosions, while a team of Turkish experts is traveling to the island to conduct tests.
(Click here for an update to the story)
UNFICYP spokesperson Aleem Siddique said the investigation ought to go forward before we can draw any conclusions
The missile, part of an outdated surface-to-air defence system used in Syria, was believed to have been misfired during the Syrian conflict. State media reported that the country's air forces thwarted Israeli missile attacks targeting Syrian assets near Damascus and Homs.
Turkish Cypriot officials said the missile is believed to have been derailed from its path due to a misfire during air defence actions in Syria against Israeli fighter jets. The statement also described the event as an isolated incident.
Online posts in the early morning hours appeared to have been suggesting that the missile was carrying chemicals. Twitter users worried over the actions of local officials who were handling the debris without taking precautions. 
"If anyone can reach out to the authorities to warn the people about the highly toxic fuel of the missile, even if it burned," a tweet said by user identified as "Syrian Military Capabilities."
The Turkish Cypriot statement said there was "no reason to panic" and initially downplayed reports that the missile was emitting toxic gas or chemicals. But a statement later by Kudret Ozersay, who oversees foreign matters in the north, said a team of Turkish experts were traveling to Cyprus to take measurements of possible chemical traces.
UNFICYP spokesperson Aleem Siddique told Cyprus News Agency that he was in contact with the Turkish Cypriot authorities regarding the incident.
"It is important that it be allowed to go forward before we can draw any conclusions," Siddique told CNA. 
Parts of the wreckage are being sent to Turkey for lab tests, while officials said they were confident that the missile was indeed an S-200 and that it had missed its target.
It is believed that the surface-to-air missile went astray on a curved path towards Cyprus, where it broke apart by a self-destruct mechanism before hitting the ground in different locations over the Kyrenia Mountains.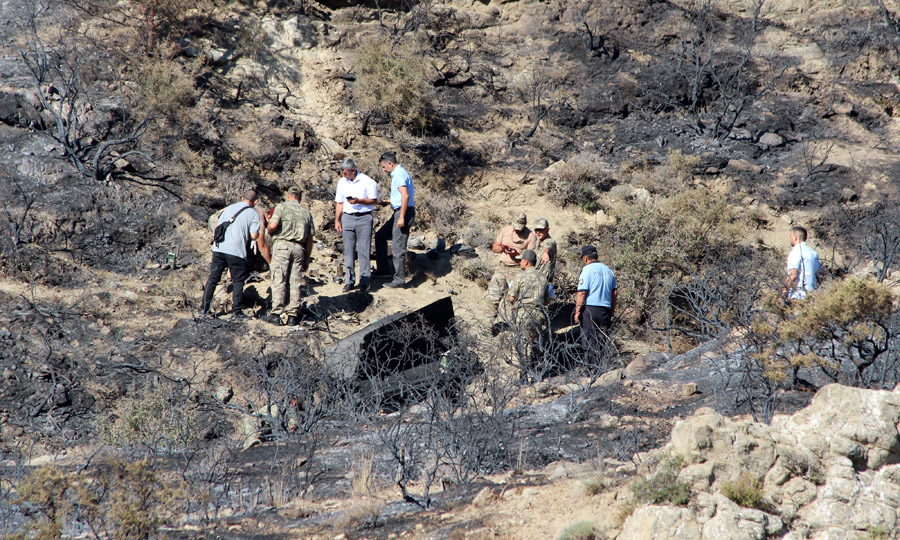 Turkish officials confirmed there were no impact marks on the ground, suggesting the explosion did in fact take place in the air.
At least five actual pieces of wreckage were found Monday morning, confirming initial reporting by Knews in the early hours that said multiple explosions had been heard instead of a single loud bang. Residents both north and south on the island reported hearing a sonic boom after midnight while some said the explosion felt like an earthquake. 
Just a missile landing in the wrong country. No biggie.

— Sandra Hill (@SandraHillSky) July 1, 2019
The story has been updated with latest information on upcoming chemical tests