Cypriot official calls for more things to do at migration camp, police blame violence on overcrowding
An asylum seeker in Cyprus was arrested over the weekend following an incident at Pournara migrant camp on Friday, when police made use of tear gas as people fled the overcrowded facility, with the interior minister vowing to expel anyone involved in clashes that also led to two tents catching fire.
One person was detained on Sunday in connection with a large-scale incident on Friday at Pournara Emergency Reception Centre in Kokkinotrimithia, rural Nicosia, where two tents caught fire and tenants fled as items were being thrown after an argument broke out between two residents.
Fire fighters rushed to Pournara camp on Friday to put out a fire after an altercation between two tenants over a phone charger got out of hand, causing a major incident where riot police later intervened.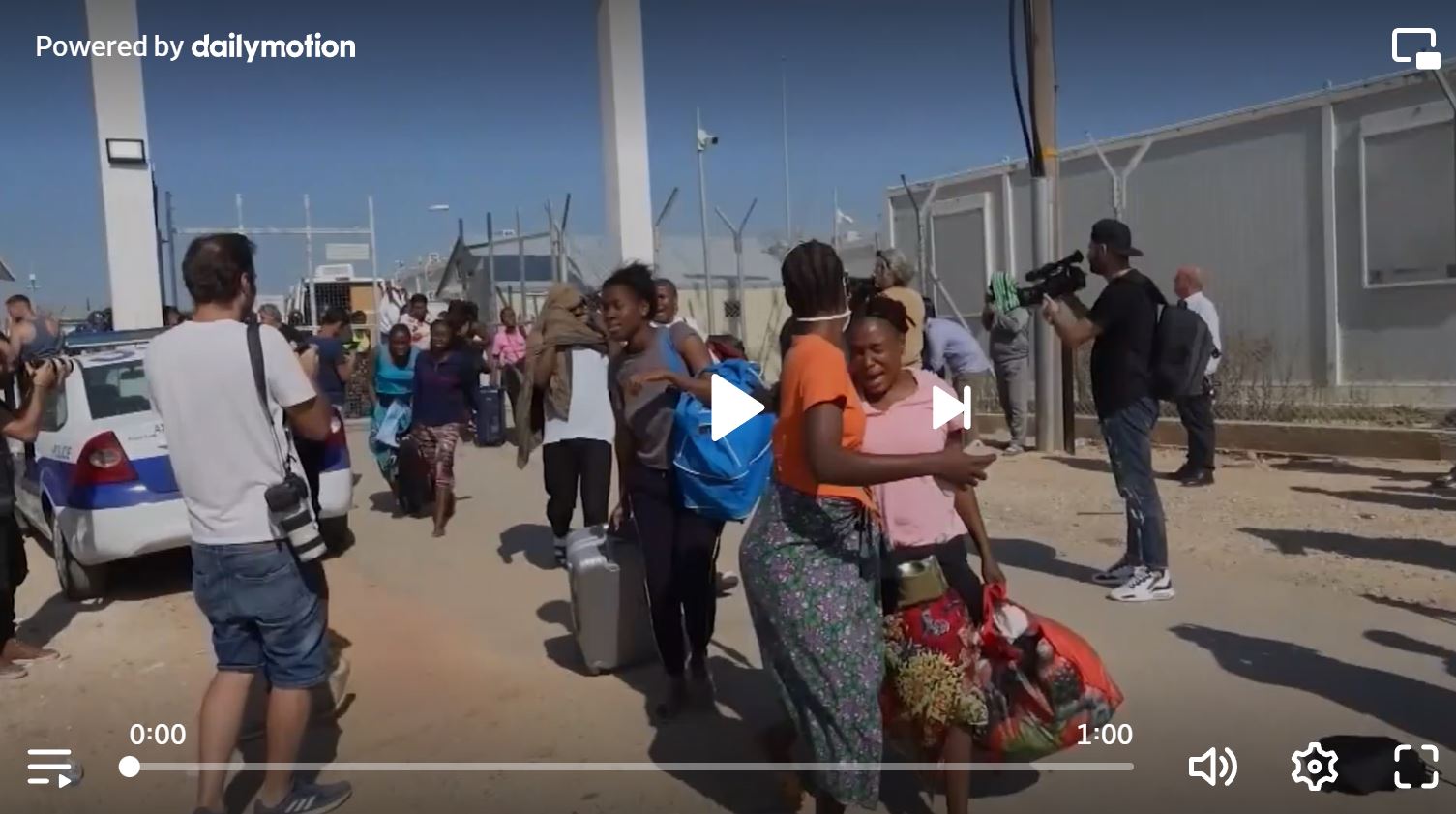 Local media said camp residents, many holding their belongings, were seen in videos fleeing the camp where fire fighters rushed to put out a fire that started in two tents.
Some people said law enforcement agents had fired tear gas as they were trying to exit Pournara, with police spokesperson Christos Andreou saying measures had been taken to prevent people from blocking fire engines trying to enter the camp.
"Fire fighters couldn't go inside because rocks were being hurled at all directions," Andreou told state radio on Monday morning.
The incident started in the late morning when two males near a cooking fire got into an argument over priority to use a phone charger.
'Clearly a solution is decongesting the camp' Strovolidou said, adding there was a need for programs at Pournara where residents could get involved in day-to-day operations as well as activities
One male reportedly kicked the cooking fire pit causing the flames to spread onto the other's tent, prompting an angry reaction from the other who grabbed a fire log and threw it at the second tent.
Police said one person was detained and arrest warrants for four other suspects had been issued, but the suspected offenses were not disclosed on the official report.
Andreou said the four suspects wanted by police have left the camp.
Officials were quick to point the finger at overcrowding at Pournara, with Police Chief Stelios Papatheodorou reportedly attributing Friday's incident to the large number of people at the camp, a reception facility initially designed for short stays of refugees that is currently hosing over 2000, which is close to three times its original capacity.
UNHCR spokesperson Emilia Strovolidou, who also spoke on the radio, said many asylum seekers were coming back to the camp because they often find harsher conditions on the outside.
"There are limited job opportunities, and sometimes a physical address declared on file does not actually exist or there are too many people living in one place," Strovolidou said, adding that many asylum seekers cannot get benefits without a legitimate address.
UNHCR spokesperson also said there was a need to bring the numbers down at Pournara but also to involve camp residents in activities.
"Clearly a solution is decongesting the camp," Strovolidou said, adding that there was a need for programs at Pournara where residents could get involved in day-to-day operations as well as activities.
Strovolidou also pointed out that Pournara was currently the only place where asylum seekers must register with Cypriot authorities, adding that in many cases residents filed paperwork before going outside and later found themselves ineligible for state benefits.
Two years ago Cypriot authorities were criticized for carrying out policies under which asylum applicants were being picked up from their places of residence or other locations and transferred back into Pournara, which was originally designed to host asylum seekers for a maximum of 72 hours for initial checks and processing.
Interior Minister Nicos Nouris at the time defended the concentration policy for asylum applicants in a state facility, arguing the government had a right to know where people were at any time while their cases were pending with the Migration office.
Nouris, who vowed to expel those responsible for Friday's incident, traveled to Switzerland over the weekend where he was to sign on Monday a €10 million contribution to Cyprus for the management of migration flows.
The minister said he would seek legal guidance from the state's attorney general to expedite the deportation of any person identified as having taken part in the clashes.
So far camp security officials have provided police with photos of 160 persons who were staying in a quarantine space, with local media saying investigators would seek video footage from Pournara to identify any people who were responsible.