Puzzling details emerge including crucial phone call and second vehicle following victim's car, police seek evidence
Cyprus police have published a photo of a suspect following Sunday's deadly car ambush in Nicosia, where a Syrian man was shot in the head, but there were more questions than answers after additional details emerged.
Nicosia police say they are looking for 22-year-old Syrian national Osama Aldheis in connection with a murder investigation, following a suspected car ambush in Agios Antonios on Sunday night.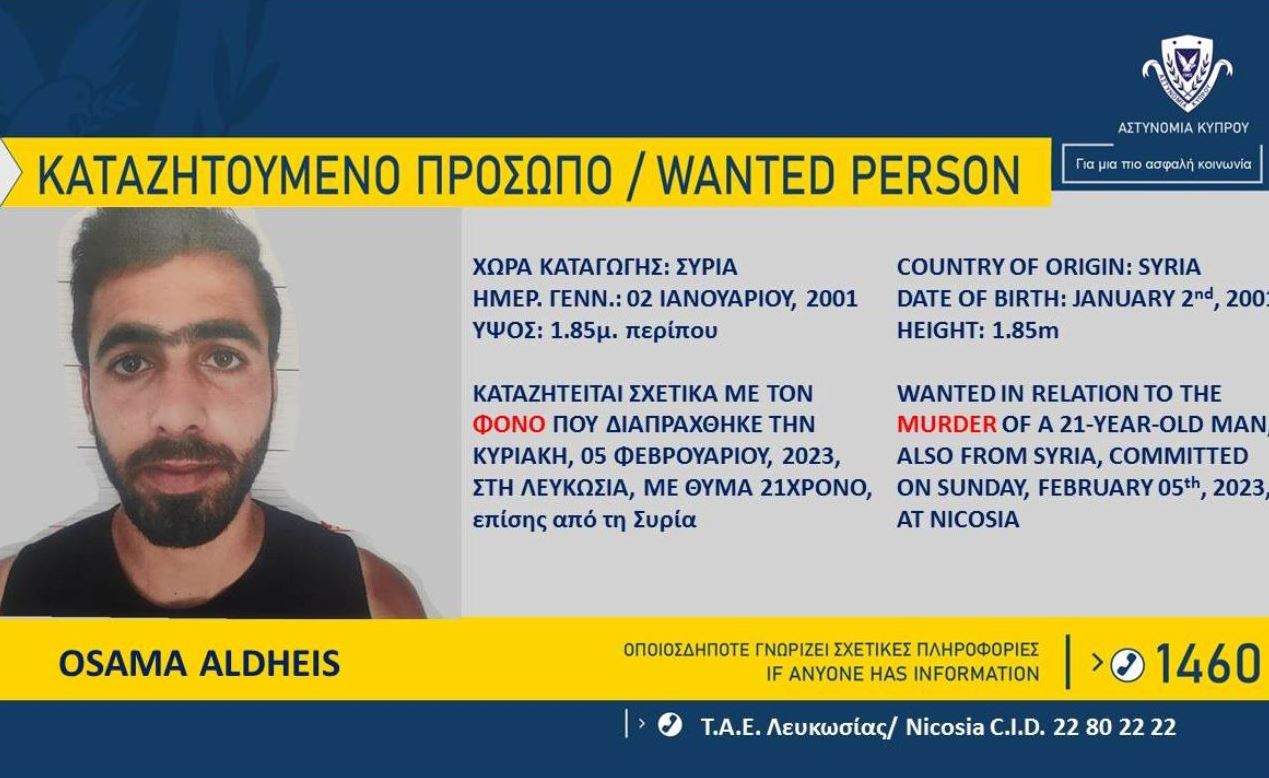 Local media said 21-year-old Alsweidani Ahmad was in the front passenger seat of a white van when he got shot in the head on Sunday night.
Reports said the van was moving along Griva Digeni when it turned onto a side road and came to a stop, near an empty plot where Aldheis was allegedly located.
Police initially suspected there was a shootout between two cars but after new statements investigators believed a second vehicle that was following the van did not take part in the shooting
It was unclear whether the victim got out of the van but witnesses reportedly told police the suspect approached Ahmad and fired multiple shots, striking the victim in the forehead between the eyebrows.
The van driver then rushed Ahmad to the Emergency Room, where the victim reportedly succumbed to his injuries an hour later. State forensic pathologists said the death was caused by severe head trauma caused by a gunshot.
Police officers who later drove to the crime scene were reportedly seeking security camera footage to help in the investigation.
But additional details have also emerged saying the two Syrians, both described as asylum seekers, knew each other and even had a phone conversation prior to the incident.
Investigators who spoke with a witness believe the shooting took place after the two Syrians got crossed with each other.
Local media said initially CID Nicosia believed there was a shootout between the white van and a second vehicle, but after new statements investigators believed a second car that was indeed following the van did not take part in the shooting.
No known motive but victim had been attacked before
The van driver pointed the finger at the suspect, saying Aldheis was the perpetrator of the mob-style hit.
But police failed to establish a motive in the murder investigation.
Local media said the victim was known to police after he was the target of a knife attack late last summer outside a convenience store in Engomi, west Nicosia.
The knife incident ended up in court but there was no prosecution after Ahmad withdrew his original testimony.
Both vehicles in Sunday's ambush are currently undergoing forensic tests by experts at CID Nicosia.