Queen Elizabeth with President Glafkos Clerides in Cyprus, Photo courtesy PIO of Cyprus
Shemaine Bushnell Kyriakides
"The Queen is dead, long live the king!"
Britain's longest-reigning and much-loved monarch, Queen Elizabeth II, has died aged 96, Buckingham Palace has announced. 
The Queen, whose reign lasted for over 70 years, surpassing that of Queen Victoria whose reign lasted 64 years, died at Balmoral Castle surrounded by her entire family.   This year marked her platinum jubilee - 70 years after she ascended the throne on 6 February 1952.
Born Elizabeth Alexandra Mary on April 21, 1926, the older daughter of Prince Albert, the Duke of York and Lady Elizabeth Bowes-Lyon, she never expected to become queen until fate took her on another course.  When her uncle, King Edward VIII, abdicated the throne in favor of her father on December 11, 1936, Elizabeth became heir presumptive and, after her father died in February 1952, Elizabeth was crowned Queen of the United Kingdom and Northern Ireland at just 25 years old.  Her coronation was the first to be broadcast live to millions of people around the world.
The Queen has lived through many historic events throughout her long reign including WWII, the assassination of Kennedy, the moon landing, and the evolution of the internet to name a few.  She has also seen a total of 15 prime ministers come and go, several of them she has outlived.
She also made a number of visits to Cyprus in past years.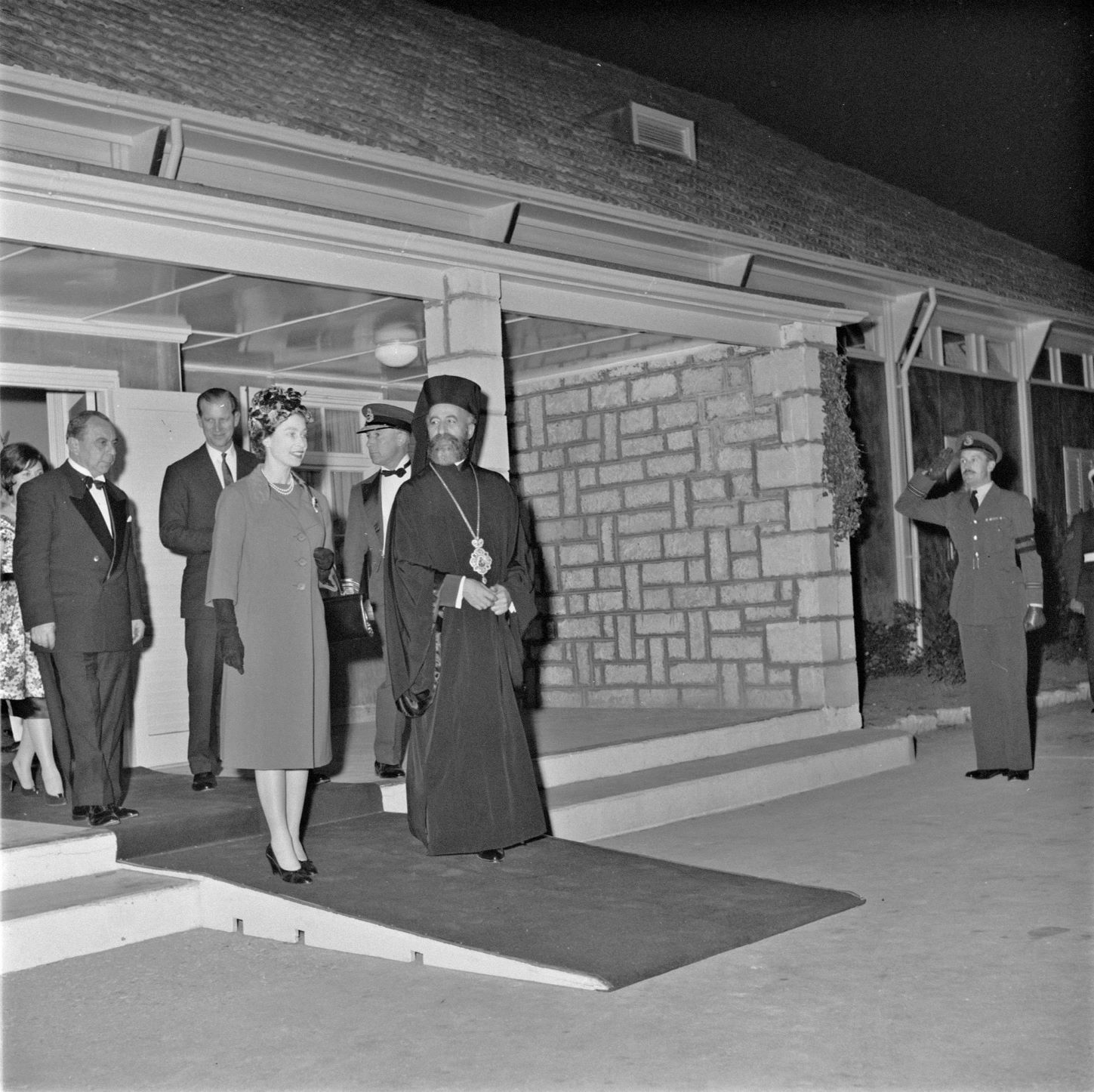 With President Makarios in 1961 [Photo Courtesy Cyprus PIO office]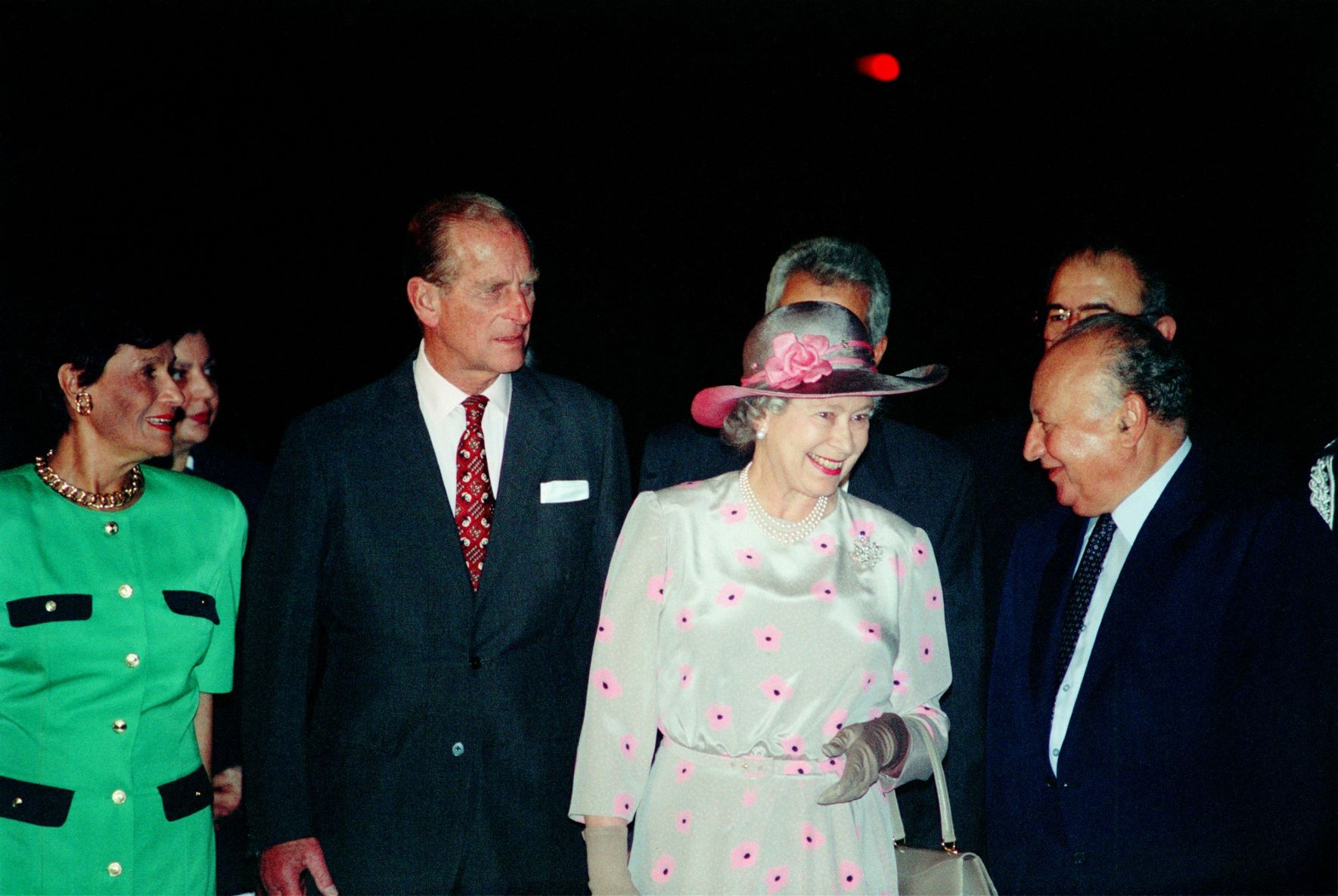 In 1993 with President Glafkos Clerides [Photo Courtesy Cyprus PIO office]
Elizabeth remains the queen of 15 realms including the United Kingdom, Australia, Canada, New Zealand, Jamaica, Antigua and Barbuda, the Bahamas, Belize, Grenada, Papua New Guinea, Solomon Islands, St Kitts and Nevis, St Lucia, St Vincent and the Grenadines, and Tuvalu.
Her husband, Prince Philip the Duke of Edinburgh, a Greek Prince with whom she was married for 73 years, died last year on April 9 at the age of 99.  Her grief at his funeral was palpable as the Duke was constantly by her majesty's side.  In 1997, during a speech, she expressed her appreciation and affection for her husband when she described him as being,"...quite simply, he has been my strength and stay all these years, and I, and his whole family, and this and many other countries, owe him a debt greater than he would ever claim, or we shall ever know."  After his death, she became increasingly frail but continued to perform her royal duties through bouts of minor ailments.  Even testing positive for Covid on the 20th of February this year and coming through unscathed.
Queen Elizabeth is, and always has been, a much-loved figure in Britain and around the world.  But nothing endeared her to the public more than when she dedicated her life to service in a famous speech while touring Africa when she turned 21.  At that moment, she declared to the world her intention to devote her life to the service of her people:
"I declare before you all that my whole life, whether it be long or short, shall be devoted to your service and the service of our great imperial family to which we all belong."
And so she did...
Queen Elizabeth Alexandra Mary II, 1926-2022
 ....days of mourning will be observed while funeral arrangements are underway.