Body pulled out of water in Lara hours after head count on land came up short
An undocumented migrant died in Cypriot waters on Thursday after a boat carrying refugees approached the island in the early morning hours but they did not reach land until hours later.
According to local media, the body of a male refugee was spotted on Thursday morning in the water near Lara beach on the western coast of the Republic of Cyprus.
The man was said to have been missing from a refugee boat that approached Cypriot waters Thursday very early in the morning, carrying over 40 undocumented migrants including two women and four children.
Paphos police official Michalis Nicolaou told media that a suspicious vessel had been picked up by radar at 3am off the coast of Agios Georgios in Peyia.
Nicolaou said a police patrol walked to the area but "nothing was spotted in the early morning darkness" while around 4:30am it appeared that the boat was sailing away.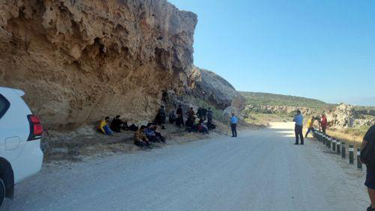 But a citizen later spotted a group of refugees in the area at 5:30am, according to Nicolaou, who said 44 migrants described as being of Arab descent were spotted on land in Lara.
It was not until later that morning, following a head count, that the Joint Rescue Coordination Center received an alert saying one individual was missing and presumed lost at sea.
The JRCC said it got word at 7:10am about a migrant lost at sea and immediately dispatched a search and rescue mission to the area, including a helicopter, a coast guard speedboat, and a search party joined by lifeguards from Paphos district.
A body spotted at 9:50am was pulled out of the water, with local media saying the male refugee appeared to have drowned. He was taken to Paphos General Hospital where doctors on duty pronounced him dead on arrival.
All others passengers were to be taken to Pournara migrant camp in rural Nicosia.