Calls for fair punishment in case of knife-wielding Ukrainian woman who assaulted Russian citizens in Larnaca
The Russian embassy in Nicosia is calling for a "thorough and objective" investigation into a knife assault in Larnaca, hoping a fair punishment would act as a deterrent in Cyprus after a Ukrainian female was caught on video threatening people at a pro-Russia event.
Police prosecutors filed a criminal case on Wednesday against a 55-year-old Ukrainian woman, who was arrested in Larnaca on Monday as she was wielding a knife and threatening Russian citizens who had gathered to join celebrations on their nation's Flag Day.
A video purportedly shot at the scene and posted on social media showed a female brandishing a kitchen knife and screaming obscenities in her native language. Onlookers, described as Russian nationals, were seen backing away and trying to tell her off as the suspect moved towards a number of them and uttered anti-Russian verbiage.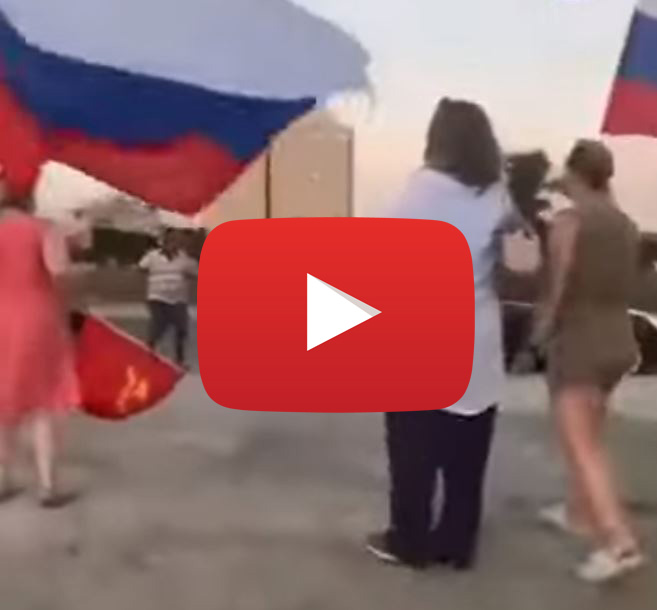 Police have not issued a report on the incident or arrest but local media said the suspect was facing multiple charges, including common assault, knife possession, public intoxication, disturbing the peace, and carrying a weapon with intent to terrorize.
A woman purported to have been a victim of the attacker has filed a complaint, according to the Russian Embassy, which also said "a large number of witnesses have already given statements to the police."
"We hope that Cypriot authorities will carry out a thorough and objective investigation and that they will take measures in accordance with the laws of the Cyprus Republic," the embassy statement said.
The incident also drew the attention of Russian Federation's Investigative Committee, which was instructed by its chairman Alexander Bastrykin to seek criminal prosecution in the case according to a statement on Telegram.
The Russian embassy in Nicosia said "a fair punishment will become a deterring factor for such incidents in the future and hold back the cross-national tension on the island'
A statement posted on the official Telegram channel "Sledkom" said Bastrykin, who previously served as First Deputy Prosecutor General in Russia, was seeking to ascertain all the facts in the case.
The statement also said that the Russian Investigative Committee, in cooperation with the Russian Foreign Ministry, will take measures to establish all facts and see through the suspect's criminal prosecution.
Local media said prosecutors filed a case with a criminal court in Larnaca while the suspect was quickly released from custody and ordered to remain in the country until her arraignment day on September 19.
The Russian embassy in Nicosia also called for a just outcome in the case, saying "a fair punishment will become a deterring factor for such incidents in the future and hold back the cross-national tension on the island."
Tensions have been running high on the island between pro-Russia and pro-Ukraine groups after Moscow sent troops into Ukraine in late February.
Last month Cyprus was among countries listed in a Moscow report on attacks and discrimination against Russians living abroad, with allegations on the island ranging from bullying in schools to stalking and hate speech, threats of violence, as well as property damage and financial sanctions.