Ukrainian former ambassador known for 'undiplomatic thoughts' makes no apologies as he tweets convoy attack video
Cyprus Police say no complaint was filed regarding a video from Limassol that went viral this week, showing cars with Russian flags being pelted with heavy items at the southern town's seafront.
A video posted on social media on Thursday showed vehicles with Russian flags along a popular road in Limassol being targeted from a balcony, with items including possibly frozen tins and chunks of rock hitting vehicles and the asphalt. A car that was directly hit iwas seen getting out of the motorcade lane and speeding away to escape.
'I'm a diplomat by profession. But swear to god, if I would see one of these cars celebrating Putin, I would want to throw something too'
The exact date and time of the incident could not be ascertained but police told Knews on Friday there was neither a complaint filed with law enforcement authorities nor a known demonstration in the area in the last few days.
In the video a voice in Russian is heard presumably coming from a balcony overlooking the motorcade, where the incident appeared to have been filmed.
"Throw the rock at him, break their windshields," was reportedly heard in standard Russian.
"Bravo, bravo" was also heard in the video while a different male voice of disapproval towards the act could also be heard in the distance.
The video went viral after it was posted on the Twitter account of Ukrainian diplomat Olexander Scherba.
"I'm a diplomat by profession. But swear to god, if I would see one of these cars celebrating Putin, I would want to throw something too," he wrote.
Scherba, the author of "Ukraine vs. Darkness: Undiplomatic Thoughts" published in 2021, made headlines three years ago when he was recalled as ambassador to Austria after Vienna called on Kiev to unban the head of the Austrian Broadcasting Corporation from entering Ukraine.
Reports at the time pointed to Kiev's position that Christian Wehrschütz had violated immigration laws by visiting illegally the Donetsk and Luhansk regions through unauthorized checkpoints. Ukrainian authorities also said the journalist had been denying Russian aggression against Ukraine in his reports.
But a statement from Ukraine's security service said the decision was taken "to avoid possible provocations" after Wehrschütz said in an interview that he feared for his life in Ukraine.
Scherba's post of the Limassol video got many comments of support and re-tweets.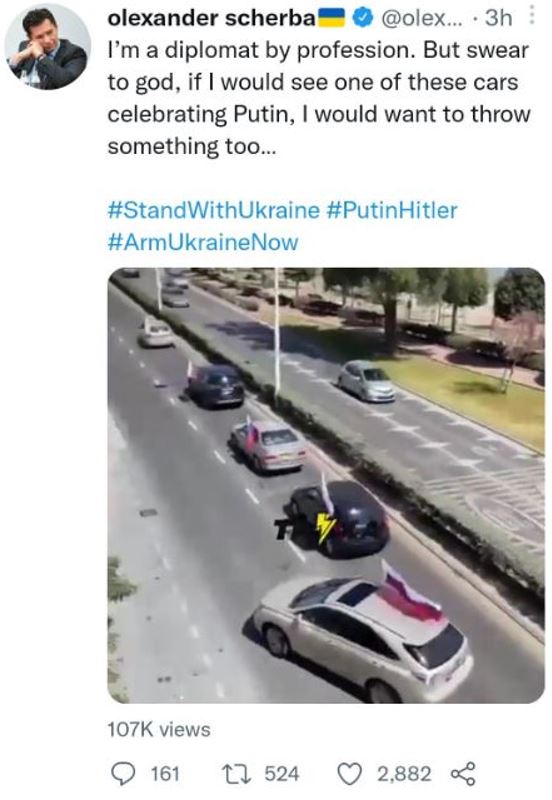 Tensions on social media have been running high on the island after Moscow sent troops into Ukraine in late February.
Earlier this month Cyprus Police held back Ukrainian demonstrators who attempted to disrupt a pro-Russia rally, as a motorcade with tricolor flags headed to Limassol's seafront to show support as Moscow waged war against Kiev.
Knews could not establish whether the alleged video was linked to the demonstration on April 10.
Thousands of Russians live in Cyprus, with a sizeable population residing in Limassol. A smaller group of Ukrainians have also been staging protests on the island, including the southern port town where some made a home away from home.
Police said appropriate measures are taken when either side organizes a public protest. But an officer told Knews in some cases demonstrations such as a motorcade could take place without advance notice.