Newly revealed email sent from Hunter Biden about Ukraine raises questions about gas company in Cyprus
A newly revealed email from Hunter Biden's laptop regarding Ukraine is raising eyebrows, with critics pushing a theory that the first son had access to classified information at a time when he maneuvered for a seat on Burisma, a Ukrainian gas company based in Cyprus.
US Republican Senator Ron Johnson says he is suspicious of an email about Ukraine that Hunter Biden allegedly sent in mid April 2014 to a business partner about doing business with Burisma, an energy firm from Ukraine that is based in Limassol.
'This is a lot more detailed, it has a lot more information than anything I have ever seen in a scene-setter'
The email was first reported this week by Miranda Devine of the New York Post, which initially broke the laptop story back in October 2020, with the author this week providing a sample of the lengthy message that listed 22 points.
Johnson believes the points in the 1300-word email may have come from classified documents.
"This is a lot more detailed, it has a lot more information than anything I have ever seen in a scene-setter," Johnson told Fox News this week.
According to Divine, the email was "far more detailed and lengthy than anything else found on Hunter's abandoned laptop" while it "also referenced an upcoming trip to Ukraine by then-Vice President Joe Biden."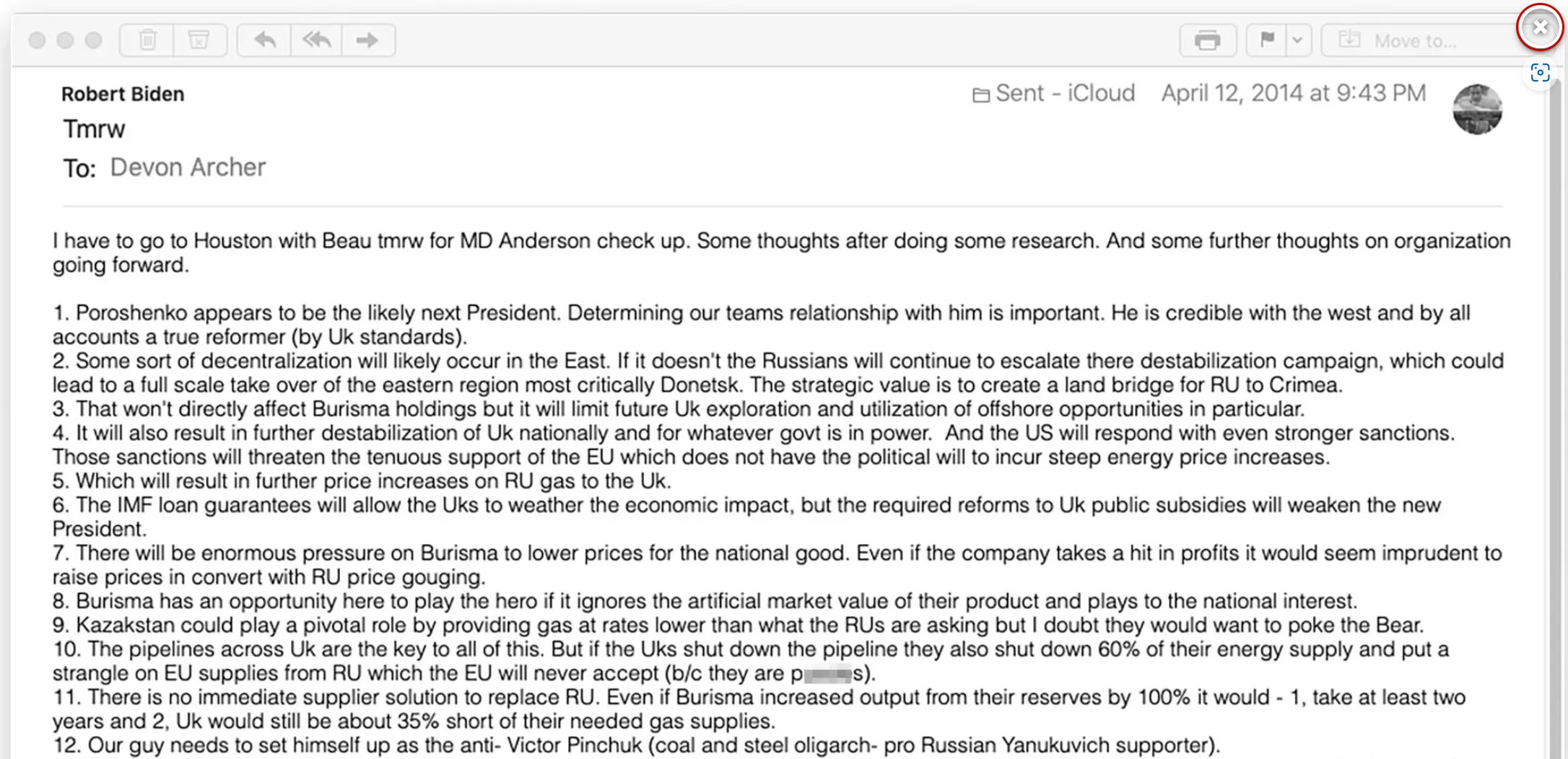 In late April 2014, Biden visited Ukraine while two weeks later the then-second-in-command also traveled to Cyprus on an official visit to the divided island's capital in Nicosia.

But Rudy Giuliani, a former mayor of New York City and personal attorney to former US president Donald Trump, says ties to Cyprus were suspicious.
Giuliani dropped a bombshell on Twitter in 2019 when he attempted to link the Bidens to allegations of Ukrainian money laundering through Cyprus, claiming that Joe Biden was behind the firing of a Ukrainian prosecutor who was looking into possible wrongdoing and financial dealings in Ukraine including an investigation into Burisma Holdings.
Media speculation was off the charts this month after it emerged that classified documents had been found in President Biden's house and other locations, with political pundits suggesting the files might have something to do with son Hunter's dealings in Ukraine.
"It's obvious Hunter Biden is selling access to information," Johnson said.
"Does that have anything to do with some of the classified documents Vice President Biden was squirreling away in his residence? I don't know, but it looks incredibly suspicious," he added.
But as reporters keep asking about the stash of classified documents, the White House is also facing legal challenges after a Freedom of Information Act request to the National Archives was filed late last year, seeking to understand Hunter's role in Burisma and alleging that business dealings may have improperly influenced American policy.
One of the emails found on the controversial laptop reportedly showed that a Burisma executive who advised the company's board had asked Hunter back in 2015 for "advice on how you could use your influence."
Trump advisor Stephen Miller, who is the person behind the request, wrote on Twitter back in December that he was seeking the release of emails during the Obama years that contained the word "Burisma."
There has been no evidence to suggest information about Ukraine was included in Biden's recently discovered classified documents.
Divine also clarified that an official with knowledge of Ukraine intelligence matters had suggested Hunter's 22 points may have been compiled through an open source, such as Wikipedia or YouTube.
But the jury is still out on that, as more information that even former vice president Mike Pence had stashed classified documents in his residence raised new questions as to the relevance of such materials after politicians leave the White House.
"This is sleazy," Johnson insisted during his Fox interview, with the senator also accusing the Bidens of profiting off the family name.