Boat with over sixty Syrian refugees reaches Cyprus days after Lebanon said it halted similar attempt
Dozens of newly arrived refugees from Syria in a wooden boat made it to Cyprus, just days after Lebanese police said they blocked over 50 undocumented Syrians from attempting to each the island.
According to the Cyprus News Agency, 64 undocumented migrants including women and young children were escorted to Pournara migrant camp in rural Nicosia on Tuesday late at night.
The Syrian refugees were spotted in a 30-foot wooden boat on Tuesday afternoon, around 3:30pm, some three nautical miles off the coast of Larnaca. Immigration officials later said they determined the boat had departed from Syria with an unknown destination, according to CNA.

Local media said passengers on the boat included 63 presumptive Syrian refugees including 32 adult males, 10 adult females, and 21 minors were, while another man on the boat was described as a Lebanese national who was arrested.
Earlier this month an operation was halted weeks after the Lebanese army foiled a similar attempt, when 69 Cyprus-bound Syrians were stopped and one suspect was arrested
Police told Knews the 43-year-old suspect, who was not being charged with any human smuggling offences, had presented to law enforcement officials an actual document that was believed to belong to someone else, with officers arresting him on charges including criminal impersonation and forgery.
Last week Lebanese police said they had thwarted a human smuggling operation where 39 men, 5 women, and 7 children -all Syrians- were caught attempting to travel to neighboring Cyprus, a 100 mile journey by sea.
The operation was halted weeks after the Lebanese army foiled a similar attempt, when 69 Cyprus-bound Syrians were stopped and one suspect was arrested on human smuggling charges.
Last summer, Nicosia sent a team to Beirut to help authorities stop refugees in the neighboring country from fleeing, after Cyprus said it could not host more refugees due to overcrowding.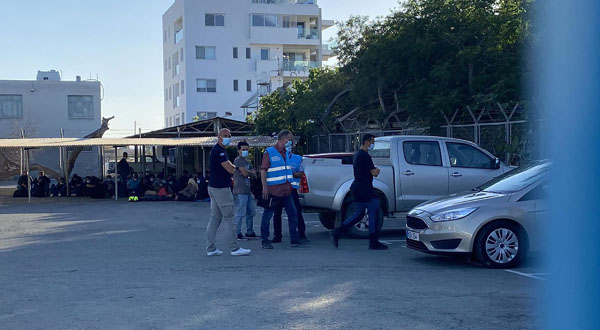 The move came after harsh criticism and media attention to pushbacks at sea by the Cypriot coast guard, with the UN refugee agency in Cyprus reiterating to Nicosia that "any person on a boat who seeks asylum should be admitted at least on a temporary basis to examine the claim."
EU human rights commissioner Dunja Mijatovic also criticized the island over pushbacks, saying "boats carrying migrants, including persons who may be in need of international protection, have been prevented from disembarking in Cyprus, and summarily returned, sometimes violently."
The Republic of Cyprus has rejected the accusations, saying no violence had taken place at sea. Interior ministry officials further noted that passengers were being offered food and fuel if they agreed to turn their boats back.
Nicosia said its previous actions at sea and subsequent agreements with Lebanese authorities to stop refugees before coming to Cyprus remained lawful, with the island saying its migration measures respected the law and were part of a response to overcrowding camps and the pandemic crisis.