Interior minister bows to pressure five weeks after child got separated from mother while crossing south
A young Syrian boy stuck in the north for over a month was reunited with his parents, following pressure on the government to allow the unaccounted minor to cross over to the south.
According to local media, a 5-year-old boy from Syria had been stuck in the north where he spent 45 days in the care of Turkish Cypriot authorities, after he and a group of refugees reached the island but failed to cross south.
The boy and his 30-year-old mother had traveled from Turkey to the north earlier this year and in late February. The parent-child duo attempted to cross illegally into the Republic of Cyprus to reunite with the boy's father, a 27-year-old Syrian asylum seeker who had been living in Limassol under international protected status.
But according to Philenews, the boy got separated from his mother during the attempt, with the woman crossing into the south and the boy staying behind with five others who were later deported back to Turkey.
Activist groups and NGO on both sides of the divided island then mounted a campaign to pressure Greek Cypriot officials to allow the boy to enter the Republic and reunite with his parents, following unsuccessful requests made by the father.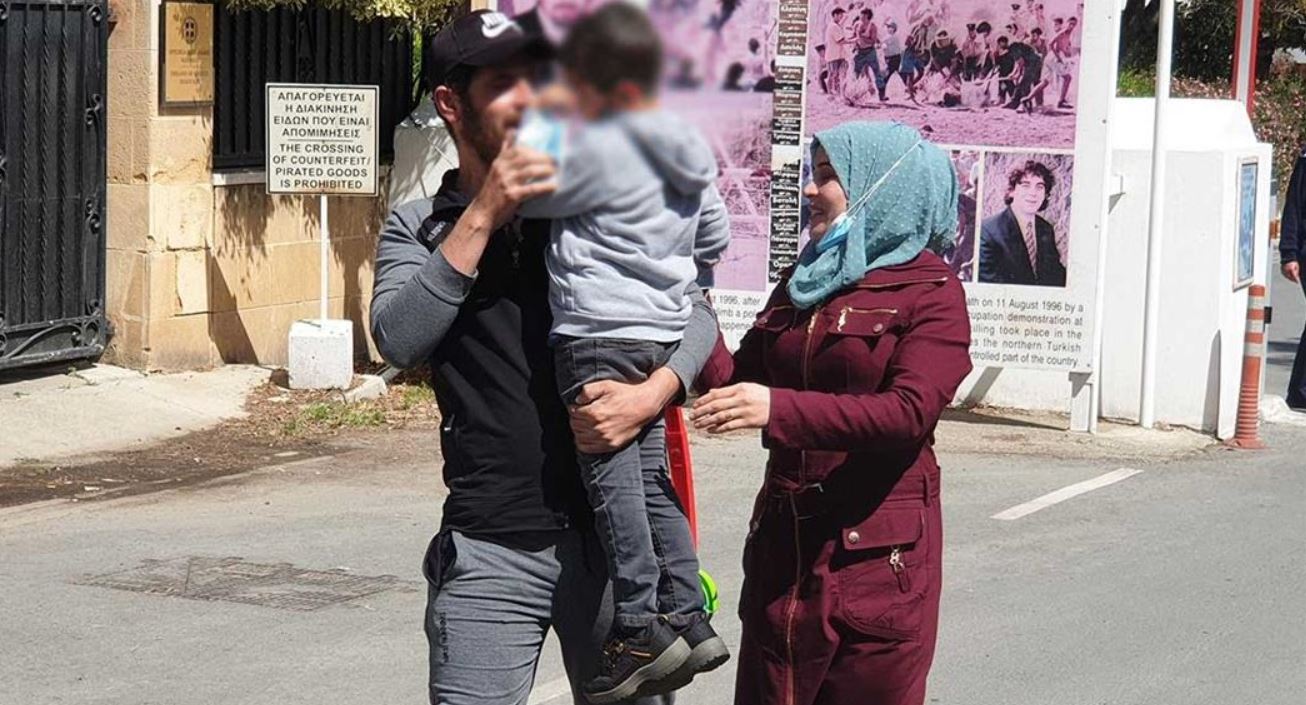 UNHCR had also asked the interior ministry to make an exception to a local law that prohibited family reunification under the father's current status, according to Philenews, with Interior Minister Nikos Nouris maintaining that matter was being handled but refusing to offer further explanation.
But Doros Polykarpou, who heads the pro-migrant group KISA and was quoted in the Philenews story, says the mother and child had to go the dangerous route "because we give protection status to refugees in Cyprus, resulting to the father being unable to see his family for 4 years."
"They went through many dangerous situations so they could be reunited with him, while they ought to have been allowed to come here normally," Polykarpou said.
The father had filed a request with the Republic of Cyprus seeking reunification but the interior ministry had maintained all along that there was a difference between an asylum seeker who gets refugee status and a refugee who is granted protection status, as did the father in this case.

But Commissioner for Children's Rights Despo Michaelidou, a retired Supreme Court judge, believes an absolute family reunification ban cannot be justified.
'A child, a woman, or a man receiving subsidiary protection is no different from someone with refugee status when it comes to their need to be together with family '
"A blanket policy on the right to family reunification in cases of persons with subsidiary protection status is contrary to European Union Directive 2003/86EK. This prohibition is also contrary to the European Convention on Human Rights which protects the right of every person to enjoy a private and family life without unjustified and disproportionate interference, including the right to family reunification of immigrants and refugees," Michaelidou was quoted as saying.
UNHCR public information officer in Cyprus Emilia Strovolidou also backed the position of the commissioner according to Philenews, while adding that they were getting updates on the boy's situation through a Refugee Rights Association in the north.
The RRA had warned officials in the south that the child was feeling abandoned throughout the five week ordeal, feeling that his parents had left him behind and asking when they would come to get him.
"A child, a woman, or a man receiving subsidiary protection is no different from someone with refugee status when it comes to their need to be together with family members," Strovolidou said.
Back in April 2019, former child commissioner Leda Koursoumba had recommended legislative efforts to modify national law, according to Philenews, saying individual requests for family reunification were not being viewed favorably by the authorities in the Republic of Cyprus.