More supplies arrive from China but updated face mask-wearing guidelines remain few and far between
Recommendations on the use of face masks vary in the Republic of Cyprus, in the midst of a full-blown coronavirus pandemic, with members of the public essentially making that call based on the latest information they can find.
Just like in many countries around the globe, updates on mask-wearing policies remain few and far between in Cyprus, with health experts pointing out both pros and cons of using face masks.
According to the World Health Organization, healthy people do not need to wear face masks to prevent the spread of the coronavirus, and masks should only be for those who are sick, their caretakers, and health care workers.
WHO: masks give false sense of security
WHO came out recently reiterating their position that the use of masks in the community may create a false sense of security, prompting people to disregard physical distancing measures.
"There is no evidence that wearing a mask can protect healthy people from coronavirus," WHO said.
Cyprus orders 9 million face masks
Cypriot officials have yet to call for mandatory use of face masks but earlier this week Health Minister Constantinos Ioannou said the government had ordered 9 million face masks at a cost of €3 million.
Ioannou wrote on Twitter that nine tons of medical supplies, including a donation from China, were on board an Aegean flight that landed Saturday early morning.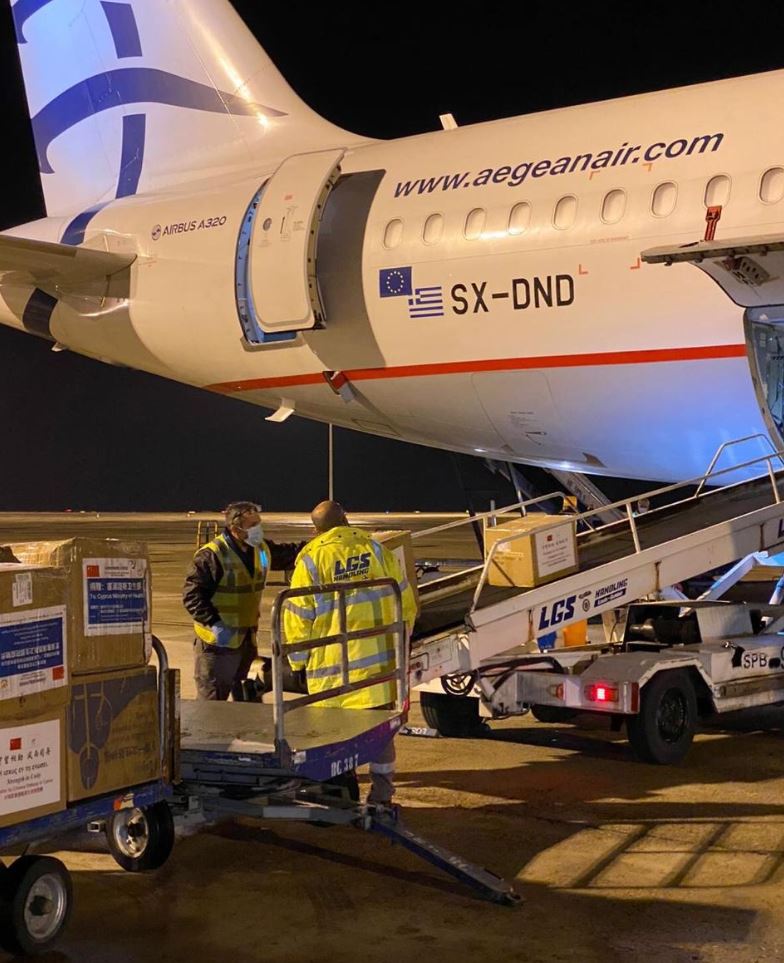 In the meantime, the Chinese embassy in Nicosia had announced on Friday that a second batch of donated medical supplies was on board a Cyprus-bound charter flight from Tianjin.
According to Ambassador Xingyuan Huang, donated supplies from China included 20,600 high-filtration masks, 110,000 medical masks, 30,000 disposable masks, and 500 non-medical protective suits.
China recommends face masks in public, ECDC urges caution
China had taken an early stance on mask-wearing, making the use of face masks mandatory in the community in late January.
But the European Centre for Disease Prevention has not fully supported the use of face masks in public, saying states should carefully take into account evidence gaps, the supply situation, and potential negative side effects.
Following the arrival of medical supplies from China, Knews could not immediately ascertain whether Cypriot officials, who have been following ECDC recommendations, were ready to update the guidelines on the use of face masks.
ECDC warns over wrong use of face masks
ECDC has warned over the wrong use of face masks, saying this could give a false sense of security and cause people to ignore basic hygiene rules, such as washing hands rigorously, keeping distance, and not touching the face with one's hands with or without gloves.
"It is not known how much the use of masks in the community can contribute to a decrease in transmission in addition to the other countermeasures," ECDC has said.
But the use of face masks in the community could be considered, especially when visiting busy, closed spaces, such as grocery stores, shopping centres, or when using public transport, ECDC added.
On Friday, Cypriot health officials said that they have confirmed a number of cases involving employees at local supermarkets, bakeries, and banks.
A new sampling strategy involving 20,000 tests is expected to take place in the Republic to establish a percentage of asymptomatic carriers, people who have the coronavirus and could be infecting others without knowing it.