World Health Organization busts 5G-coronavirus myth as Cypriot police investigate arson in Limassol
Conspiracy theories took a front seat on social media over the weekend, with the burning of a cell phone antenna in Limassol taking place after a full-blown debate on whether 5G was linked to the coronavirus pandemic.
Police said they were investigating arson in connection with an antenna burning on the roof of a Limassol building in Agios Antonios, after it was set on fire on Saturday.
Local media also speculated that the perpetrators may have been individuals who oppose the installation of a 5G network in the Republic of Cyprus and they simply went against the wrong target.
'Viruses cannot travel on mobile networks and COVID-19 is spreading in many countries that do not have 5G mobile networks'
While conspiracy theories and health concerns over 5G are not new to the island, stories on social media have been picking up steam in Cyprus and across the globe regarding possible causation links between the Covid-19 disease and exposure to radiation from 5G antennas.
There has been no scientific basis to prove a 5G-coronavirus link, while the World Health Organization issued a statement addressing the issue.
"Viruses cannot travel on radio waves/mobile networks.COVID-19 is spreading in many countries that do not have 5G mobile networks," WHO said.
The antenna in question was installed 20 years ago according to telecoms firm Cyta, with officials from the state-subsidized company pointing out that the incident could have disrupted communications for people in serious need during the coronavirus pandemic.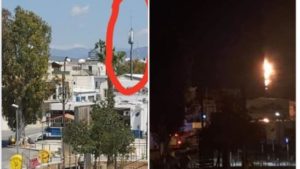 A Cyta statement said company crews have been working around the clock to ensure and enhance network capabilities, as many people with medical needs including those under quarantine depended on undisrupted communications.
"And yet, unfortunately, instead of doing that, they're having to respond to incidents where they need to fix significant damages caused by criminal activity," Cyta said.
The Republic of Cyprus has authorized pilot programmes for 5G networks, while officials reportedly said on Tuesday that no licences were given after those tests.