Ankara jolts rising tensions with Athens, calling Greeks to dialogue while renewing demilitarization demand
Turkey reportedly test-fired a short-range ballistic missile over the Black Sea on Tuesday in an apparent double entendre, as Ankara called on Athens this week to resolve issues through dialogue but also repeated warnings to Greece to demilitarize the Aegean.
According to Kathimerini Greece, Turkey test-fired a locally made, short-range ballistic missile over the Black Sea on Tuesday.
Kathimerini correspondent Manolis Kostidis said the missile, dubbed Tayfun, was fired from a mobile platform near the port city of Rize, citing Turkish media outlets CNN Turk and A Haber.
Turkish news agencies published images of the launch but the Turkish defense industry, which oversees such weapon systems, did not make any announcement.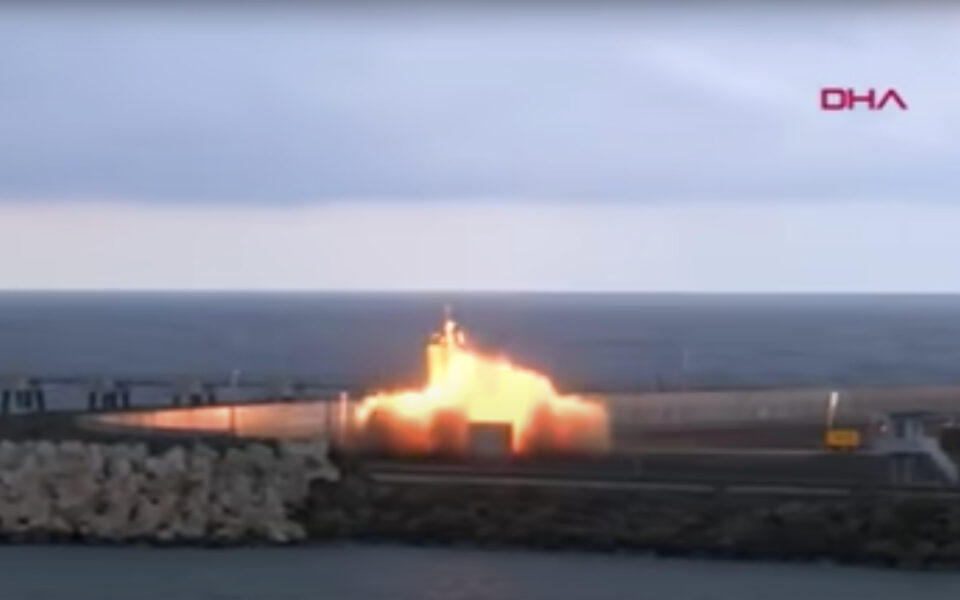 The test comes as Ankara has been engaging in a double entendre with Athens this week amid rising tensions on all sorts of issues, including the Aegean, migration, and air space.
In a TV interview on Tuesday, Turkish presidential spokesman Ibrahim Kalin said the source of tension was coming from Greece, adding Ankara had told US officials that Athens was militarizing Greek islands with American weapons.
Cypriot state radio said Greek military officials said there was no change of balance following Tuesday's test firing but a recent change across the pond did not go unnoticed also this week
"I said it in our meeting in Istanbul and in our one-on-one meeting, 'do not allow them to use you,' we said this clearly," Kalin said.
Ankara has not confirmed Tuesday's missile test, following the tradition of Turkey's no comment approach when it tested its Russian S-400 anti-aircraft system in 2019 on the Black Sea coast a few months after acquiring it.
But despite the silence over the launch and warnings to Athens, Turkish Defense Minister Hulusi Akar on Tuesday called on the two foes to resolve their issues through dialogue, adding that Ankara was following a "responsible, prudent, and patient" policy to ensure peace and stability.
"We believe that problems can be resolved through mutual negotiations and dialogue. We persist in this approach. But on the other hand, everyone should know that we will not allow a fait accompli or an undesirable situation in any way," Akar said.
Cypriot state radio on Wednesday morning cited Greek military officials who said there was no change in balance following Tuesday's test firing of the Tayfun.
But a recent change across the pond did not go unnoticed also this week after conditions set to restrict the sale of F-16 fighter jets to Turkey had been removed during a 2023 defense budget meeting in the senate.
Cyprus friend Bob Menendez, a US Democratic Senator who chairs the Senate Foreign Relations Committee, has vowed to stop the sales.
Senate elections are scheduled in the United States next month, but not all senate seats are being contested including that of Menendez whose term ends January 2025.