Foes debate 'whodunnit' after photo emerges showing mistreated migrants picked up by Greek police
A shocking image of fully naked refugees picked up by Greek police has puzzled officials and the media, with Athens pointing the finger at Turkish authorities and Ankara firing back accusing Greece of covering up human rights violations.
Greek border guards and officers of EU border agency FRONTEX on Friday rescued 92 unclothed migrants at a river bank, according to Athens' Citizen Protection Ministry that oversees law enforcement including Hellenic Police.
The location of the incident was at the banks of Evros, a physical boundary between Greece and Turkey, with police saying they found evidence that migrants had crossed the river into Greek territory in rubber dinghies from Turkey.
"Border policemen discovered 92 illegal migrants without clothes, some of whom had injuries on their bodies," a statement said.
Greek media reported on claims that migrants were taken by Turkish authorities to the river, stripped naked, and pushed forward, while Ankara accused Athens of manipulation and dishonesty
It was not immediately clear how and why the presumptive refugees had lost all their clothes and were completely naked.
But Greek Migration Minister Notis Mitarachi, who posted on Twitter a photo of the naked men, said blamed Turkey and said he expected Ankara "to investigate the incident and protect at last its borders with the EU."
"Türkiye's behaviour towards 92 migrants whom we rescued at the borders today is a shame for civilization," Mitarachi wrote on Saturday.
Greek media reported on claims that the migrants had been transported by Turkish authorities in vehicles near the river, stripped naked before being put in dinghies, and pushed forward to the other side.
Ankara on Sunday flatly denied the allegations and any responsibility, with the Greek tweet drawing strong reaction from Turkish Interior Deputy Minister Ismail Catakli who replied with what appeared to be a statement personally directed at Mitarachi.
"As you couldn't find one single case of human rights violation by Turkey, you just seek to expose [an] image of your cruelty you've inflicted as if [it was] Turkey's [doing]!" Catakli replied.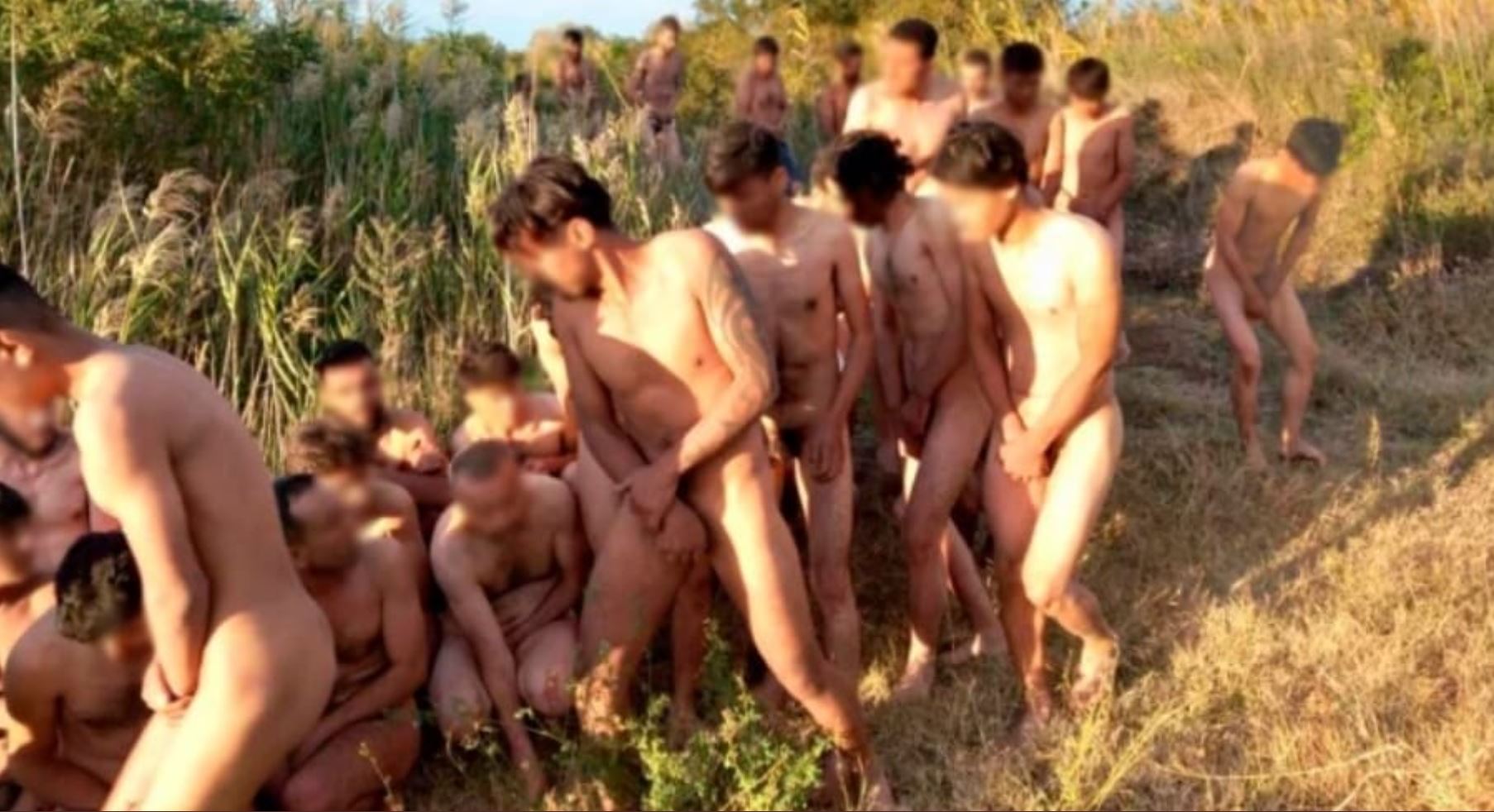 The two countries have been accusing each other of harsh mistreatment of irregular migrants and presumptive refugees, with Athens saying the Turks were pushing them forward and Ankara saying the Greeks were pushing them back.
Last week Turkey also slammed Mitarachi over a video tweet allegedly showing members of the Turkish coast guard beating refugees during an alleged push-forward, with Ankara responding they were doing exactly the opposite and pointing out the incident was from 2019.
Last year a dozen irregular migrants rescued along with other refugees at the Turkish border were also found completely naked, with Ankara saying the migrants nabbed in Greece claimed they had been deprived of food and water, stripped completely of their clothing, and beaten before being sent to Turkey by force.
"Violence, beatings, they did everything to us," one of the migrants was heard saying in a video posted by a Turkish news outlet.
Additional reports suggested non-police actors had also been involved in the past, as anti-migrant sentiment in Greece has been growing in recent years.
The Citizen Protection Ministry in Athens maintained this weekend that the migrants told border guard officers after being rescued that they had been "transported to Evros by Turkish authorities in three vehicles, where they boarded plastic boats to cross over to the Greek side."
"While Greece is effectively protecting its borders, showing respect for human life, Turkey continues to ignore not only International Law, but also basic human behavior."
But Ankara continues to accuse Greece of human rights violations, arguing that Athens violates humanitarian values and international laws by endangering the lives of vulnerable refugees, including women and children.
"Spend your time on [observing] human rights, not for manipulations & dishonesty!" Catakli added in his tweet, while also calling on the other side to "be a little bit civilized."
Social media users on Twitter have also jumped in on the conversation, with many people in either camp accusing the other side of human rights violations.
FRONTEX controversy in the mix
Some users also pointed the finger at FRONTEX, which was criticized in a recent report by the EU Anti-Corruption Office that accused seniors officials at the agency of covering up the illegal pushbacks of migrants from Greece to Turkey.
Earlier this year Fabrice Leggeri resigned from his position as Frontex director following allegations of "serious misconduct" by senior officials accused of covering up or not investigating properly alleged pushback incidents.
The European Union has been divided over FRONTEX in terms of the allegations but also the future of the agency, with moderate countries like Sweden berating the former chief while others in the south and east defended his actions.
European Commissioner for Home Affairs Ylva Johansson, who is from Sweden, has also been at odds on the immigration issue with Greece's Margaritis Schinas, the Commission's vice president in charge of promoting the European way of life.
Earlier this month Nicosia announced a FRONTEX team of return escort and support officers had been deployed at the Larnaca Branch of the Aliens and Immigration Unit in Cyprus.