Elon Musk challenged employees to work 'long hours at high intensity' or leave.
Hundreds of Twitter employees are expected to leave the company after new owner Elon Musk issued an ultimatum requiring employees to work "long hours at high intensity" or leave.
With the company temporarily closing its offices to staff - until Monday - questions are being raised about whether it is possible to remain unaffected, and the hashtags #RIPTwitter, #TwitterDown, as well as references to other, alternative social media alternatives to Twitter, such as Mastodon and Myspace, have already become popular among users on the platform.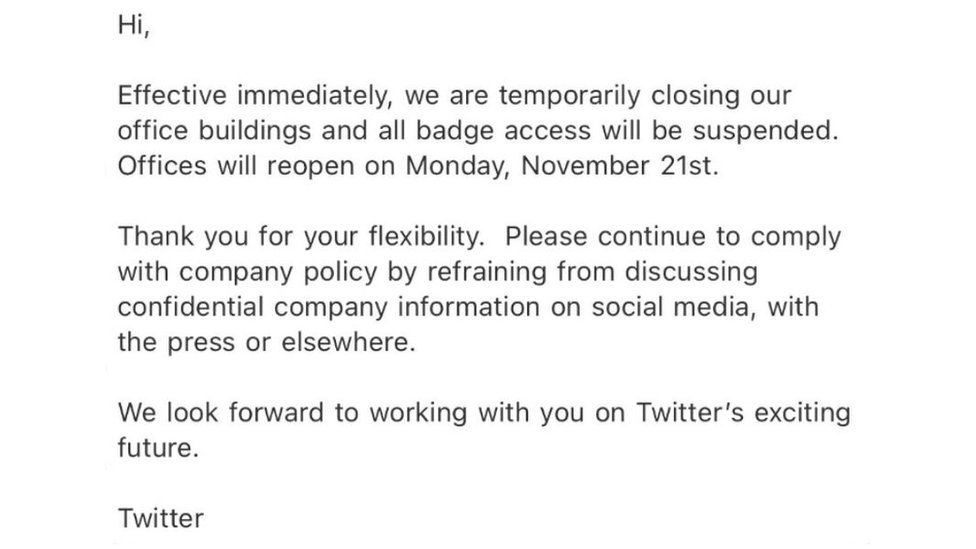 The message sent to the workers. 
According to current and former employees, the departures include many engineers responsible for bug fixes, raising concerns about the platform's stability and sparking debate among senior executives about which of those who left should return.
Musk partially reversed his decision to halt telecommuting, telling employees on Thursday that they would be allowed to work remotely if their managers claimed they had made "an outstanding contribution."
According to the New York Times, Twitter later announced via email that it would close "our office buildings" to employees by Monday. According to Reuters, the company's security services began evicting employees from the offices on Thursday afternoon.
According to current and former employees cited by Reuters, Elon Musk began meeting with key executives in order to persuade them to stay with the company.
He did, however, say in a post that he was not concerned about resignations because "the best people stay" and that the platform's usage had reached record levels in recent days, without providing any further details.
Twitter, which has lost many members of its communications team, did not respond to a request for comment from Reuters.
What do people mean when they say Twitter is gonna shut down? Doesn't it kinda run itself? I feel like engineers are for changes not to just keep it running? I also don't know anything. Hey @elonmusk wanna do a Twitter space with me? Im confused.

— Dave Portnoy (@stoolpresidente) November 18, 2022
What was stated in the ultimatum
Employees were given the option to sign on in order to stay: "If you are certain you want to join the new Twitter, click 'Yes' on the link below." Anyone who does not sign the pledge by 5 p.m. Thursday will be given severance pay based on three salaries.
Musk stated in an email to employees obtained by the Washington Post that Twitter "should be extremely hard-core" in the future. "That will entail working long hours at high intensity," he emphasized, adding, "Only exceptional performance will constitute a passing grade."
With information from REUTERS, THE GUARDIAN, and THE NEW YORK TIMES