Paphos officials believe power line spark started Saturday fire in Tala
Paphos officials believe a power line malfunction was behind a Saturday fire in Tala that burned wild vegetation in the area and destroyed a house where moments earlier a family was having a party.
According to local media, a fire started in Tala, Paphos district, on Saturday afternoon around 3pm, which burned through wild vegetation while also damaging homes and totaled a parked vehicle.
"We have three residences that sustained extensive damages, two homes were almost entirely destroyed, one had serious damage, while four others had been affected with damage in the exterior," Paphos district officer Mary Lambrou said.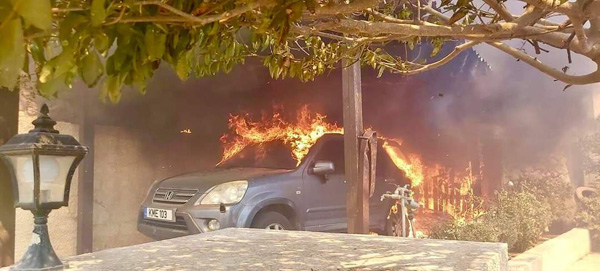 Additional media said the house that was totally destroyed belonged to a couple from South Africa, with a young daughter, and that the fire started while they were having a party.
The fire was out of control until later in the evening, with media reports saying officials managed to contain it around 8pm. It was estimated that crops, wild vegetation, and trees within an area of two square kilometers had been destroyed in the fire, which took place between the areas of Zelemenos and Kamares.
According to Paphos Police Department's deputy director Nicos Tsappis, officials were able to validate earlier information that suggested power lines had been bouncing in the air until they touched.
"The fire started at a point where overhead power lines belonging to the Electricity Authority sparked during a short circuit and then spread to the entire area," Tsappis said.
It was unclear whether the fire started from a downed cable or power lines were in close proximity to trees
It was not fully clear whether the fire started from a downed cable or power lines were in close proximity to trees, where a spark might have caused a branch to catch fire.
Officials from the state's electromechanical agency were said to have taken part in investigating the incident alongside police.
Even though coming in contact with a downed power line may appear harmless to an unsuspecting person, there is high voltage in power lines that can seriously harm or even kill anyone who touches a cable directly or using another object or even comes close to a wire.