Join UCLan Cyprus' Open Day and learn more about the unique advantages offered by the only British University of Cyprus. The Open Day will take place on Wednesday, the 21st of July 2021, at UCLan Cyprus Campus in Larnaka, from 10:00 – 19:00.
Receive top-quality British education exclusively at UCLan Cyprus, that allows you to obtain an authentic British degree, while saving 2/3 of the total cost of studies compared to other Universities in the United Kingdom, as a result of BREXIT and the discontinuation of the British Student Loan.
Visit our award-winning campus and find out more about our programmes of study, that allow you to receive a Double Degree upon graduation, one from UCLan UK and one from UCLan Cyprus, offering you recognition and employability opportunities in Cyprus, the UK, Europe and beyond.
Built on strong academic foundations, the University of Central Lancashire in the United Kingdom, our mother university, counts more than 190 years of history. According to the Times Higher Education World University Rankings 2021, the University of Central Lancashire is among the elite of universities worldwide and it is considered among the top 6.5% of all worldwide Universities by the Centre for World University Rankings (CWUR) 2020/21. It is one of the largest and most modern universities in England with its student community listing more than 35,000 students from more than 150 countries.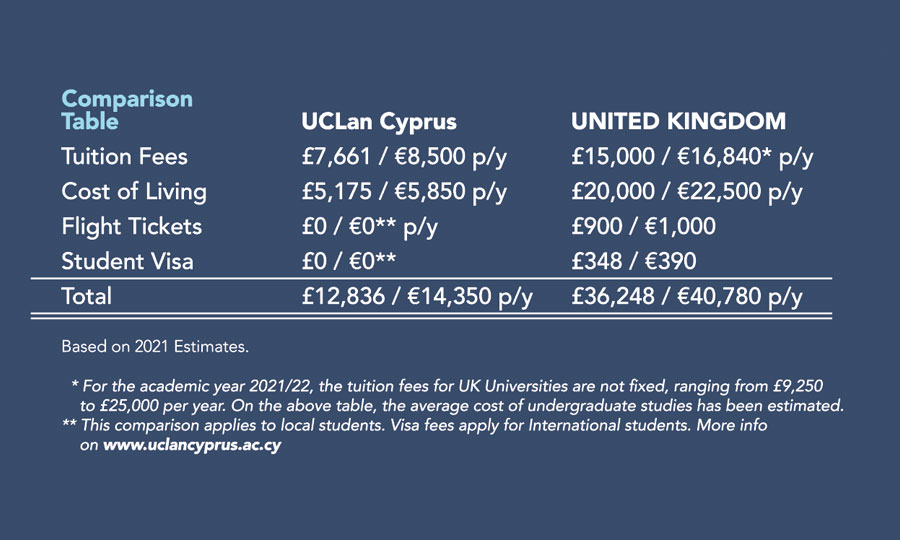 Join our Open Day and get the chance to find out more about the advantages of choosing the British University of Cyprus and explore our state-of-the-art facilities. During the Open Day, you will have the chance to complete the HOGAN professional career test in order to discover your ideal path based on your personality and characteristics.
Our experienced Academics and Professional Staff will be available to provide all information regarding studies at UCLan Cyprus, about the entry requirements for September 2021, future career opportunities, scholarships, our halls of residence and student life. Our volunteers will also be on the spot, to provide all the necessary information, including Larnaka's student life.
We would like to reassure you that the health and safety of the attendees and our staff during the Open Day are our top priorities and UCLan Cyprus takes all the necessary measures and precautions.
For more information, please contact UCLan Cyprus at admissions@uclancyprus.ac.cy or by phone at +357 24 69 40 00.