TechIsland proudly announces the launch of the first Cyprus Tech Industry Salary and Workforce Survey, in partnership with Mercer, a global leader in employee compensation data. The launch event, held on the 1st of June in Limassol, marked the beginning of a transformative journey to provide reliable, robust, and up-to-date salary information tailored specifically for Cyprus organizations. 
The Tech Industry Salary and Workforce Survey fills a crucial need in the growing technology sector by offering Cyprus organizations access to the world's largest and most comprehensive employee compensation database. This comprehensive market data solution equips companies with reliable benchmarks based on industry, company size, and closest competitors, allowing them to make informed business decisions and gain a competitive edge in the talent market.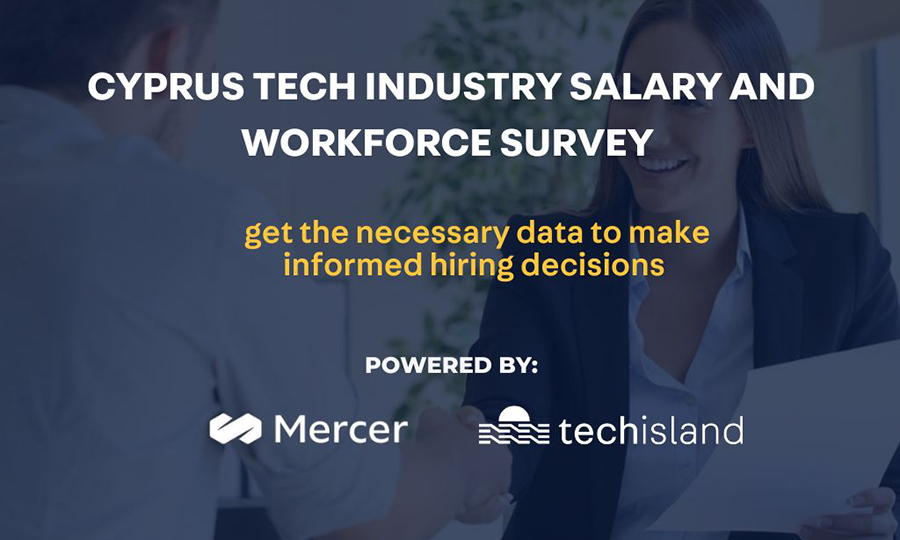 ''We are thrilled to have partnered with Mercer to bring this innovative initiative to fruition,'' expressed Valentinos Polykarpou, Chairperson of TechIsland. ''As TechIsland we are committed to contributing in building the necessary infrastructure to transform Cyprus into a Tech Hub. Through this project, our aim is to offer organizations in the tech industry the necessary data to make informed and strategic decisions, empowering them to attract, retain, and motivate top talent.'' 
During the event, attendees had the opportunity to learn about Mercer's innovative approach to launching the survey, leveraging their extensive experience and cutting-edge tech workforce insights capabilities. A live demonstration of the platform showcased its powerful features and user-friendly interface, providing firsthand experience of its potential to revolutionize compensation management.
Insights from leading Cyprus companies, such as Wargaming and Exness, who have already leveraged salary data from Mercer were shared, inspiring attendees with success stories and practical strategies to enhance their compensation practices. The event also facilitated invaluable networking opportunities, enabling HR professionals to connect with Mercer experts and peers, fostering collaboration and knowledge exchange in the field of compensation management.
''The launch of the Tech Industry Salary and Workforce Survey is a pivotal moment for the tech industry in Cyprus, ''emphasized [Representative's Name], representative of Mercer. ''We are proud to contribute our expertise to empower organizations with actionable insights that will shape the future of the tech work landscape in Cyprus.''
TechIsland and Mercer invite all organizations within the tech industry to take advantage of this groundbreaking solution to gain invaluable insights, foster a culture of consistency and transparency, and ensure pay equity within their organizations. For more information contact TechIsland at hello@thetechisland.org