by Nakis Antoniou
Ever since COVID started and the airports were shut down, I decided to embark on a brand new journey in my homeland. Cyprus is filled with magnificent sceneries, art and flavors and it's almost always known for its beaches.
My appetite to explore new places made me realize that I had never done it in Cyprus. "What can someone do in Cyprus? My initial thought was to find 100 things.
After I shared this idea with some friends, their responses were all the same, "How can you find 100 things to do?"  And this is how my adventure started.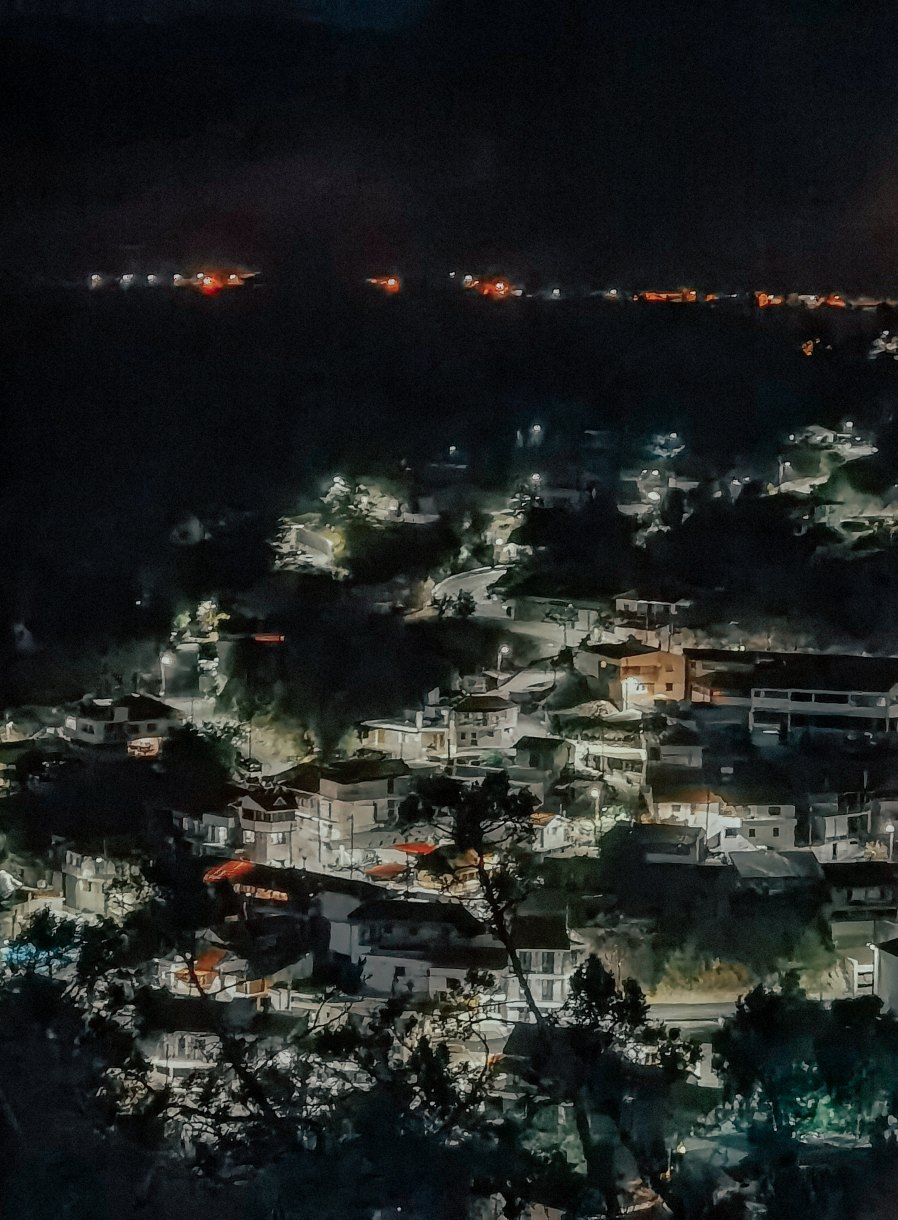 The view from Profitis Ilias, in Agridia.
First, I listed all the things I'd been meaning to do: Avakas Gorge, for starters, is a place I've wanted to explore for years.  Kritou Terra is a wonderful village with waterfalls, surely that deserves a spot.  Kalopanayiotis is also another beautiful village.  The "EDRO III" shipwreck in Peyia is close to Avakas Gorge, so it was just a hop, skip and a jump away.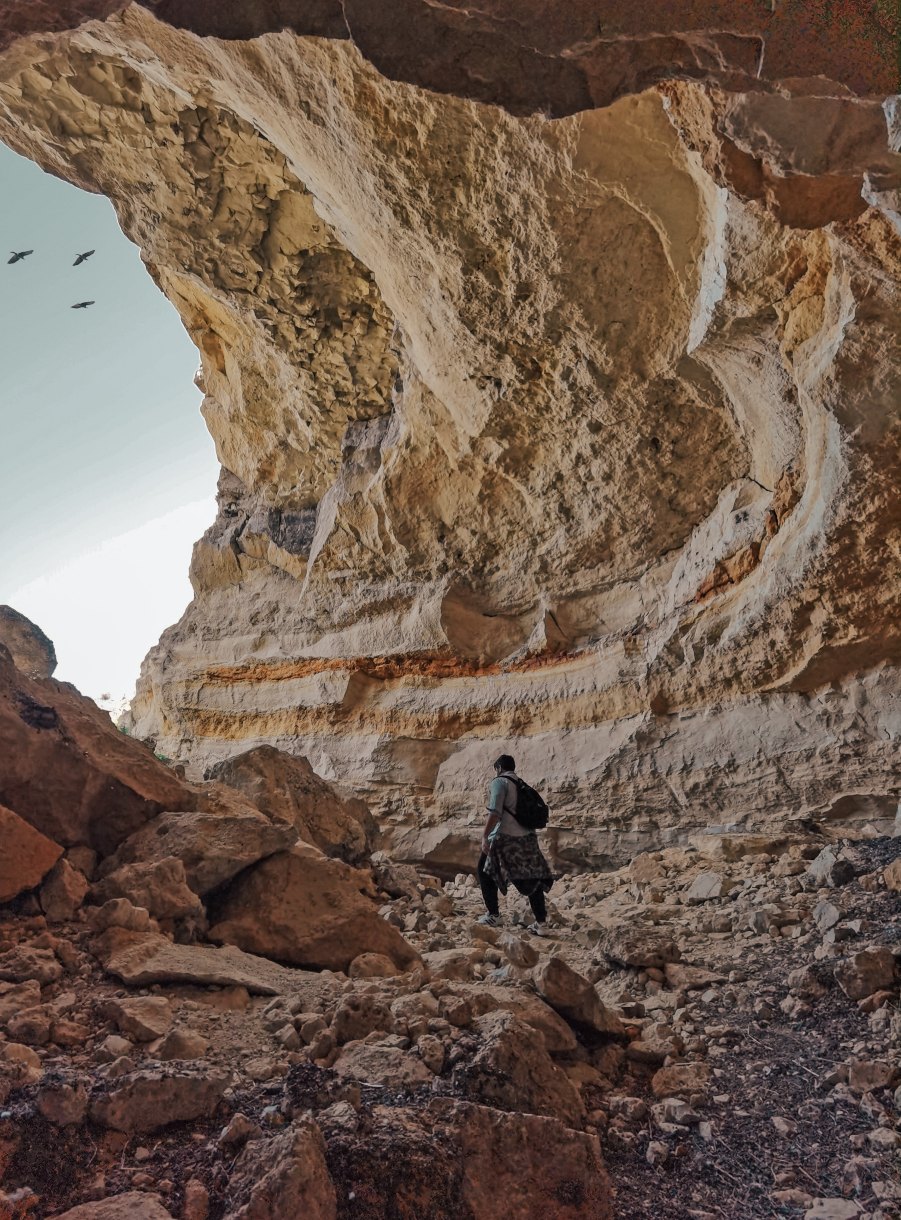 In the caves in Mammari.
Then we have Paphos Castle and Aphrodite's Rock, two destinations I've been visiting since I was a child.  And of course, in Drousia, that straight road that strangely allows water to drip uphill, which is real by the way, I tested it!!  And it's right outside an amazing diner with great food.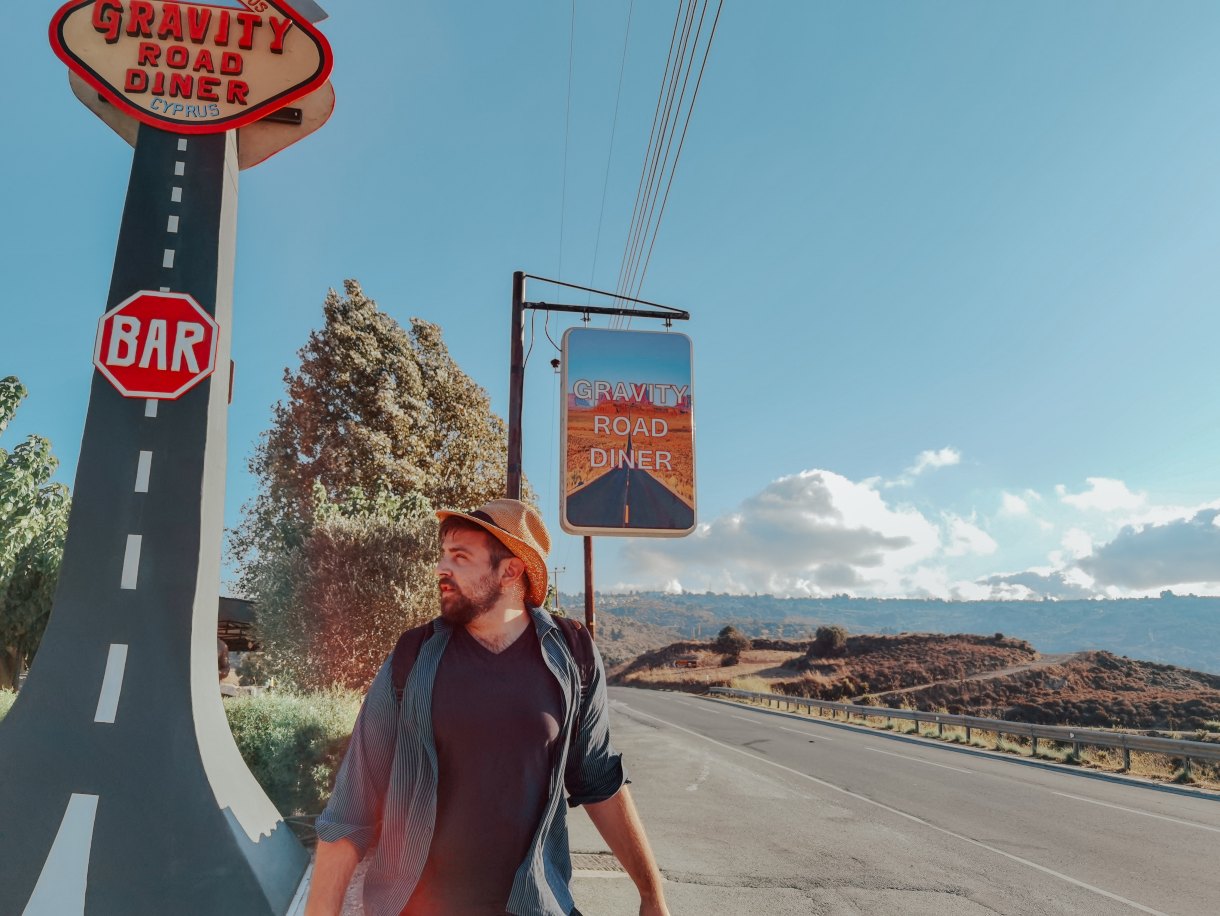 On the special road in Drousia.
I somehow became a palouze maker in Handria village and discovered beautiful and unique churches along the way.
I finally walked the "Teichia tis Madaris" nature trail, discovered Rodous's Watermill in Galata village and fell in love with the wharves of Protaras. 
I tasted the "best" mahalebi in Nicosia which was in Lythrodontas village and walked around the circular mosaics in Avdimou village.
And that's not even the half of it.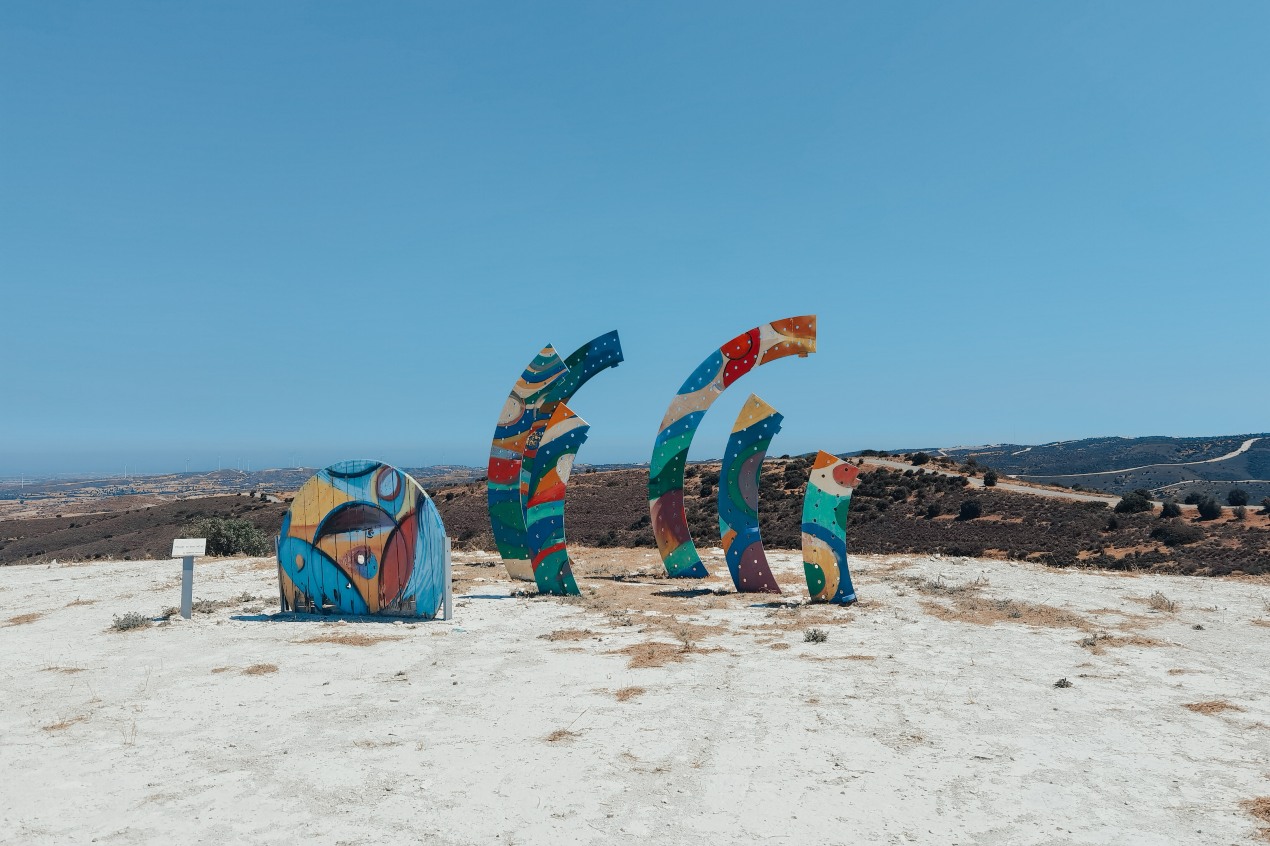 You should see the art installations in the middle of nowhere, near Klaudia.
I visited two or three (sometimes four) spots in a day depending on the time I had and how long I spent at each site.  And if I couldn't do it in a day, I'd plan my next road trip with some friends. 
And this is how I came to find 100 things to do in Cyprus.  My exploration was easygoing, uncomplicated and relaxed.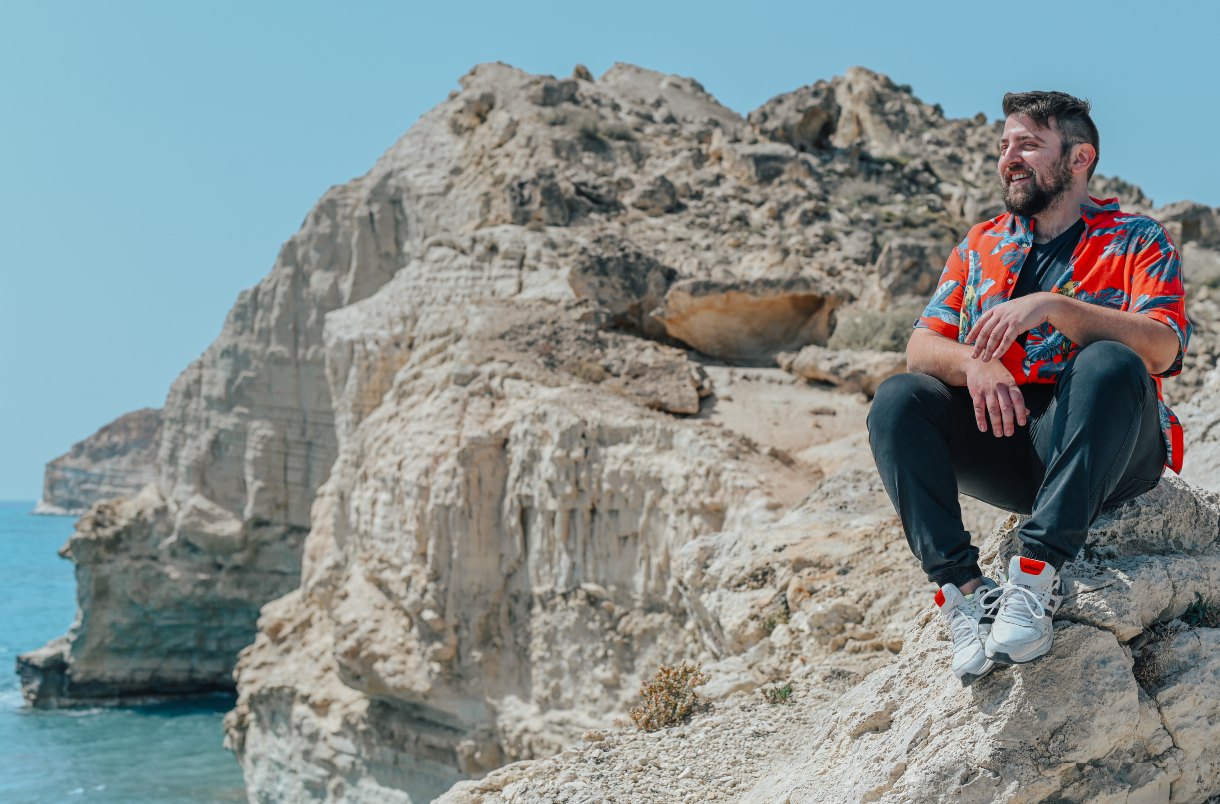 At Cape Aspro in Pissouri.
Almost two years later, last October, I was standing right outside the chapel of Prophitis Elias at night, admiring the stunning view of Agridia village, the street lights creating a breathtaking sight.  This was one of the last destinations on my list, so simple but so beautiful.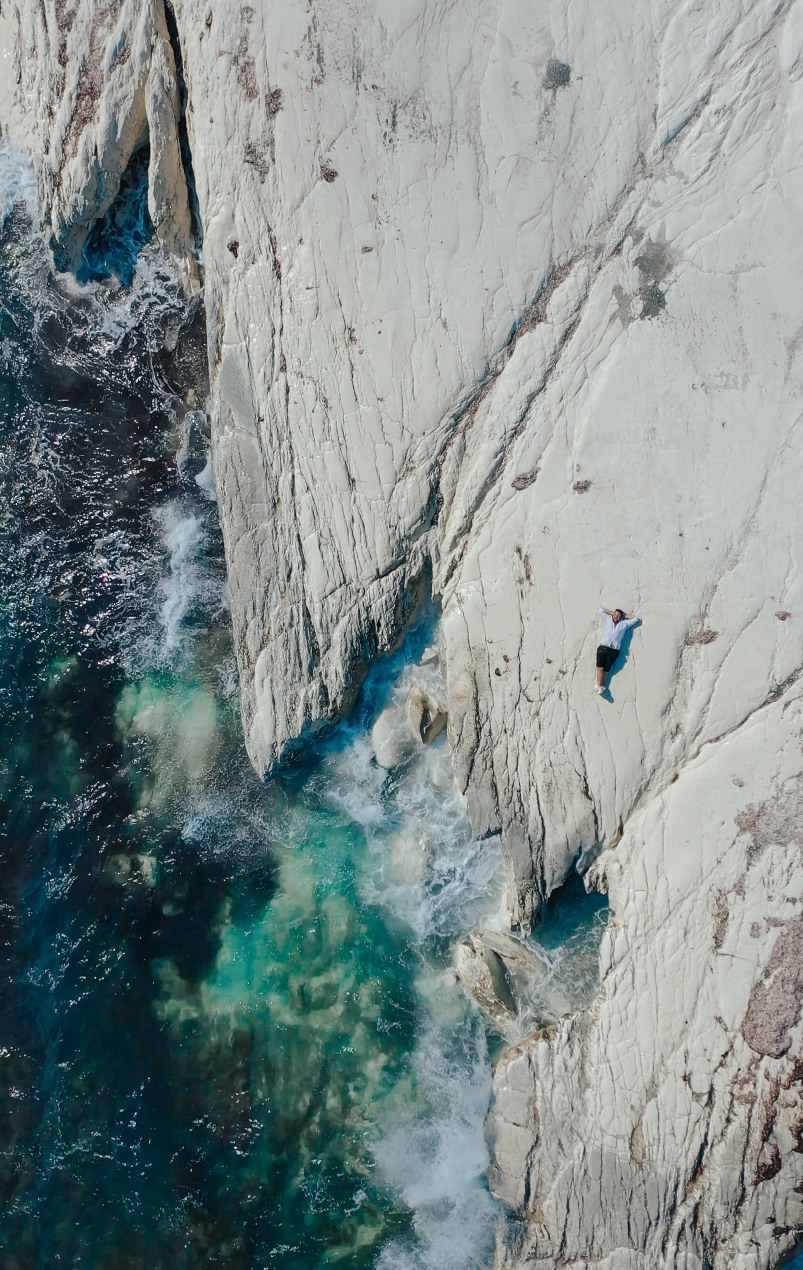 By drone, on the white rocks at Governor's.
Yes, the beaches of Cyprus are stunning but there are so many more places to see and do on this island. I had been on countless road trips, solo or with friends and family, and I still couldn't get over the many places to visit.
I kept changing this list a few times until I finally decided to wrap things up.  It was difficult to keep it down to a hundred, there really are more than 100 things to see and do on this island.
This list includes nature trails, natural landmarks, historical and archeological monuments, ruins, wrecks, villages, churches, Instagrammable spots, open air art spaces, activities and places where you can enjoy local delicacies that reveal the true flavor of Cyprus. 
You can see the full list on "Exploring Home" at Boy Voyage (https://www.boyvoyage.net/exploring-home.html) .