Greek diplomats say partial deal with Cairo nullifies Turkey-Libya maritime border agreement
Ankara was caught off guard Thursday when a secret partial maritime agreement emerged between Athens and Cairo, with the Turkish foreign ministry calling the deal "null and void."
"A maritime boundary between Greece and Egypt does not exist," the Turkish foreign ministry said in a statement, adding that the "supposedly-delimited area lies within the Turkish continental shelf as declared to the United Nations."
Turkey's statement came hours after Greek Foreign Minister Nikos Dendias showed up in Cairo unbeknownst to reporters, where he signed a partial maritime agreement with his Egyptian counterpart Sameh Shoukry.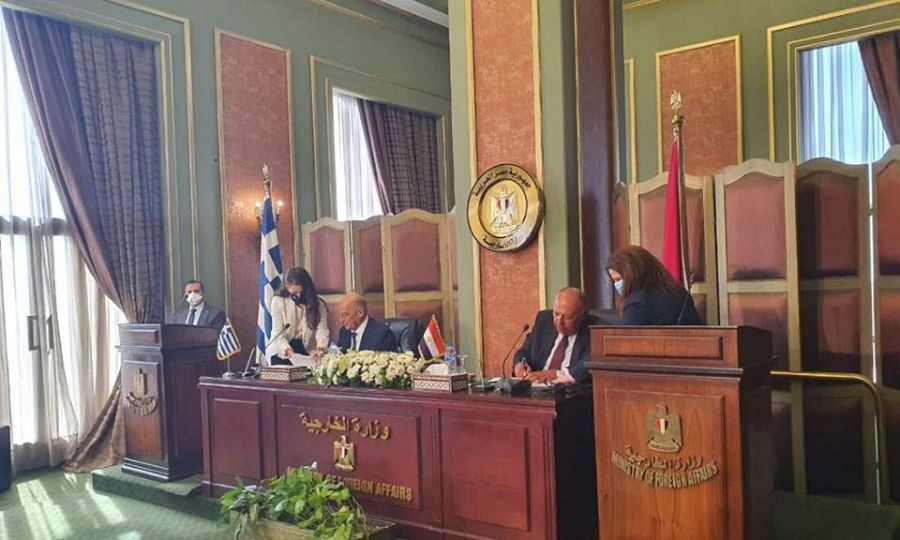 Greece, which has not officially claimed an Exclusive Economic Zone but has signed a total of two partial agreements with Egypt and Italy, has been critical towards Turkey, after Ankara recently began to challenge a series of agreements in the eastern Mediterranean between other states.
But the partial agreement left out a number of issues, with reports saying Athens had been trying for 15 years to sign a maritime border deal with Cairo. Reports also said Egypt had long-standing reservations over a number of points, including Greece's claims near Kastellorizo, a Greek island off the Turkish coast.
'Egypt... once again suffers losses at the expense of the Egyptian people with this move'
In 2013, General Abdel Fattah el-Sisi announced on live television the overthrow of the Cairo government, which had wide support from the Muslim Brotherhood, along with the suspension of the constitution and the installment of an interim government.
Sisi became Egypt's president in 2014, straining ties between Cairo and Ankara after Turkish President Recep Tayyip Erdogan questioned the legitimacy of the new Egyptian president in a speech at the UN General Assembly.
Egypt says deal with Athens a "move forward"
"This agreement allows both countries to move forward in maximizing the utilization of the resources available in the exclusive economic zone, especially promising oil and gas reserves," the Egyptian minister said.
Greek diplomats said the Athens-Cairo agreement effectively nullified an accord between Turkey and the internationally-recognized government of Libya, a deal opposed by East Libya-based commander Khalifa Haftar.
Last year, Dendias made another surprise visit in the region when he showed up in Libya to visit Haftar.
In Thursday's official statement, Ankara also said the Athens-Cairo deal was an attempt "to usurp the rights of Libya" and further claimed that Egypt "surrendered an area of 11,500 km2 with the so-called agreement it signed with the Greek Cypriot Administration in 2003."
"Egypt… once again suffers losses at the expense of the Egyptian people with this move," Ankara said.
Turkey has been showing irritation over its exclusion in energy games in the eastern Mediterranean, with the frustration growing further over the establishment of the East Med Gas Forum early last year by Egypt, Greece, Cyprus, Israel, Italy, Jordan and the Palestinian Authority (PA).