Protesters gather outside Larnaca courthouse to support Kurd facing extradition to Germany on terrorism charges
A Kurdish man wanted by German authorities on terrorism charges could soon walk free on bail following his extradition hearing at the Larnaca courthouse.
Cerkez Korkmaz, who is facing prosecution in Germany on terrorism-related charges, was arrested on March 21 at Larnaca airport as he was attempting to board an international flight.
During a court hearing on Tuesday, the 60-year-old was told he could make bail as soon as he finds someone to sign a bank guarantee of €100,000 bail as long as Korkmaz also puts down €30,000 down of his own money. The next hearing has been scheduled for April 10, after prosecutors said they would ask German authorities for clarification on the extradition request and specific information regarding the "terrorism list" where PKK is included. Authorities have up to 60 days for the court to rule on the German extradition request. 
Local protesters accuse Germany of issuing the arrest warrant after caving in to Turkish demands
It wasn't clear whether the judge kept additional requirements set previously, such as surrendering his passport and travel documents, while media reports said his release was imminent based on sources at the Larnaca District Court.
Local law enforcement officials detained Korkmaz based on an international arrest warrant issued by German authorities in connection with crimes committed in that country between 2013 and 2015. Reports said the warrant described the suspect as a member of PKK, a leftist group formed in the late 1970's and subsequently placed on the terrorist list almost two decades ago.
But local protesters, described as mainly Kurdish people living in Cyprus as well as local Kurdish sympathizers, cried foul over the arrest. A statement issued by the Theofilos Cultural Center of Kurdistan accused Germany of issuing the arrest warrant after caving in to Turkish demands.
"Germany acted following a request by Turkish authorities which couldn't arrest Kurdish fighters on their own," the statement said.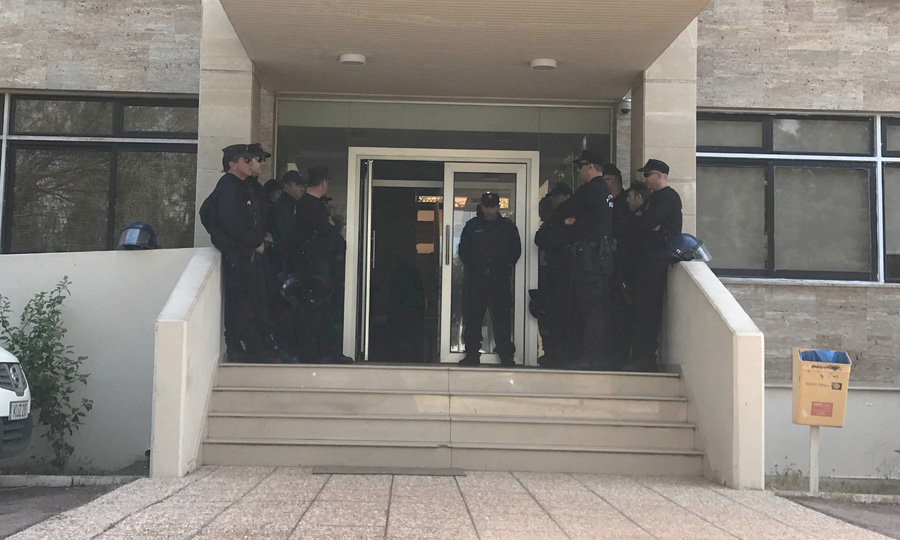 The group also said "hundreds of thousands of people are locked up because Erdogan doesn't like them, and dozens of thousands of people lost their jobs."
Outside the courthouse, several protesters help signs against Turkey, calling it a "fascist collaborator with ISIS" and asking the country and Germany to "get their hands off the Kurds."
The hearing took place around noon while anti-riot police officers were reportedly outside the courthouse to secure the area and maintain order.