Proposed legislation in Cyprus would amend penal code to include femicide as a legal category in killings of women
A new bill proposal calling for femicide to be recognized officially as a sex-based hate crime has been submitted to the House legal affairs committee, with proponents saying the term would be helpful for prosecutorial reasons while some critics say the law might be sexist.
Disy MP Annita Demetriou is sponsoring a bill that would introduce the term femicide, the killing of a woman or girl by a man and on the basis of her gender, into the penal code according to Philenews.
The bill comes after a number of manslaughter cases where the victims were women, with critics saying the state should pay more attention to these crimes. The proposal also comes after reported incidents of domestic violence during lockdown measures earlier this year as well as debate over whether police and the public should have the right to know more details about crimes involving femicide, so that state and local officials as well as society at large could take appropriate measures.
Demetriou's femicide bill proposal would amend the Penal Code to say any person who brings about the "unlawful killing of a woman or girl" would be guilty of femicide if he or she also was in a relationship with the victim or lived together. Other factors that would turn an unlawful killing into a femicide include family members, whether they live in the same house or not, honour killings, religious practices, female genital mutilation, or unequal treatment based on gender. More reasons or categories could be added to the bill, the MP said.
The new term would not alter punishment outcomes but the new category would help police record cases involving unlawful killings of women as femicides
The punishment for femicide shall be life imprisonment according to the bill proposal, which would essentially amend Article 208 that currently says "when a person who unlawfully kills another under circumstances which, but for the provisions of this section, would constitute murder, does the act which causes death in the heat of passion caused by a sudden provocation, that is to say, by any wrongful act or insult or aggravation of such a nature as to deprive a reasonable person of the power of self-control, and before there would be time for the passion of such reasonable person to cool, he is guilty of manslaughter only."
Femicide would not alter punishment outcomes, Demetriou said, while adding that that the new category would help police record cases involving killings of women as femicides.
Another legislator in favour of introducing femicide as a legal term, Akel MP Skevi Koukouma, has argued that the current legal framework went hand in hand with developing state policy towards domestic violence.
Koukouma argued that many cases of domestic violence, where women were the victims, had remained under the radar due to a false evaluation and inadequate risk assessment by state authorities.
The senior legislator had also called for more women to be hired as police officers, while also arguing that Social Services need to hire more experts such as sociologists and psychologists.
Koukouma also called for all cases within the last four years to be reexamined so that state officials could assess domestic violence risks.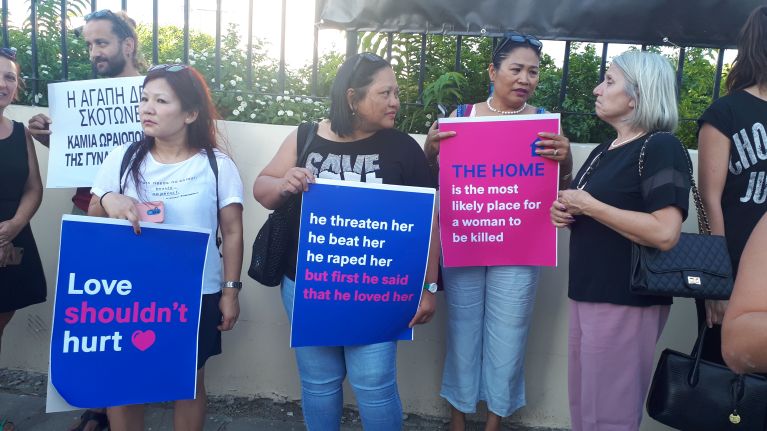 But some critics among the public have pointed out that calling murder a femicide by law could be sexist, arguing that murders take place for different reasons unconnected to the gender of the victim.
Experts and some journalists pointed out that some headlines such as "crime of passion" typically did not help provide accurate information about a case as well as undermined the cruel circumstances under which a male perpetrator kills a female with whom there is some connection.
This was evident in a public debate last year on social media after a man killed his former girlfriend in Limassol and then committed suicide.
After the woman's funeral, women's groups held a protest outside police headquarters to raise awareness over violence against women. The demonstrators are also calling for better training of police officers who are tasked with responding to domestic abuse complaints.
Similar demonstrations had also been held in the northern part of the island, following a spike in crimes against women by men and former male partners.
Other cases with men killing women in the south, whether they were in a relationship or had broken up, also stirred debate on social media, with questions raised as to how local authorities could enact policies to prevent such crimes in the first place.