No end in sight for Savannah cat's ordeal, Greens furious over pet relocation to Paphos zoo unbeknownst to owner
There was no end in sight for Berton's ordeal after news broke on Tuesday that the ailing Savannah cat in state custody was taken to Paphos, unbeknownst to his owner, instead of getting treatment by a local vet in Limassol.
(Click here for an update to the story)
Public support continued to pour in this week for a woman and her Savannah cat named Berton, who got severely stressed out and dehydrated during his detention at the Limassol zoo, where he was taken following an incident in May.
'Who gave permission to have the animal transported to Paphos in the early morning and what was the reason that he was not taken to a clinic for treatment' the Greens asked
After Berton got dehydrated and was under enormous stress in his cage at Limassol zoo, his situation drew media attention when staff refused to allow the cat to be taken to a local vet.
Berton was moved to another space with an air conditioner after an on-site vet visit over the weekend, with reports also suggesting officials could allow the owner to take her cat to a private vet in town.
But the Green party on Tuesday said they were shocked to learn that Berton was taken to Paphos, without his owner's consent, adding that this latest development would take a heavy toll on his health.
"Who gave permission to have the animal transported to Paphos in the early morning and what was the reason that he was not taken to a clinic for treatment," a party statement said.
The Greens pointed out that the relocation to a zoo in the western district would also make it harder for the owner to visit her pet, something she has been doing daily in Limassol, and called on members of the public to make their voices heard on the matter.
Legal but more red tape from outside EU
Savannah cats can be legally kept as house pets in EU member states under specific conditions, but Cypriot authorities have questioned Berton's precise breed characteristcis described as a cross between an African serval and a domestic cat.
Questions have also been raised after it was suggested that Berton originated from Ukraine, a non-EU member state which means there would have been additional red tape to bring the cat to the island. 
It was still not clear whether the owner had been legally ordered to surrender Berton to authorities back in May, when an unexplained apartment breach resulted in a boy being scratched after the cat emerged from a closed door that became unlatched.
Reports at the time said Berton came out of his flat and into a corridor where there were at least two children and one adult, all of whom were attending a birthday party at a neighbor's place. The cat's owner had reportedly stepped out for a brief moment when the incident took place.
After the incident police said they were investigating a single offence of negligence but did not indicate a suspect.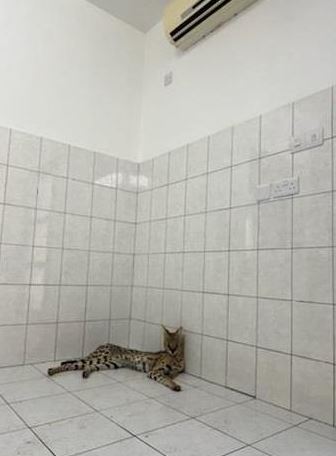 CID Limassol director Lefteris Kyriakou told Knews on Tuesday that he did not have any information on additional grounds for charges, such as illegal import of an exotic or banned animal, adding in a follow up phone call that those issues were being probed by police investigators.
The Greens have accused state officials of not providing adequate information about Berton.
"We are waiting to hear any updates but there is no response from state animal services," the Greens said.