Cabinet in brainstorming session as COVID infections and skepticism over pandemic continue to spread
Tough measures amid a recent spike may be off the table for now in the Republic of Cyprus as a partial Cabinet meets to brainstorm on ways to boost vaccination, with a skeptical public remaining either unconvinced about the vaccine route or still in the dark over pandemic data.
A number of ministers were scheduled to attend a partial Cabinet meeting on Wednesday at the Presidential Palace, where they would submit recommendations on incentivizing unvaccinated young Cypriots to pull up their sleeve and get the shot.
Earlier this week, President Nicos Anastasiades said getting vaccinated and being properly informed about vaccinations was a "patriotic duty," while also addressing the youth directly to say it was "not cool to stay unvaccinated."
But media pundits said government and health officials failed to convince a large portion of the younger population to get jabbed, with some reports saying most unvaccinated young people were not antivaxxers or conspiracy theorists but simply uninterested.
Critics have attributed some of that skepticism to a lack of data, with a guest on state radio Wednesday morning saying it was difficult to locate meaningful data about the pandemic to make an informed choice about vaccination.
According to the health ministry, daily Covid infections continued to rise for a fourth consecutive day in triple digits, with Tuesday numbers registering 332 new cases that brought the total in the Republic to 75,341.
While the government says the majority of hospitalized patients are unvaccinated, infected persons of unknown vaccination status were being turned away at hospitals
No deaths due to the bug were officially reported in the last two weeks while one case is currently being investigated after a local woman died of a rare blood clot two months after her vaccination. Officials said her doctors never reported her case to authorities and further believed her death was unrelated to the vaccine.
The Cyprus News Agency reported on Tuesday that 59 patients were hospitalized with a coronavirus infection, 20 of whom were in serious condition.
But while the government said the majority of hospitalized patients was unvaccinated, an official on the radio pointed out that an additional number of infected persons were also being sent away by administrators who determined there was no need for admission.
As of Wednesday morning, the government has not provided information on the vaccination status of those turned away at the hospital or how many had symptoms or simply tested positive.
But government officials and health professionals maintain that vaccination is the only way to get back to normality quickly.
During the morning radio show, a doctor who got infected months after being fully vaccinated said "it is still possible to fall ill but the risk is reduced significantly."
"I did well because I was vaccinated and the impact of the illness was kept low," he said, adding "had I not been inoculated, things could have been a lot worse."
Data on vaccinated infections unavailable 
But comparative information was still missing from the public sphere after a recent decree urged -but did not require- vaccinated persons to take a PCR test if they were identified as contacts of known infected persons. 
Concern over vaccinated infections also went up overseas, after a rise in COVID cases was recorded in countries with higher percentage of vaccinations, such as the UK and Israel.
Last week, according to Israeli media, about half of adults infected in the country's recent Delta outbreak were fully inoculated with the Pfizer vaccine, prompting the government to re-issue mandates for indoor use of face masks regardless of vaccination status.
But according to Kathimerini Cyprus, the Presidential Palace is scrambling to identify measures short of new restrictions in order to keep the pandemic in check before the next big wave is estimated to hit countries in late summer.
Kathimerini's Apostolos Tomaras reported that the Cypriot government had no plans for strict measures in the early summer but also it would not rule out other options if current steps failed to deliver.
Reports said outgoing health minister Constantinos Ioannou was in favor of reintroducing SafePass in outdoor dining, after his initial suggestion had been overruled in a recent relaxation of measures.
Laser-focus on boosting vaccinations, not restricting freedom
Ministers were said to be laser-focusing on incentives to boost vaccinations rather than restricting freedoms of citizens.
But the Cypriot government said it would not consider cash bonus as an incentive for young people to get vaccinated, a measure already announced in Greece where Athens said it would offer a pre-paid €150 card to young people aged 18-25 to get at least one shot of a vaccine against Covid-19.
Nicosia has also refuted reports in the media that said the government was considering bracelets for the unvaccinated as a counterincentive.
After a written presidency statement said Anastasiades told a reporter "we will think about it" in response to a question on bracelets for the unvaccinated, follow up statements clarified there were no such plans.
Following reports over the issue, a video later emerged showing that the president was visibly annoyed during the specific line of questioning.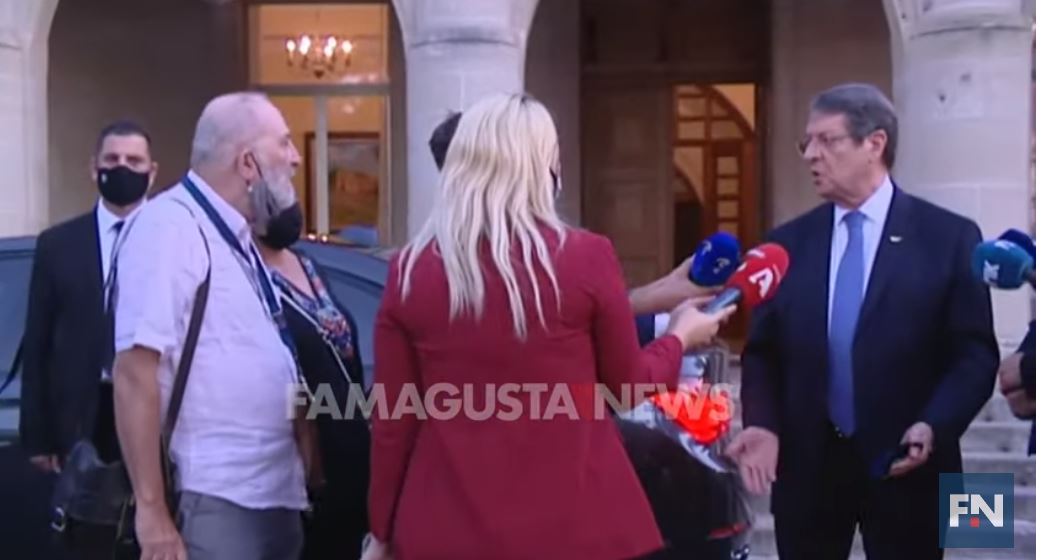 The video also showed Anastasiades and the reporter talking over each other during a heated exchange, with the journalist going on to justify his question and a smiling president referring to the journalist by first name and singling him out for "causing a scene every time."
As the president was turning to others for additional questions, the reporter attempted a follow up question, with the president adopting a stricter tone.
"Okay, you said it, I heard you the first time," Anastasiades said.
"When you don't like the questions, you get upset," the reporter said.
"How did I get upset? Dude, you want me to wear a bracelet?" Anastasiades responded.
"You? Was my question about you?" the reporter asked.
"Jesus Christ," Anastasiades mumbled as other reporters volunteered to ask questions.