Police say Strovolos case moving forward but share little infomraiton citing ongoining investigation
Another foreign expert could be joining the investigative team in the Strovolos double murder, with police facing many unanswered questions and pushing back on criticism for the way they are handling the case.
(Click here for an update to the story)
A forensic psychologist from Scotland Yard expert, who is reportedly flying to Cyprus on Wednesday, is not the first specialist to be called by Cypriot authorities to help in the investigation. Greek forensics professor and toxicologist, Chara Spiliopoulou, also joined last week and performed the second post mortem medical examination. 
The case has shocked Cypriot society, where 60-year-old beloved English School teacher Yiorgos Hadjigeorgiou and his wife, 59-year-old central banker Dina Sergiou, were found savagely stabbed to death in the bedroom of their own house almost one week ago in Strovolos, Nicosia.
The case is "very difficult" and the investigation must proceed carefully and methodically
Their funeral took place on Tuesday with no signs of public anxiety winding down.
Police have also been under intense criticism for not disclosing enough information or not telling the public clearly whether or not they have a good grasp on the case.
So far no suspects have been named in the case and police said they did not find the murder weapon, which is believed to be a single knife. A report by Spiliopoulou was expected to shed light on the exact time of death, with different scenarios being played out in the media regarding whether both murders took place in the same place or even at the same time.
Investigators are also facing criticism for not talking to more witnesses in the early stage of the investigation, while one report suggested that garbage was picked up early morning before officers could search the bins for clues.
The sight of police-trained dogs and officers holding metal detectors and combing the outer perimeter of the house quickly turned to dismay when it was announced that nothing had been found.
But despite public and media criticism pointing to a series of errors, police say the investigation is moving forward while admitting a lot more work needs to be done.
Teenage son expected to give statement
The teenage son of the couple, who has yet to give a written statement to police, is considered to hold important answers but the attorney general's office reportedly blocked investigators from getting a deposition until the time was right.
The 14-year-old boy reported the crime after midnight during early Thursday morning, when he said he went to a neighbour's house and telling them he had escaped from his residence where masked men attacked and killed his parents that night.
Police found no evidence of forced entry and no blood stains around the house were discovered except in the bedroom, where the bodies of the Greek Cypriot couple were found in a pool of blood.
CCTV footage from the area has been examined in order to verify parts of the account offered by the teen, who lived with his adoptive parents in a central location of Strovolos, the biggest municipality in Nicosia.
The boy has been in a prolonged state of shock, according to his lawyer who also represents the family of the victims.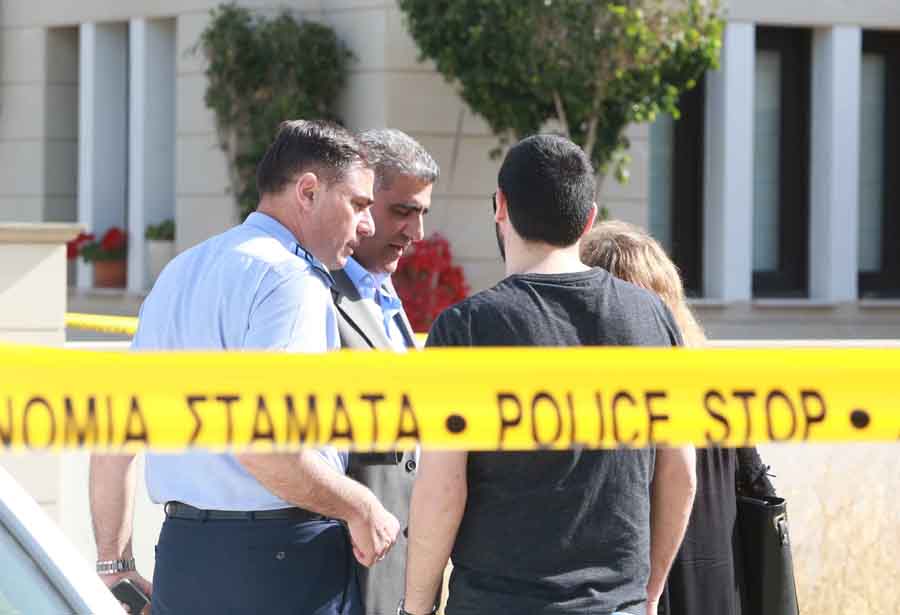 But the apparent delay in the investigation appears also to be caused by waiting on DNA evidence and other lab results. Police reportedly sent materials for genetic testing early in the investigation but did not speak to other witnesses who could possibly provide information on possible motives.
Attorney General Costas Clerides said Tuesday that important evidence in the case was still missing, while adding that the case was "very difficult" and the investigation must proceed carefully and methodically.
House keys handed back to teen's aunt
But private forensic pathologist Marios Matsakis, who says he is acting on behalf of the victims' family, told media he was denied access to the scene of the crime or the two autopsies.
Reports on Wednesday said police had completed their work at the scene and were handing back the house keys to the teen's aunt. Private investigators could now visit the the crime scene, almost a week after the murders took place. 
A very sensitive case
Responding to criticism that it is not the job of the attorney general to work with the police during an investigation, police spokesman Andreas Angelides said Tuesday it was not unusual for investigators to consult with the attorney general's office in cases where coordination is needed or when a case may be sensitive.
Angelides neither confirmed nor denied whether police knew what had happened, but he said he was aware of many reports and information, clarifying it would not be prudent for police investigators to share information that is part of an ongoing investigation.
"These are not issues that need to be confirmed by police, neither officially nor off the record," and "when we have information that needs to be shared, it will be done," Angelides said.
On Wednesday, Deputy Chief of Police Kypros Michaelides told reporters during an anti-terror drill in Limassol that the investigative team has about 12-15 people working on the case.
"Police are working methodically, with objectivity, responsibility and professionalism in an effort to solve this serious case," he said.