Demonstrators took to Pournara refugee camp on Sunday, calling for an end to the arbitrary detention of residents (Photo by Pavlos Vrionides)
A demonstration staged outside the Pournara camp in Kokkinotrimithia on Sunday calling for an end to the arbitrary detention of hundreds of refugees and asylum seekers stirred reaction from the Government on Tuesday, with an Interior Ministry announcement claiming it won't be allowing any further ghettoization of the island.
The demonstration, organized by Nicosia antifascist group 'antifa lefkosa', drew some 50 people outside the camp grounds which have recently become a source of contention, mainly between the Government and refugee-focused NGOs which have raised multiple alarms over developing 'concentration camp' migration policies.
Demonstrators and dozens of refugees that gathered behind the camp fence in response to their presence called for the refugees to be let out, while many refugees signalled toward having inadequate food and water and having been confined within the camp-turned-tent-city for many months without knowing when they will be allowed to leave.
Reports claimed refugees inside the Pournara camp continued demonstrating through Monday, with camp police spraying tear gas onto the crowds.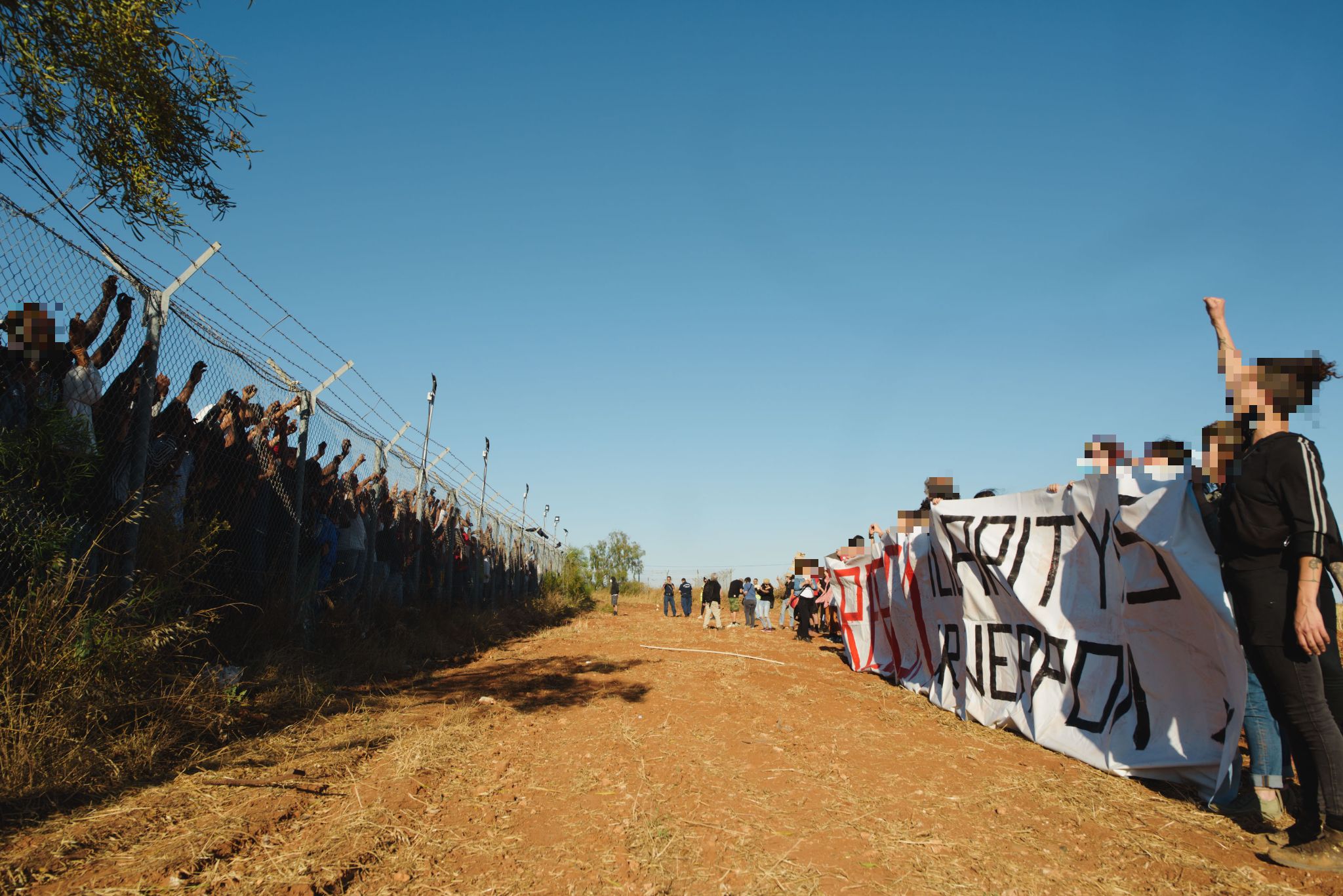 Photo by Pavlos Vrionides
On its part, the Government has stressed that it is doing everything possible to deal with the high numbers of asylum applications, with Interior Minister Nicos Nouris already stepping up efforts for the streamlining of the adjudication process at the Migration Office.
"At the Pournara Reception Centre reside refugees who, either must be confined for health reasons, or await the assessment of their identification details, or even because they plan to file asylum applications, but there are also many who do not possess travel documents," the Interior Ministry announcement said Tuesday.
"Abiding by the legislation and human rights, we want to host in our country only those that respect [local legislation]," it added, noting that "there is no place nor reason for those who do not honour the country that hosts them to remain."
The latter will be "repatriated safely once conditions allow," the announcement went on, noting that this will occur no matter how many people react.
Regarding the demonstration, the Interior Ministry said it "will not allow phenomena of anarchy to carry on in our country. We do not want to see any more areas of our homeland being ghettoized."
Migration policy under fire
Many have criticized developments in the island's migration policy, with the Pournara camp coming into full focus as several reports of inadequate living conditions, overcrowding, and arbitrary detention were later followed by the Government's use of the Quarantine Law, under which decrees to stem the spread of coronavirus were placed in force, to declare the camp an 'infested area' after some 30 residents were found infected with scabies, effectively forbidding the roughly 700 residents of the camp to leave the grounds.
In a report by Ombudswoman Maria Stylianou-Lottides in late April, it was stressed that asylum seekers should not under any circumstances be barred from exiting the campground, adding that an April 8 decree for restrictions on movement amid the pandemic provided for the right of individuals to request permission to go outside for humanitarian or medical reasons.
On May 6, camp residents staged a hunger strike, demanding better living conditions and the right to leave camp, while the following day some 100 residents continued to protest leading to the arrest of three asylum seekers.
Suspicions were raised among critics over the Government's move to declare the camp an infested area on May 21, the day that marked the onset of the second phase of the relaxation of restriction measures which saw all restrictions on movement lifted.
In early March, Interior Minister Nicos Nouris said "if you don't have asylum applicants confined somewhere, and if their applications are turned down, unfortunately you cannot locate them."
The Pournara camp in Kokkinotrimithia was originally designed to host asylum seekers for a maximum of 72 hours for initial checks and processing, but which is turning into a closed centre where hundreds of refugees are hosted for months at a time.
Overcrowding concerns were raised after the Government decided to relocate asylum seekers awaiting the processing of their application from other accommodation into camps.
On May 22, NGO Kisa called on the state "to publicise scientific and epidemiological substantiated findings on the scabies infestation of the Pournara Centre," and "to terminate the detention policy of asylum seekers at the Pournara and Kofinou Centres, to terminate its illegal policy of transferring new asylum seekers there and to ensure that both Centres are decongested, through the integration of asylum seekers and refugees in the wider community under conditions of equal treatment, especially in relation to the right of free movement, access to information and legal advice as provided for by the Refugee law."