The Larnaca District Court has delivered a guilty verdict against the former Metropolitan of Kition for an indecent assault that occurred in 1981. The assault took place in the Metropolitan's office when the victim was 16 years and 8 months old.
In its decision, the Court called for an apology from the former Metropolitan and cautioned him about his behavior and claims. Throughout the proceedings, the tearful victim watched, seeking justice for the long-delayed case.
Judge Efi Efthymiou emphasized the influence of the Church at the time, questioning how a 16-year-old girl could denounce a high-ranking priest. The judge acknowledged the delayed complaint, attributing it to the impact of the "Me too" movement, which emboldened the victim to come forward.
Outside the courtroom, the complainant's relatives and friends expressed their support, displaying a banner.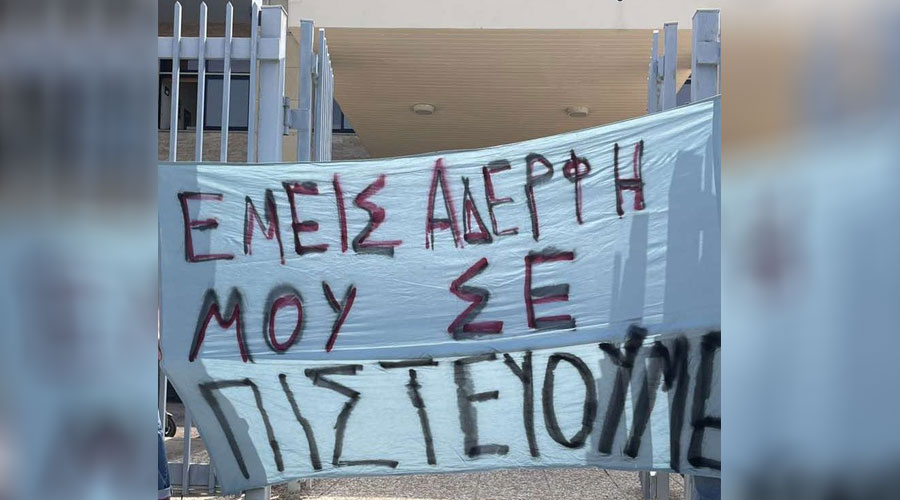 During a previous hearing, the former Metropolitan Chrysostomos denied the allegations, accusing the complainant and her family of lying. He claimed that the victim never visited the Metropolis and accused her of perjury, stating that he prays for her forgiveness every night.
The complainant testified about the events that transpired in the autumn of 1981, shortly after her father's death. Seeking financial assistance from a fund for orphans, she visited the Metropolitan. However, she experienced harassment and indecent assault instead. The meetings, arranged by the Metropolitan on Saturday afternoons, took place in his office after he opened the Cathedral door to welcome her personally.
The victim expressed her unease during the meetings and shared her panic when the assault occurred. She confided in her mother afterward. Tormented by the incident, she decided to come forward when another complaint against the former Metropolitan came to light.
The former Metropolitan of Kition, Chrysostomos, vehemently denied the allegations, stating that he had never met or had any contact with the complainant. He refuted claims of holding meetings or engaging in lewd phone calls with her or her family, dismissing them as fabrications.
It is worth noting that in another case, the former Metropolitan was acquitted of rape charges by the Larnaca Famagusta Permanent Criminal Court on October 22, 2021.
[Information from 24 News]