Documentary highlights 'wonderful journey' after accidental discovery in Istanbul brings Greek-Turkish population exchanges to light
Kathimerini Greece Newsroom
It was discovered in the summer of 2017: a marble slab with an inscription in Greek, embedded in the concrete floor, beneath the old tiles being replaced by two cousins in their grandparents' home in Karacakoy, northwest of Istanbul. "All we could make out was the date," one of the cousins, Kerem Soyyilmaz, tells Kathimerini. He took a photo of the slab and sent it to a Greek friend. "It looks like there's a Greek woman buried beneath your house," the friend replied, explaining that the slab was a tombstone and it read: "Here lies the servant of God Chrysoula Rodaki. March 1887."
The information sent Kerem on a quest for Chrysoula's descendants. He knew very little about the 1923 population exchange between Greece and Turkey at the time. "I don't know why I felt such a strong urge to investigate, but it has been a wonderful journey," he said when we met in Thessaloniki, where his documentary, "Searching for Rodakis," premiered at the northern port city's recent documentary festival.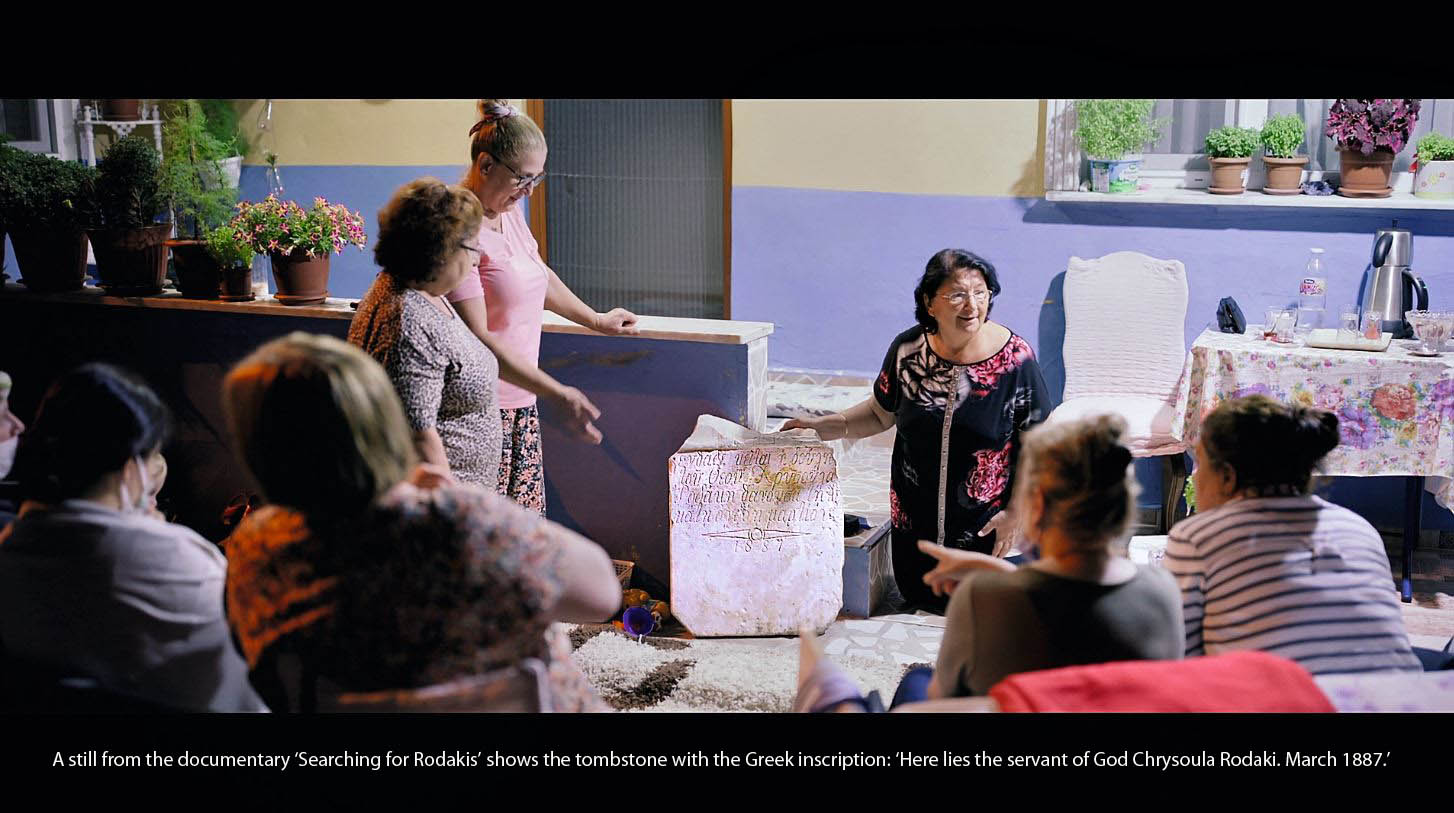 He started by questioning elderly residents of Karacakoy, who confirmed that many Greeks once lived there – in harmony with the Turks. The only thing they could remember of the Greek family that lived in that particular house, however, was that the father was a forest ranger. Kerem visited the local records office, but the archives only began in 1950, so he decided to apply for the Ottoman-era records. "Don't go poking around; the family may turn up and claim ownership of the house," several people warned.
When he saw Chrysoula's tombstone in the garden, he put a hand on it and wept – for her and for all the loved ones who are gone
He soon realized that he wasn't going to get approval for the Ottoman records, so he started looking in the archives of the Greek Orthodox Patriarchate and the United Nations. He hit another dead end, until he had the idea of posting a photograph of the tombstone and his mission on Facebook.
The response was overwhelming. One response among the hundreds he received was especially interesting. It came from a woman who explained that the Greek refugees had a custom of naming the places where they settled after the places they left. "What does Karacakoy mean?" she asked. "Small deer," he answered. "Then Chrysoula's descendants may be in the village of Dorkada," the woman answered giving a toponym that means the same thing.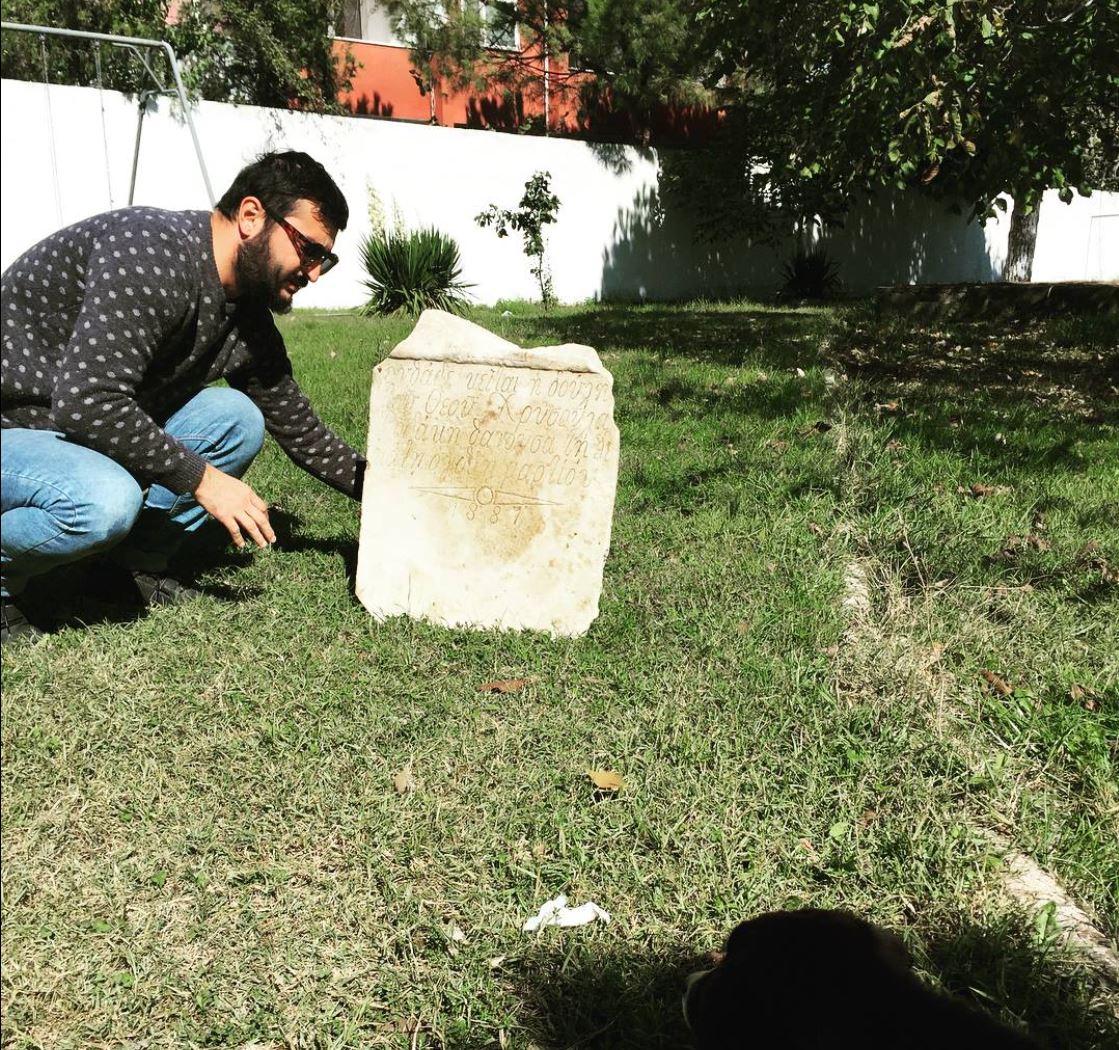 Kerem traveled to the village in northern Greece and did indeed meet three elderly women whose parents had fled like so many other Greeks from Asia Minor, leaving almost everything they owned behind. They told him there was no one by the name of Rodakis in the village, though. Listening to their stories, Kerem felt that this was a trauma passed down through the generations. "Even today, the sorrow of the population swaps is evident in the collective memory," he says.
"I believe the family you are looking for is mine"
In another response on Facebook, a Greek woman in Switzerland sent him a list of names of farmer-refugees, with several people with the surname Rodakis on it. He contacted more than 50 in different parts of Greece and had started losing heart until he got a message in October 2022 from a man called Theodoros Georgiadis: "I believe the family you are looking for is mine." The 65-year-old didn't have a Facebook account, but was alerted to Kerem's post by a cousin. "I travel to Istanbul often for work so it would be easy to meet there one day," he wrote. Kerem couldn't wait and took a flight to Thessaloniki the very next week.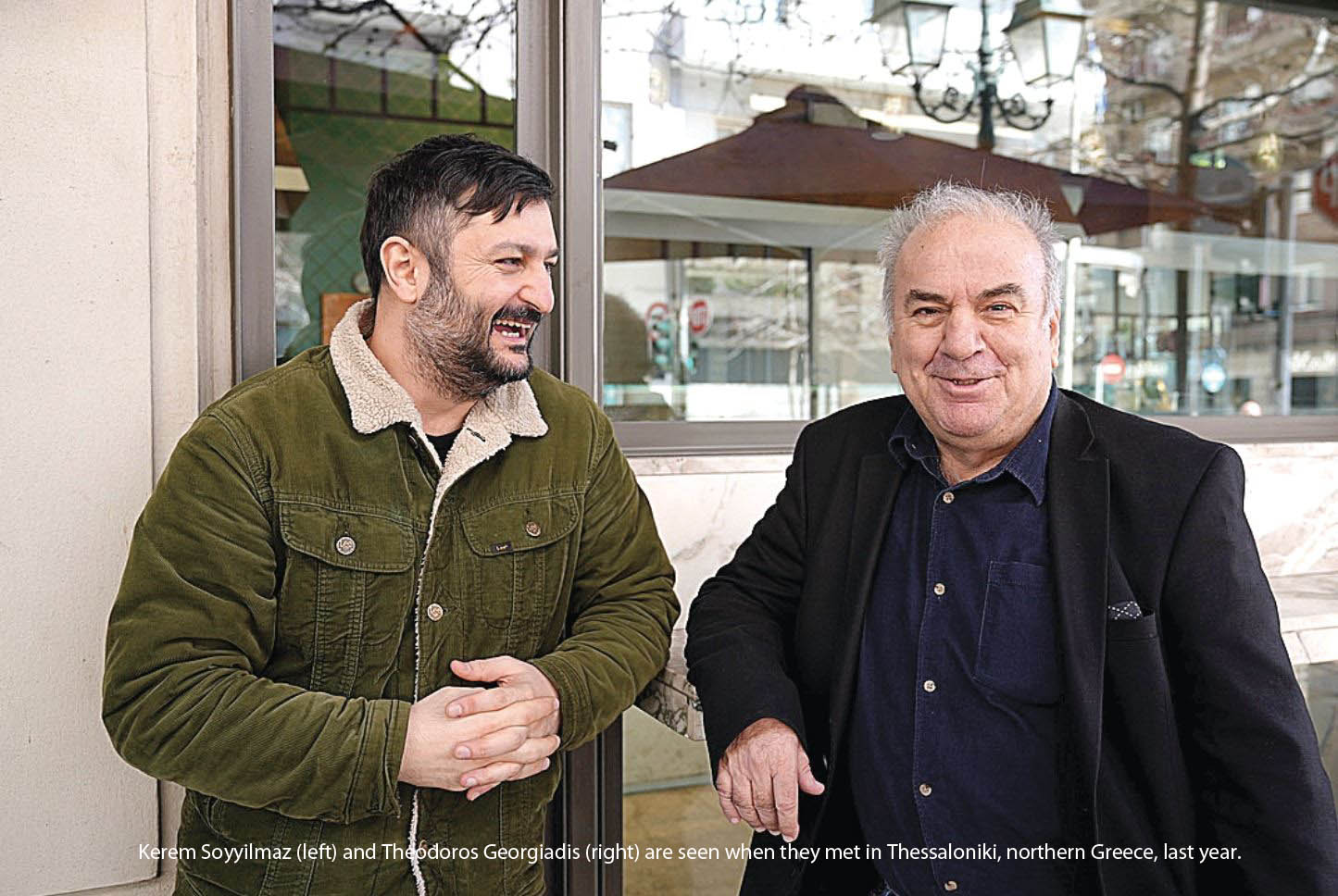 There, at a cafe, Theodoros told Kerem Chrysoula's story, starting with a family tree he had made himself while investigating his lineage. His father was Chrysoula's younger brother. Their uncle, Rodakis Georgiadis, did not have any children of his own and had taken in Chrysoula as his ward. She died at the age of 18, probably of pneumonia, and was buried under the name of the uncle who so adored her. Kerem wondered why she wasn't buried at the cemetery. Theodoros couldn't say, but Kerem later learned that some Turks didn't want Greeks buried in their cemeteries, so the Greeks buried their dead in their gardens and planted a tombstone in their memory inside their homes.
The journey
Theodoros gave Kerem all sorts of information, recounting the stories he grew up hearing. When his family reached northern Greece, they struggled to survive in very difficult conditions of poverty and with malaria running rampant. They were unwanted in their old country and strangers in their new one. They were advised to head to Dorkada or Askos, because the ground was fertile there and the villages had empty houses that had been abandoned by the Turks. Theodoros was born in such a house in Askos. He lived there until the age of 7 and has memories of the family gathering on the veranda every evening. "Some of them never adapted. Half of what they said was in Turkish," he remembers.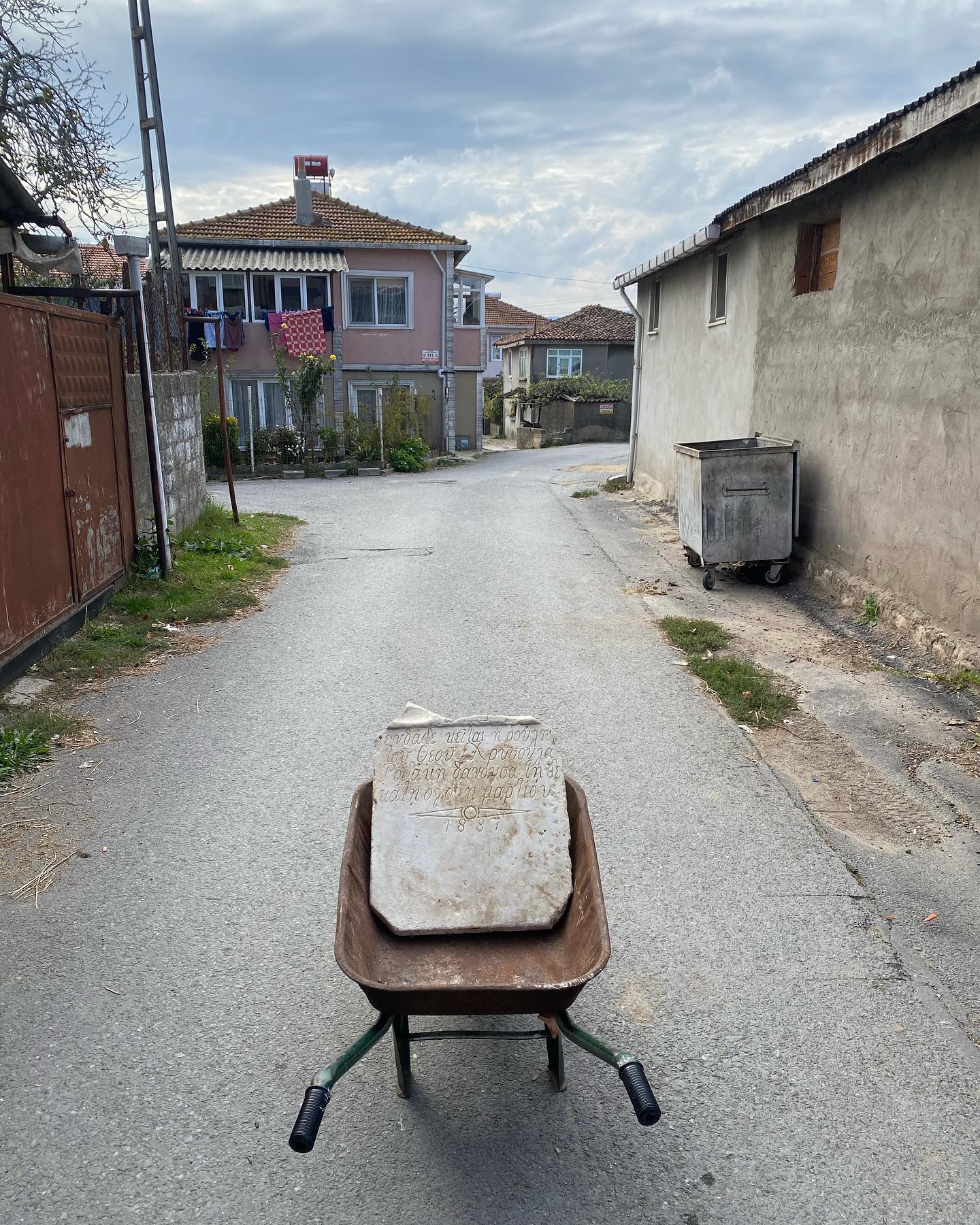 Theodoros' father was born in Greece in 1923, but always felt the need to return to Turkey, to walk in the same places his parents had. Theodoros arranged the trip in 2000. "It was very moving. He felt like he had found his roots," he said of his father. They went to Yalikoy on the Black Sea, where one side of the family hailed from, and found a 102-year-old man who spoke Greek and showed them the abandoned edifice that was once the family home. They learned that the people who later took ownership of the property chose to build another house next door and live there, "in case the original owners returned from Greece one day."
They didn't find anyone in Karacakoy to give them information.
A few months after that trip, meanwhile, they were approached by a lawyer who said that they could have a legal claim over the house in Yalikoy. They were not interested in embarking on such a process, however. "Likewise, someone could turn up here one day and ask for their land back. These things should stay in the past," Theodoros says today.
Meeting Kerem, however, gave him the opportunity to do what his father wasn't able to. "I told him I wanted to visit the house. He told me that I was always welcome, so I immediately booked a ticket," he explains.
Two days later, he stepped into the house built by his grandparents with stone and wood. "There was something very special about it; I felt quite overwhelmed emotionally," he says.
When he saw Chrysoula's tombstone in the garden, he put a hand on it and wept – for her and for all the loved ones who are gone.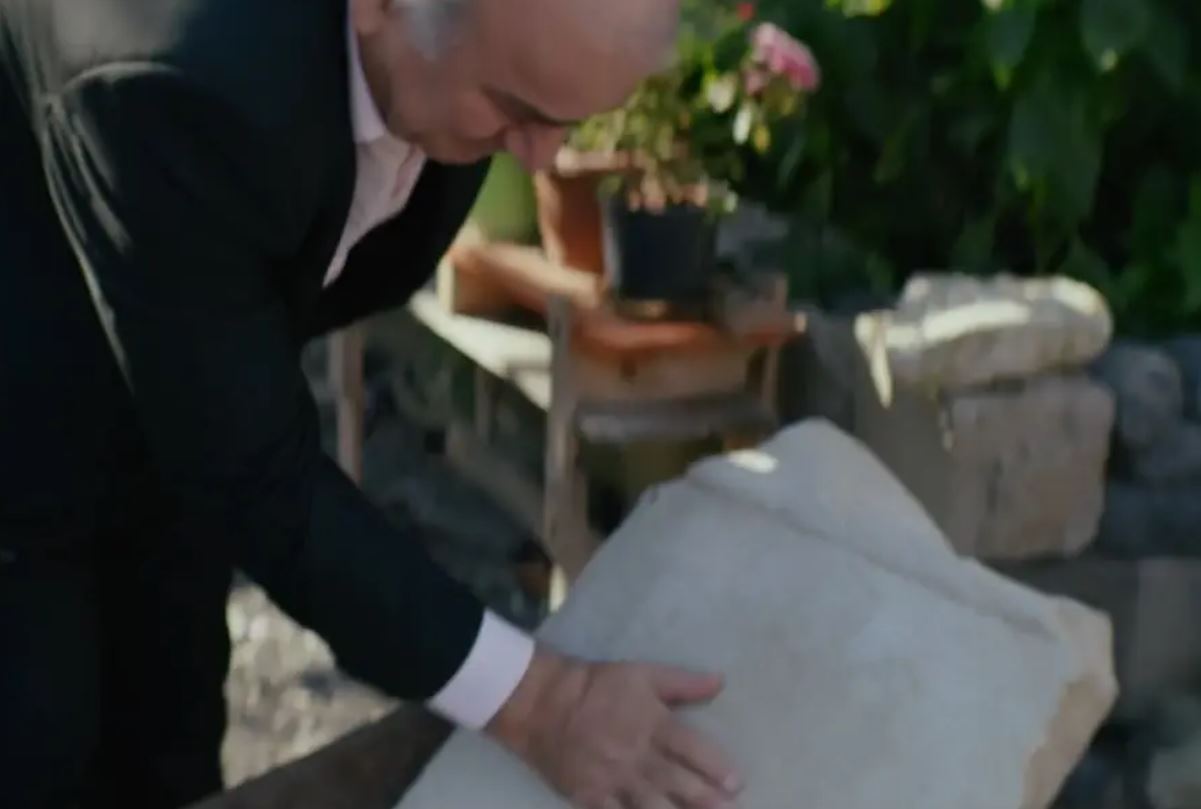 Original story titled "A Turk searching for the family of a Greek woman buried beneath his house" by Marianna Kakaounaki published here by Kathimerini Greece