Students worked up over semester exams citing stress, minister insists midterms can help ease burden
High school students staged a protest on Tuesday against semester exams in public schools, a new system that the government has been unable to implement during the pandemic but also because of very strong objections.
Local media reported that students from Nicosia and other districts descended on the capital on Tuesday morning, where they gathered at a parking lot and marched to the Presidential Palace to demonstrate against the implementation of a semester-based examination schedule.
Semester-based exams have been a hot issue for years with students and teachers rejecting the system, with the teenagers fearing too much focus on tests would degrade their learning and educators crying foul over the implementation.
Videos and photos from the demonstration showed student holding banners that read "suspend exams now" and "no to schools becoming big testing centers."
Education Minister Prodromos Prodromou has rejected the suggestion by students that semester exams would degrade their education.
"But in order to ensure quality, there has to be evaluation. If we don't evaluate, how can we make sure that the quality we aim for is actually there?" Prodromou recently said.
The minister also said in the last two years there have been evaluations based on semesters, saying that was progress.
But students cried foul over the new system being tried out inconsistently while student leaders have argued too many exams were a source of pressure and stress.
"Christmas holiday… oh wait… Prodromou & exams are coming," read another banner during the protest.
But Prodromou and ministry officials have argued time and again that students would only be tested each time on material taught up until that time.
"Is there going to be less stress if seniors only need to take one exam at the end of the school year on all the material?" Prodromou argued.
The minister says education experts argue that a mid-term exam will help students "get tested on half the material and then relax in January until they get tested on the second half in June."
Students also called on the government to cancel January exams this year at least for the high school seniors, many of whom study for college entrance exams in the summer.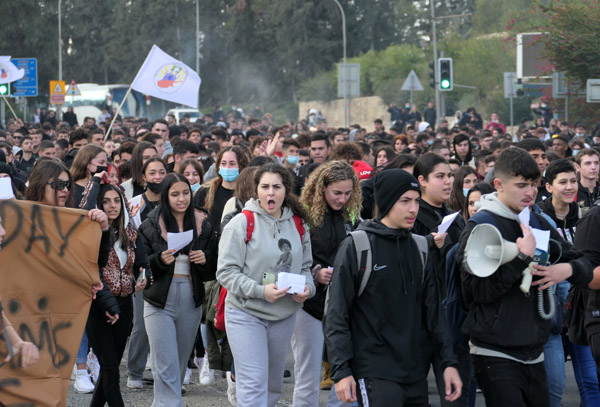 Prodromou says fears over final semester exams coinciding with university exams for seniors have been exaggerated.
"We came here to shout out loud that we will not accept to become robots. This can't be the future for our education. We won't compromise. We are not afraid of being marked absent," a student leader said through a loudspeaker.
The new system was approved in 2017 but has yet to be implemented fully.