No red carpet treatment in Cyprus for Dimitri Logothetis who is ready to abandon Olivewood
The director and producers of martial arts movie Jiu Jitsu sought audience with Cyprus' finance minister this week over delayed cash rebate payments, with reports saying the film makers are also ticked off by an unflattering audit report on the country's Olivewood scheme.
In a letter to Finance Minister Constantinos Petrides, Jiu Jitsu director Dimitri Logothetis pointed the finger at convoluted procedures, poor handling by Invest Cyprus, and an unprecedented involvement by the state's auditor general, saying the production company had not seen a dime since the production of the movie was completed in August 2019.
Jiu Jitsu, an action-packed martial arts movie, was the first film to rely on tax-payer money in a government cash rebate scheme aimed at promoting the making of films on the Mediterranean island. The programme includes tax rebates and credit breaks with up to 35% reimbursement for nearly all expenses made in the Republic of Cyprus.
But Cypriot Auditor General Odysseas Michaelides has raised doubts over money claimed within the scheme in its current form, while also pointing out better mechanisms were needed to determine whether cash paid out to film producers could be properly tracked and assessed for compliance.
Last month, Jiu Jitsu was featured in an unflattering report by Michaelides, who spoke of important flaws in the government's novice film industry scheme that came to be known as Olivewood.
"We found critical weaknesses within the terms of the scheme, which allow producers to exploit them, something that could potentially increase state expenditures for the Republic of Cyprus," the auditor wrote, adding that modifications were made in 2020 in favor of the applicants without seeking opinion from the Legal Department regarding any adverse consequences for the state.
Michaelides probed the entire scheme since its launch including subsequent modifications, while also finding some terms and conditions were not implemented along the way. A large segment in the report was dedicated to Jiu Jitsu, with the auditor saying he ended up covering two other major productions.
Logothetis told the finance minister 'the film committee under fear and pressure coming from political motives made critical mistakes regarding the amount for cash rebates on the Jiu Jitsu movie'
He also raised questions over lack of criteria in the makeup of Cypriot-registered companies, a requirement within the scheme, saying in one case the only shareholder of one of the production companies had obtained a golden passport in late 2017, saying most benefits from the scheme were going outside the country and the EU.
According to the report, nearly €18 million in rebate claims for Jiu Jitsu, which amount to 82% of production expenditures, involve pay for producers and their companies with 79% of that money going overseas.
Michaelides also noted there were no criteria within the scheme to ensure quality for productions subsidized by the government.
A day after the report, Logothetis' company Acme Rocket Fuel took to Facebook saying quality was subjective.
"Taste is entirely subjective, and a glance at Netflix's Top 10 most-watched list on any given day will make it perfectly clear that reviews from critics don't mean sh*t to the streaming service's 200 million subscribers," the post said.
Acme also said Nicolas Cage's Jiu Jitsu had "crashed onto the most-watched list in fifth place just 48 hours after being added to the library."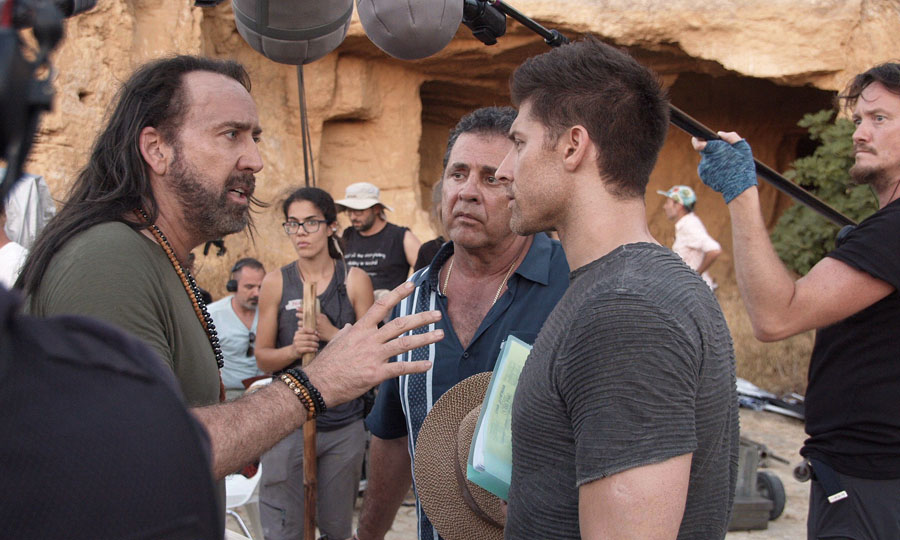 The Greek-born American director further told Kathimerini Cyprus he was waiting for things to clear up with Jiu Jitsu before starting the production of another movie, Man of War, saying his associates were pressuring him to move the entire production elsewhere, such as Greece or Malta or the gulf coast in the US.
But Logothetis sees political motives behind the probe in Cyprus, telling Kathimerini's Maria Eracleous that he intends to make public statements to Hollywood Press over "misinformation" and "nonsense" while referring to the allegations by the auditor general.
The director said his company claim in seeking €8 million in cash rebates for eligible expenses were audited by KPMG, which were also found to be in the ballpark by PWC, a firm acting on behalf of the Cyprus Investment Promotion Agency known as Invest Cyprus.
But Michaelides highlighted in his report a possible conflict of interest after finding that the head of a film evaluation committee, who is also presiding over Invest Cyprus, was also a consultant for an accounting firm that audited all the films approved so far within the scheme.
After the PWC contract had ended, several months passed until a new accountant could be found to carry out audits on behalf of Invest Cyprus, Kathimerini reported.
Kathimerini also said that Logothetis raised the issue in his letter to the finance minister, telling Petrides that "the film committee under fear and pressure coming from political motives made critical mistakes regarding the amount for cash rebates on the Jiu Jitsu movie."
Logothetis also said in his letter that he participated in an online meeting in which an Invest Cyprus official also took part, where it emerged that a "new auditor had rejected the previous findings and offered 1.5 million euro."
"Such a development shows unreliability in the Cypriot program," the Jiu Jitsu director said.
Logothetis suggested that Cyprus was losing out, as his next movie Man of War with an estimated budget of 37 million could be shot elsewhere.
"After all these developments, we are not going to shoot another film in Cyprus," he told Kathimerini.