Nightmare ends for Polish family after stolen urn is recovered along Nicosia-Limassol highway
A grieving mother who left Cyprus on Sunday after a brief holiday that had turned into a nightmare was overjoyed after police recovered a stolen urn with her son's ashes.
(Click here for an update to the story)
According to local media, a wooden urn that was stolen on Friday from a parking lot at Governor's Beach has been found along the Limassol-Nicosia highway after police were tipped off.
Police declined to comment on specific details but told Knews the urn was found based on information obtained through the course of the investigation.
Hours after her departure, Bednarz was informed immediately after the urn was retrieved and told that her son's ashes were intact
Local media reported that an unknown person phoned the police and told them about a location near Moni exit where a suspicious vehicle connected with the case allegedly had been seen earlier.
Officers found and retrieved the wooden urn on Sunday in the late evening, hours after the family who reported the theft had departed for Sweden. 
Kinga Bednarz, a Polish national living in Sweden, came to Cyprus with her family on a short vacation and to dispose of her son's ashes. She lost 19-year-old Dennis after a traffic accident in Sweden five months ago.
Bednarz had gone to the media to beg for the return of her son's ashes after thieves stole the wooden urn while the family was having a quick drink at a local restaurant. "We just want our son back," she said in a video before leaving the island on Sunday.
Hours after her departure, Bednarz was informed immediately after the urn was retrieved. She has also been told that Dennis' ashes were intact.
"We have got our box back," Bednarz wrote on Facebook.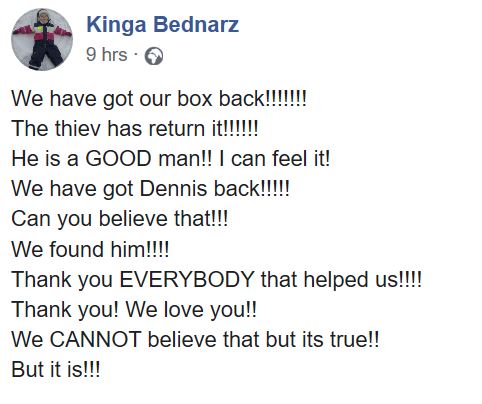 Reports also said arrest warrants have been issued for two Greek Cypriots, after a vehicle seen in the video footage of the incident was found in Yermasoyia. 
A 35-year-old woman and a 44-year-old man were arrested Monday early morning in connection with the case, while another suspect, a 33-year-old believed to have been the driver, still remained at large.
The two detained suspects are said to be known to law enforcement authorities in connection with a string of burglaries and robberies.