Republic of Cyprus charters deportation flights for rejected asylum applicants, more to follow in fight against 'ghettoization'
The Republic of Cyprus has begun expelling groups of foreign nationals who have been turned down for asylum, citing concerns over security threats and changing demographics due to a migration crisis.
According to local media, 200 Georgian citizens were flown back to their country in the month of May, after their asylum applications were rejected by the Migration office. Local reports said 90 of them boarded a chartered flight last week and 110 flew back on Tuesday.
Sources told Knews the flights were forced deportations while additional media reports said they were arranged in coordination with the Georgian consulate. Earlier this month, three Georgians were arrested at a migrant facility on assault charges after they protested for being rounded up and transferred to the camp. It was not clear whether the three men were among recent deportees.
Hadjiyiannis said persons among asylum applicants fit 'a terrorist profile' and cited Chloraka village in Paphos as an example of ghettoization
Interior Minister Nikos Nouris reportedly said the government paid all repatriation expenses in a concerted effort to reduce the number of asylum applicants who overstayed their visas.
According to daily Phileleftheros, Nouris said the state was organizing a voluntary return for 150 Cameroonians, adding the state would pay €88,000 for their flight back home. Syrian nationals also were said to be a high priority on the list.
The minister, who has been criticized for taking a tough stance on migration, recently said Cyprus was ready to deport 17 asylum applicants who were being suspected by the Republic of having ties to terrorism.
Migration crisis a "serious security threat"
Disy MP Kyriacos Hadjiyiannis, who took part in a teleconference in an OSCE Parliamentary Assembly webinar earlier this week, told his colleagues that Cyprus was facing a "serious security threat" due to a migration crisis. The webinar explored focused on best practices for specific measures that can be implemented with respect to vulnerable categories of migrants.
Hadjiyiannis said in the Republic of Cyprus that persons among asylum applicants fit "a terrorist profile" and cited Chloraka village in Paphos district as an example of ghettoization.
"A group of asylum seekers from a specific area of [a] neighbouring country apparently with close links to the ISIS exhibited violent and criminal behavior to the point that [local] inhabitants fear for their safety and their property," he said.
The Cypriot MP also said there were zero infections among asylum seekers in migrant reception centres, while persons belonging to vulnerable groups had been transported to other locations.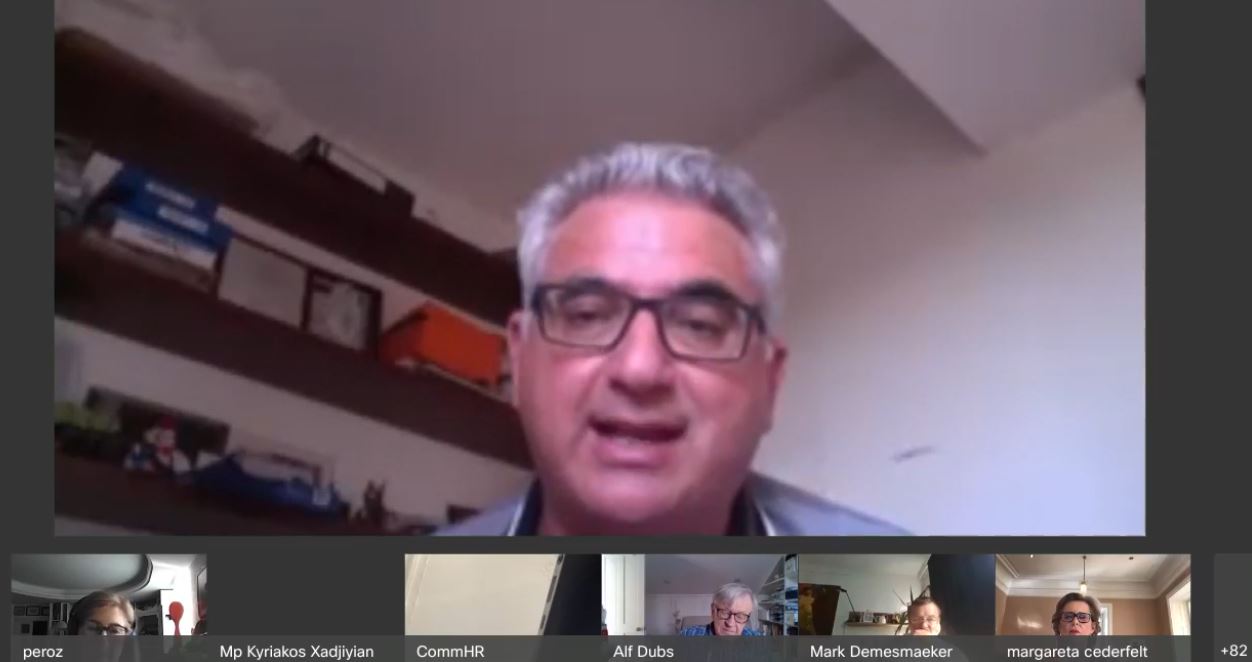 "The possibility to provide care of a better quality directly depends on the number of asylum seekers and the financial means available," Hadjiyiannis said.
The interior minister has defended government policies on migration, vowing on Wednesday to "restore demographic character" and saying changing demographics was a real problem in Chloraka and other locations.
"We are not against the assimilation of some people, as long as the numbers can allow it," the minister said later in another statement.
Earlier this week, Nouris was criticized for statements he made about a small group of demonstrators outside Pournara migrant facility in rural Nicosia, who had gone to protest the detention of asylum seekers and poor living conditions at the camp.
Nouris called the protesters "anarchists" and accused them of trying to steer off course the government's response to a migration crisis, adding that "those who do not respect the host country have no place and no basis to stay."
The minister also said the state was getting ready to deport 17 irregular migrants suspected of having ties to foreign terrorists, while proceedings were delayed due to ongoing pandemic and other legal issues.