Kathimerini Greece Newsroom
A Chinese Eastern Airlines passenger plane that crashed yesterday in southern China lost 8,800 meters of altitude in a short period of time killing all 132 people on board. The Boeing 737 was flying from Kunming City to Guangzhou when it crashed near Wuzhou City in Guangxi Province. The pilots never sent a distress signal.
The Chinese Civil Aviation Authority mobilized immediate and deployed rescue teams in the area. It is not known whether there are any survivors, but the testimonies of people who saw what happened do not leave much room for hope. No foreign nationals were reported on board.
Images from Chinese media showed dense smoke coming out of wooded areas at the crash site, as well as metal parts with the airline logo. Their authenticity, however, could not be confirmed. The Vuzhou City Fire Department said it had sent 32 fire trucks with 117 firefighters to the scene, while other agencies sent 538 people to the area to help with operations. However, the plane crashed in an inaccessible area where there is no road access and rescue crews had to cover long distances on foot. 
Late last night rescuers came close to the area, but stormy winds and heavy rain prevented the intensive search. Chinese President Xi Jinping immediately called for an investigation into the cause of the tragic crash, which is the first fatal plane crash in China since 2010.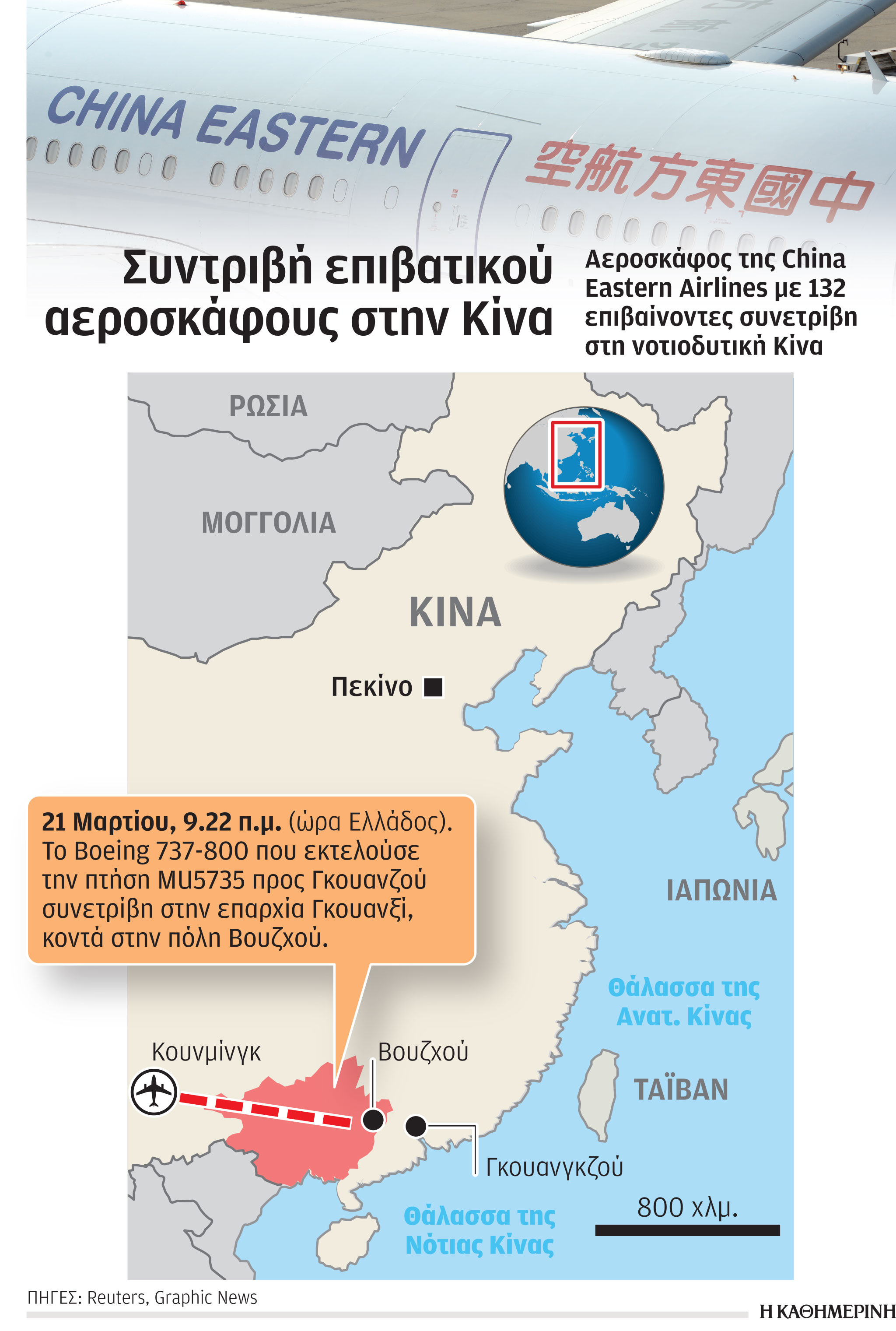 British experts say that many factors may have contributed to yesterday's tragedy, such as the loss of control by the pilots or the shutdown of the engines at high altitudes. Some other experts, however, who studied the plane on radar, said it seemed to have had a steady flight path before suddenly diving and that it reminded them of the crash of GermanWings AirBus A320 that crashed by in the French Alps in 2015, killing the pilots and all 149 passengers.
David Lirmound, the publisher of Flightglobal magazine, said: "There is no clear evidence of what caused the tragedy. We are currently seeing similar indications to those in the GermanWings accident. The disaster in 2015 showed the plane plunging rapidly, similar to the China Eastern yesterday.  The similarities worry us." The China Eastern Boeing 737-89P was just six years old. According to Chinese state media, China Eastern Airlines will keep all planes of this type on the ground until the cause of the accident is determined.