Zelensky insists Russian forces, not Ukrainian, fired into Poland, G20 diplomacy sidetracked after hit
Puzzled world leaders breathed a sigh of relief on Wednesday after it was revealed that Ukrainian forces, not Russian, had fired missiles into Poland, but the incident had already disrupted G20 diplomacy meetings in Bali and further revealed hidden divisions within NATO.
A rare word of praise from Moscow towards Washington stole the show on Wednesday, when Russian Presidential Spokesman Dmitry Peskov suggested there was a much more restrained reaction from Washington after a missile landed in a Polish village on Tuesday night.
Despite early information that pointed the finger at Russia, Washington did not corroborate the reports, with US President Joe Biden even saying there were indications the missiles might not have come from Russia.
"In this case, it makes sense to pay attention to the restrained and far more professional response of the American side and the American president," Peskov said.
The foreign ministry in the Republic of Cyprus took to Twitter on Tuesday to say Nicosia was "following with great concern the alarming developments" and standing "in full solidarity" with fellow EU member state.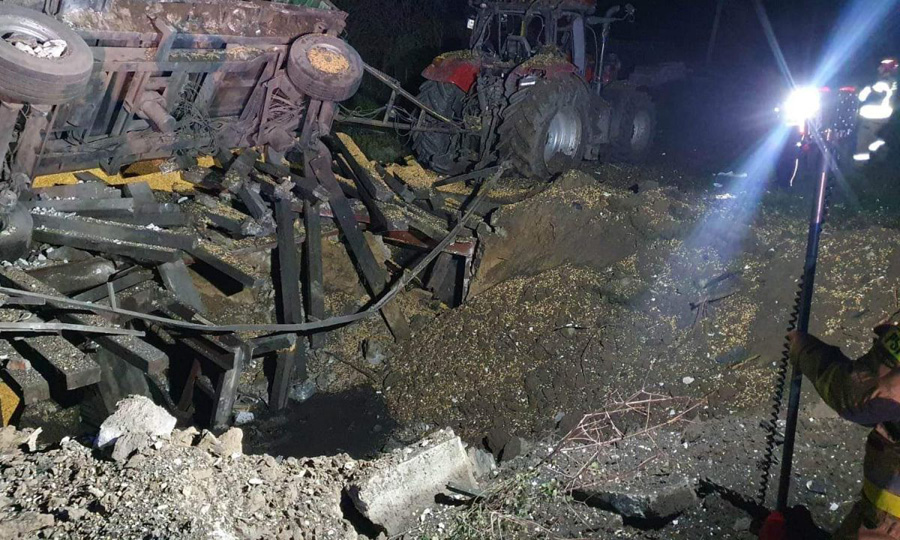 An investigation to establish facts was still ongoing, with Moscow saying their military had performed no strikes in the area and Kiev insisting it had evidence of a "Russian trace" to the explosion site.
Ukrainian President Volodymyr Zelensky said he was convinced the missile, which killed two people at a grain facility in Poland on Tuesday night, was not Ukrainian.
Kiev defense officials who responded cautiously to Polish assertions, after Warsaw said the rocket was "very likely" part of Ukraine's anti-missile defence system, said the issue was "very sensitive" and requested immediate access to the site.
The incident ended up overshadowing the following day that was supposed to be full of diplomacy and a series of bilateral meetings between various leaders that eventually got canceled
Washington pushed for a "stray missile" scenario in which Ukrainian forces would have probably fired in defense but never targeted Poland, while NATO Secretary General Jens Stoltenberg said there was no indication that the incident was a result of a deliberate attack.
But Moscow pointed out different reactions from NATO members, with Peskov saying Warsaw should have been clear from the beginning that debris had come from Ukraine's S-300 air defense systems.
According to the Russian News Agency, Peskov spoke of "frenzied Russophobia" in European reactions.
"In fact, high-ranking officials in different countries were making statements without having any idea of what exactly happened or what the real cause was," he said.
Contrary to a calm response from the United States and other Western countries, which called for facts to be established before drawing conclusions, other European NATO members adopted a more direct rhetoric that revealed some divisions within the military alliance.
Things eventually quieted down but not before the second day of the G20 Bali summit got sidetracked by the news.
After dinner on Tuesday, Russian Foreign Minister Sergei Lavrov, who was filling in for President Vladimir Putin at the summit, had already left on a scheduled departure flight while G7 leaders were summoned to US President Joe Biden's hotel after the news broke.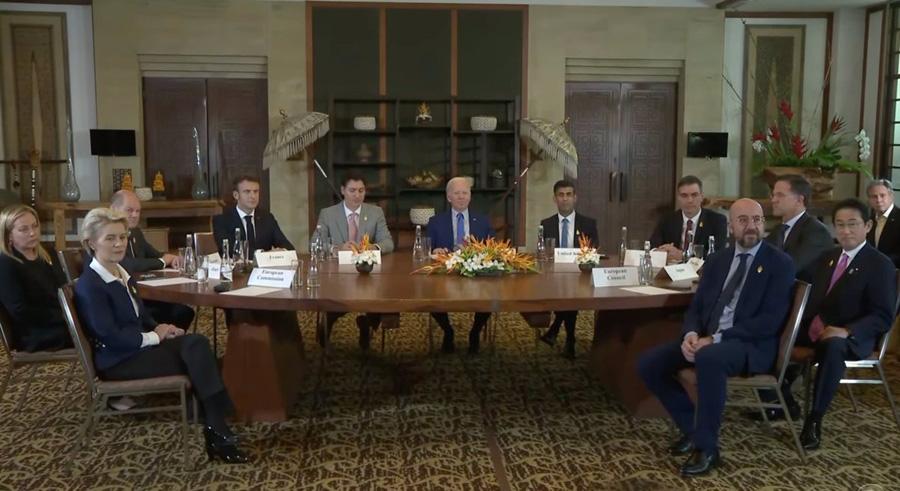 The incident ended up overshadowing the following day that was supposed to be full of diplomacy and a series of bilateral meetings between various leaders that eventually got canceled.
According to the BBC, a meeting between UK Prime Minister Rishi Sunak and Chinese President Xi Jinping was thrown out the window.
"Sunak jumped on a call with Ukrainian President Volodymyr Zelensky and Canada's leader Justin Trudeau," BBC said.
Missile hit overshadows G20 diplomacy
Zelensky reportedly told G20 leaders there was a "terrorist state" among them, according to media reports. Speaking by video link, the Ukrainian president called the strike on Poland "a true statement brought by Russia to the G20 summit."
A G20 statement later stated that "most members strongly condemned the war in Ukraine and stressed it is causing immense human suffering and exacerbating existing fragilities in the global economy."
"There were other views and different assessments of the situation and sanctions. Recognizing that the G20 is not the forum to resolve security issues, we acknowledge that security issues can have significant consequences for the global economy," the statement said.
UN Secretary-General Antonio Guterres, who was also in Bali for the summit, warned it was "absolutely essential to avoid escalating the war in Ukraine."
Article 5 of the North Atlantic Treaty says NATO countries "agree that an armed attack against one or more of them in Europe or North America shall be considered an attack against them all and consequently they agree that, if such an armed attack occurs, each of them, in exercise of the right of individual or collective self-defense."