The new Chief of Police said police must be effective in view of the changing landscape of modern crime
The new Chief of Police Stelios Papatheodorou and Deputy Chief Christos Mavris were sworn in at the Presidential Palace on Tuesday, with President Nicos Anastasiades stating that one of their main concerns should be restoration of the feeling of safety among the public.
In his address at the confirmation ceremony, Anastasiades said Papatheodrou and Mavris are tasked with ensuring that law and order are upheld, but also with defending the entrenched rights of each citizen.
"Upon assuming your duties, in complete cooperation with political head of the Force, I am sure that your primary concern will be the restoration of the feeling of safety among the public, enhancing the prestige and credibility of the Police and its members, and the strengthening of relationships of trust with society," Anastasiades said.
Besides, Anastasiades went on, "it is toward this direction that the overall effort of the Government has moved in recent years, achieving, through innovative approaches, the upgrading of Police structures for the first time since 1960, but also the improvement of the operational competence and effectiveness of the Force and its members."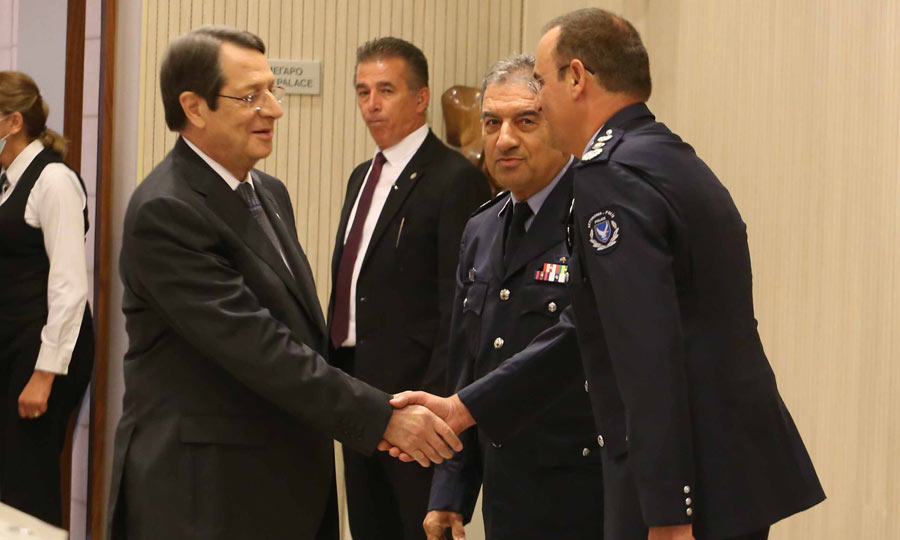 Anastasiades: Modernization of Police force in full swing
Anastasiades noted that the process for the restructuring of the Police force is underway, in view of developing a modern model for policing and operation, as well as a fresh training, development, and human resources framework.
Objective merit-based criteria have been adopted for the evaluation of Police officers, Anastasiades noted, adding that current efforts are being made to update criteria for the promotion, performance evaluation, and salary upgrade of officers, based on their education and training.
Additional steps forward were the setting up of a separate financial crime investigative team, and a specialist department for the prevention and combatting of serious crime and terrorism, while a special investigation team was also set up to deal with cases involving the sexual abuse of minors, Anastasiades said.
"We have strengthened the Police with more investigative tools to combat serious crime, such as passing legislation to monitor telephone conversations with a court order and always under strict conditions," the President went on.
He added that the Republic is moving forward with the filling of 250 positions in the Police force, while an additional 200 positions will be announced within the year.
Also an important improvement, Anastasiades said, is the doubling of the number of Neighbourhood Police in urban centres, while the number has multiplied by five in communities. In total, there are some 113,223 members of the Neighbourhood Watch across 30 municipalities and 311 communities, compared to 2012 when there were just 4,000 registered members in just three municipalities and communities.
"As a result, in 2019, we had a decrease in the number of cases involving serious offences, and an increase in the rate of detection," Anastasiades said.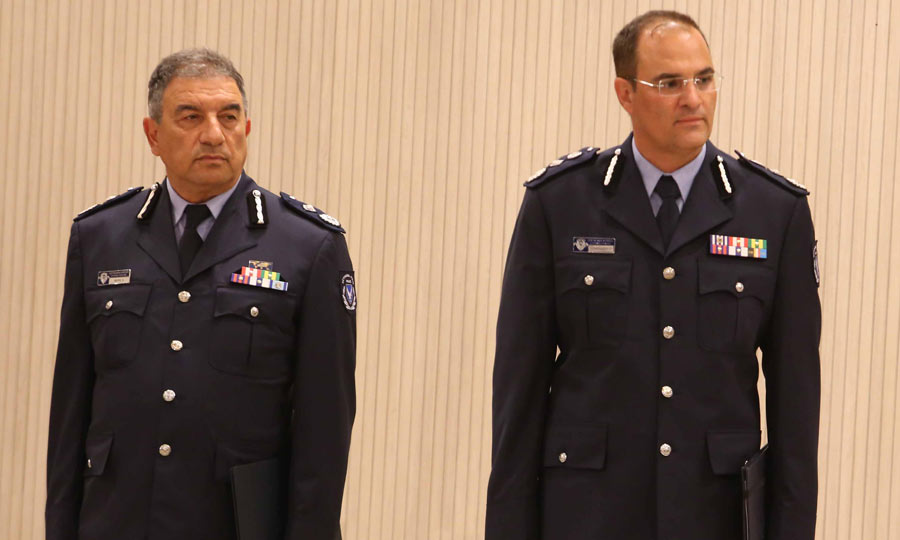 New Police Chief: modern crime is changing
On his part, the new Chief of Police said that "it is with a strong sense of responsibility that we will work to fulfil our task with the goal of maintaining public order and safety."
He added that "changes in modern crime are evident, and involve, among other things, migration, organized crime, corruption, and cybercrime."