Pro-migrant group KISA cries foul over dubious methods used by Cypriot and European agents
A pro-migrant group in Cyprus is accusing officials of using dubious methods to pressure a Syrian woman refugee to withdraw her asylum application, including hiding a recent development that could reunite her family on the island more quickly.
According to KISA, an NGO working against racism and xenophobia in the Republic of Cyprus, a female refugee who was separated from her family back in late August during a pushback was recently visited by two officers from the European Border and Coast Guard Agency (FRONTEX) and European Asylum Support Office (ΕΑSΟ) "to assist the government's effort to 'convince' the asylum seeker to return 'voluntarily' to Lebanon."
"Yesterday, we were informed by the Syrian refugee woman who remained in Cyprus while her husband and two children were illegally pushed back to Lebanon by the Cypriot authorities on 23/08/2021, that she had asked to withdraw her application for international protection and to return to Lebanon so as to be with her children who are constantly asking for her," KISA said in a press release.  
Syrian national Kawther Abdalaziz filed for asylum in the Republic of Cyprus after reaching the island on August 22, along with her husband and two young children as well as other undocumented passengers who were all pushed back to Lebanon by Cypriot authorities based on a controversial agreement between Nicosia and Beirut.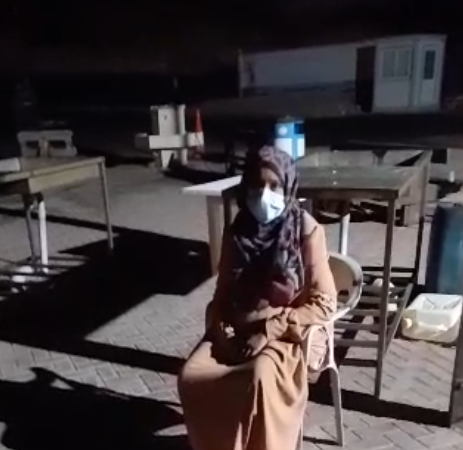 She was the only one allowed to stay behind due to her late-term pregnancy and ended up giving birth to her third child the following day.
Got separated from family during pushback
Last month during a House committee hearing on human rights, police said they no information that Abdalaziz's husband and children were on board a vessel that headed back to Lebanon.
But the committee also heard that left party AKEL leader Stefanos Stefanou had personally phoned Interior Minister Nikos Nouris to let him know "the pregnant lady has relatives on that boat."
KISA says the agents failed to mention to the refugee woman that the House Human Rights committee has asked Asylum Services to proceed immediately with the examination of her case
Abdalaziz, who is staying with her newborn at a migrant facility in Cyprus, is seeking asylum status on the island and reunification with her husband and two children who are currently in Lebanon.
But according to KISA, the officers from FRONTEX and EASO gave the woman "misleading" information and the NGO further accused the Cypriot government of previously trying to offer her money to convince her to leave Cyprus.
KISA claimed the two officers acted in bad faith when they gave the woman "wrong, incomplete, misleading, and unethical" information.
The NGO said the asylum seeker had been told by the FRONTEX agent that Lebanon was considered a "safe" country "and that according to the Cyprus legislation it is impossible to apply for family reunification."
"According to the UN High Commission for Refugees and other international and European organizations, Lebanon is not considered as a safe country," KISA said.
The NGO also claimed in a press release that the EASO official had told Abdalaziz she would need to wait at least one year after her interview with Asylum Services with a probability of success at 1% and that "if she decides to appeal at the International Protection Administrative Court she would have to wait for five years for the results."
KISA says agents gave misleading information
The alleged statements by the FRONTEX and EASO agents were "misleading and do not reflect reality," according to KISA.
"It is highly unethical and illegal for the authorities to make an estimate of the probabilities before conducting an individualized examination of an asylum application, especially in relation to the specific case of the Syrian refugee woman," KISA wrote in the press release.
The NGO also cited Refugee Law and Directive 2013/32/EU on fast track procedures for pregnant women, saying the two agents "failed to mention to the refugee woman the fact that the Parliamentary Committee on Human Rights has asked the Asylum Service to proceed immediately to the examination of the said woman's application for international protection and to proceed to all appropriate actions for granting permission to her husband and children to come to Cyprus."