Newly-appointed Minister of Foreign Affairs, Ioannis Kasoulides, has assured on Tuesday that there will be no change in foreign policy, instead, more attention will be given to particular issues.  He was speaking during his swearing-in ceremony at the Presidential Palace, in the presence of President Nicos Anastasiades who praised Kasoulides for his experience and for taking targeted decisions at times of crisis and commended the work of the outgoing Minister Nikos Christodoulides.
Speaking during the ceremony, President Anastasiades said Kasoulides held the post in the past with "absolute success and professionalism, taking well-thought and targeted decisions at times of crisis", always "bearing in mind the best interests of the country".
"There will be no change in foreign policy, however, some fronts might need more attention", the Minister said.
He pointed out Kasoulides' "great contribution" in Cyprus' EU accession course, his contribution in creating trilateral agreements, the substantial strengthening of Cyprus' relations with countries in the region, the Security Council and the wider region, as well as the decision to formulate the first national security strategy.
"It is one of the reasons I want to thank Mr. Kasoulides who, despite his decision to abstain from state posts, has accepted to assume the post of Foreign Minister again in view of the difficult conditions the country is going through", the President remarked.
The President expressed sadness for losing the services of one of his closest associates, Nikos Christodoulides, and thanked him for the close cooperation over the years as well as his dedication and effectiveness from various posts which were director of the President's diplomatic Bureau, Government Spokesman and most recently Foreign Minister.
The President said he has no doubt that with Kasoulides' proven experience, broad knowledge of diplomatic processes, realism and sound judgment, he will continue his substantial work at the Ministry.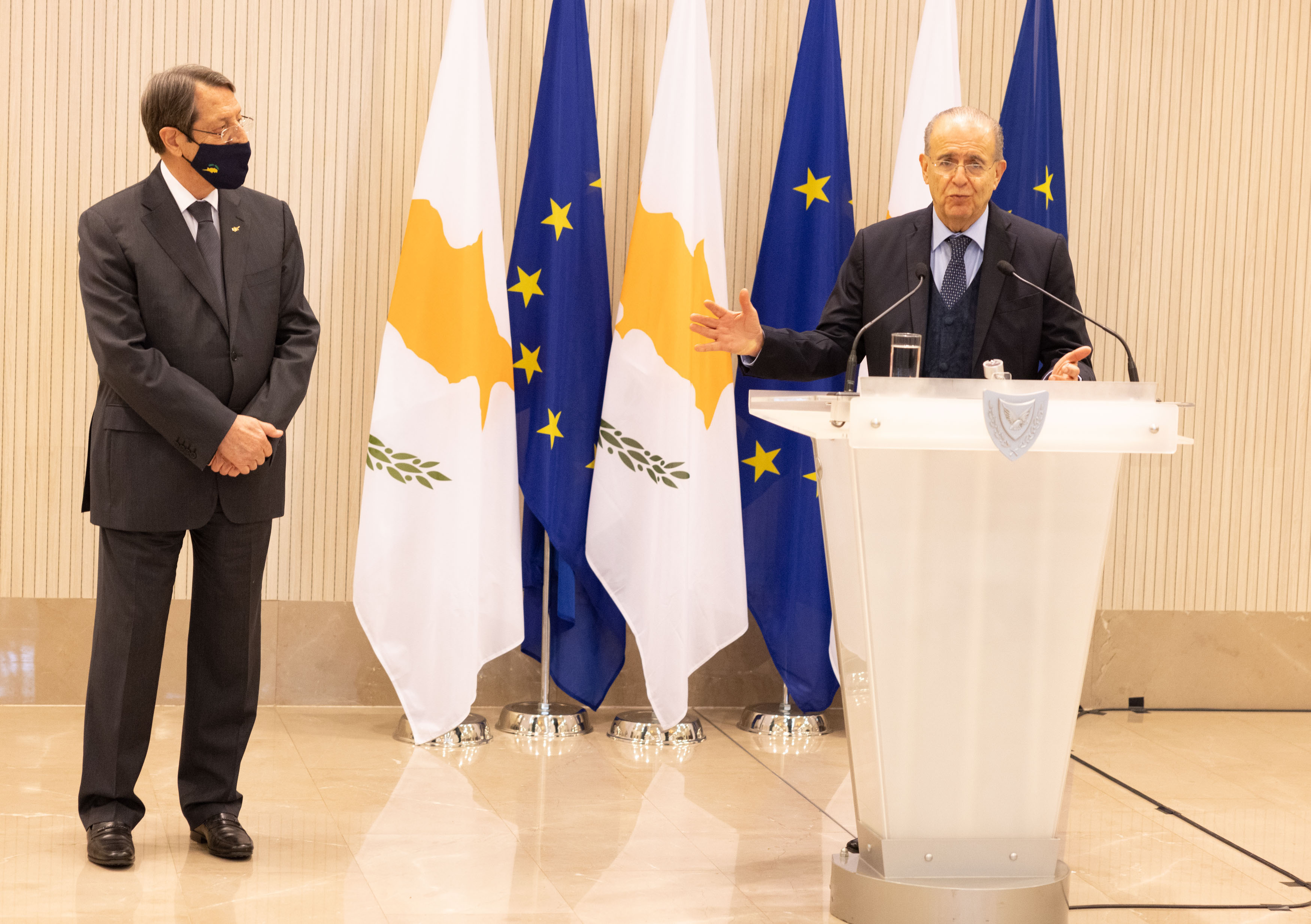 The new FM thanked the President for "calling him back to active duty from the Reserve", noting that he understood the great significance of these difficult times which will allow him to continue his contribution. He echoed the President, saying that "foreign policy does not change", noting that whoever is the FM, the same foreign policy continues because, according to the Constitution, the President takes decisions concerning foreign policy "and we execute them".
"There will be no change in foreign policy, however, some fronts might need more attention", the Minister said.
He explained that more attention is needed for diplomats assigned to Cyprus and this will be one of the Ministry's first tasks.
"We also need to pay greater attention to our solidarity with other EU member states as we are a country that has issues and only coherence with other member states can help us achieve worthwhile solutions."
He congratulated his predecessor, adding that he will say more during the ceremony when Christodoulides hands over the reins of the Foreign Ministry.