The President of Israel Reuven Rivlin will pay today an official visit to Cyprus at the invitation of his Cypriot counterpart Nicos Anastasiades.
A Police announcement said that due to the visit increased security measures will be taken. Roads will be temporarily closed in both Larnaca and Nicosia. The public has been asked to follow the instructions of police officers and show patience. For security reasons no time or location of road closures will be announced.
Government Spokesman Prodromos Prodromou said that Rivlin's visit will be the third visit by an Israeli President after the visits of Ezer Weizman in 1998 and Shimon Peres in 2011 and follows President Anastasiades' visit to Israel in 2015.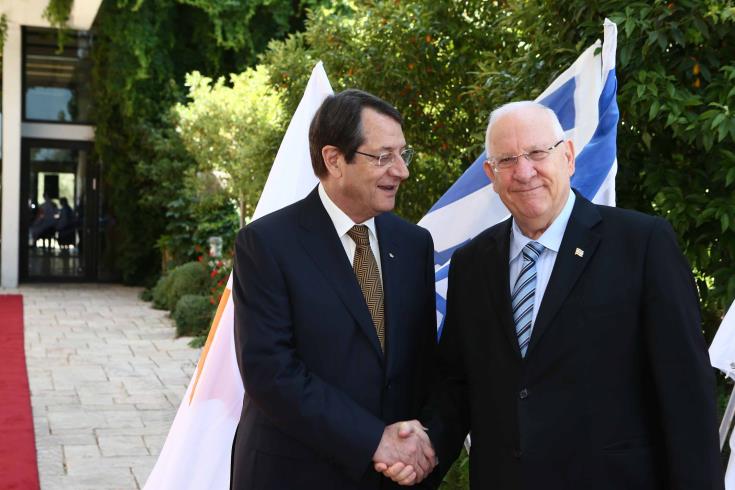 The Israeli head of state will hold a tete - a - tete meeting with President Anastasiades to be followed by talks in the presence of delegations of the two sides. Anastasiades and Rivlin will also speak to the press.
Rivlin's visit lies in the context of the very close relations between the two countries and the continued efforts aiming at further upgrading the ties between Israel and Cyprus, Prodromou added.

He said that the meeting will focus on the bilateral relations and their further improvement, with particular emphasis on issues which affect the citizens' daily life such as education, culture, business activity, environment, transport and cybersecurity. President Anastasiades will also brief his Israeli counterpart on the state of play concerning the Cyprus problem.
Anastasiades will also hold an official lunch to President Rivlin in the presence of the President of House of Representatives and Cyprus' political leadership. Later, Rivlin will visit the monument of the Cyprus-Israel friendship.