Nicosia police criticized over heavy-handed response to peaceful protest against corruption, protesters point to police brutality
A probe into alleged police brutality has been launched after law enforcement officials were criticized over a heavy-handed response to a peaceful protest against corruption in downtown Nicosia on Saturday.
According to local media, riot police officers and a water cannon truck took part in shutting down Saturday afternoon's demonstration in downtown Nicosia, where citizens gathered to protest against corruption, but also in favour of reunification of the divided island.
A young woman, who was captured on video at the moment when she was hit in the face by police water cannon, later issued a statement identifying herself and saying she was had sustained a serious eye injury.
"Police used water cannon to attack me because I was dancing peacefully on the sidewalk. I have a serious eye injury and I need surgery, but I don't regret anything! Kisses to all and stay strong," she wrote on social media.
Police had warned demonstrators that the gathering was unlawful, as protesters criticized officers for using excessive force as they moved to disperse the crowd, making several arrests and using force to detain suspects.
Justice Minister Emily Yiolits was quick to issue a written statement, saying "there is no place for extreme behaviour within the police force."
"From the very moment I assumed my duties, I had made it very clear to police that officer on duty need to stand by the citizens' side and abstain from using violent means," Yiolitis said, adding that the use of force should be only a last resort in self defense and only to the point pertaining to a situation where other means are ineffective.
"Judging from images I saw, it appears that the basic proportionality principle was absent, however this will be determined as the situation develops," the minister said.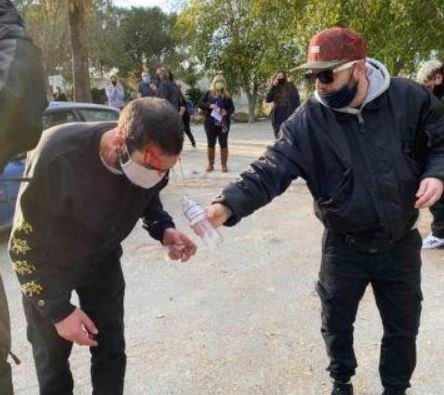 A number of short videos online appeared to show moments of violent confrontation between police officers and protesters, including a brief moment when a man was hit in the back of the head twice with a baton.
A statement from the police internal affairs committee said special investigators were tasked with launching a probe into allegations of police brutality, following the events on Saturday afternoon.
While measures against the spread of the coronavirus have been relaxing recently in the Republic of Cyprus, including re-opening schools, churches, and shopping malls, a number of other restrictions remained in place including a controversial ban on peaceful assembly.