Police headquarters suggest no signs of criminal activity but admit investigation still not over
Officials in Cyprus have postponed their findings on the fire at the Russian center in Nicosia, after a chemical report requested by the fire department was delayed, leaving room for speculation about the blaze as well as the overall investigation.
(Click here for an update to the story)
A chemical analysis of fire debris from the Russian Centre of Culture and Science, initially expected by Cyprus Police on Friday as part of a Fire Department incident report, was delayed according to local media that said now findings were not expected until Tuesday.
Fire Department spokesperson Andreas Kettis said the report on their end was ready.
'The investigations are at an advanced stage and there is no evidence so far of a possible malicious activity but any hasty conclusions about the causes of the fire should be avoided'
"But we need the results from the state lab before the report on our side can be complete," Kettis said.
Cyprus made world headlines after a fire broke out at the Russian center in midtown Nicosia on Wednesday afternoon, giving rise to speculation while theories ranged from an accident to arson.
Ash samples and other items were expected to be checked for any flammable substances, according to Kettis, who said a ruptured gas cylinder was among the items found at the scene following a fire that broke outside the building.
"It is absolutely crucial to ascertain whether the explosion preceded the fire or the fire came before the explosion," Kettis said.
But questions on whether the fire was an accident or on purpose were left unanswered.
The police investigation, which is being conducted by Headquarters and not by CID Nicosia as it is typical, was reportedly leaning towards an accident, after police spokesperson Christos Andreou stated "evidence before us until now does not point to criminal activity."
But Andreou also admitted police were still gathering evidence and statements while also awaiting a Fire Department incident report.
On Friday, the Fire Department said it was too early to establish facts, with Kettis pointing out that recent speculation about a tossed cigarette had emerged not from officials but from media outlets.
"There was fire both inside and outside the building but it is unclear what started it and whether there were two separate origins," Kettis said.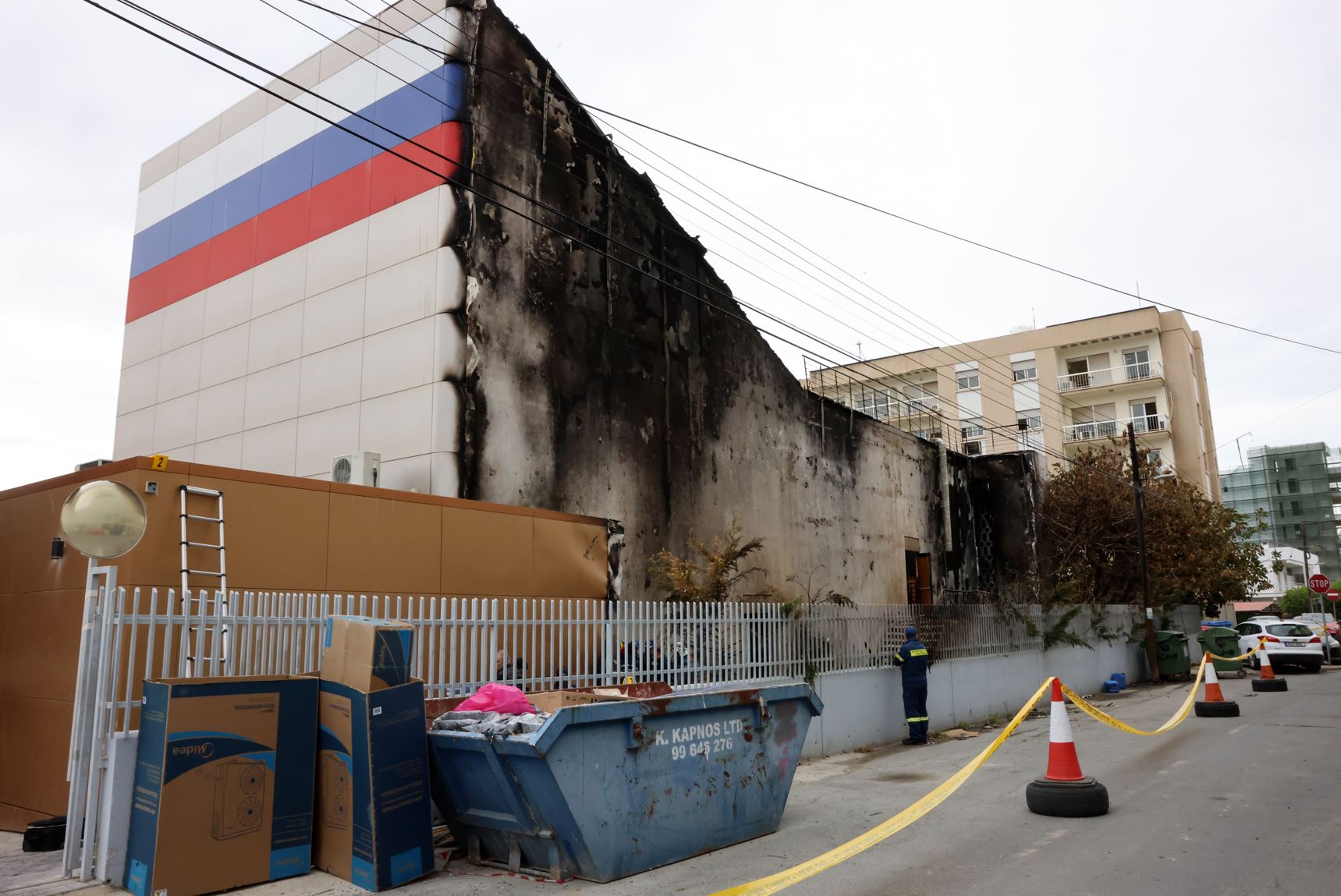 Renovation work that was taking place at the Center was suspected to have been the reason why the fire got very big very quickly, as insulation material and other items were present outside the building.
A foreign worker who said he was inside the building at the time of the incident told a local TV reporter that he had heard noise outside and that the fire already got very high by the time he got out three minutes later.
Russian Ambassador Murat Zyazikov, who spoke with police and fire officials at the scene, said he was briefed about circumstances and different scenarios.
Zyazikov was briefed again on Friday by Andreas Ignatiou, Political Director of bilateral affairs, according to Foreign Ministry spokesperson Theodoros Gotsis who was quoted by the Cyprus News Agency.
"Ambassador Ignatiou informed Zyazikov that the investigations carried out by the Cyprus authorities are at an advanced stage and there is no evidence so far of a possible malicious activity," CNA stated.
But Gotsis also added that "any hasty conclusions about the causes of the fire should be avoided."