High school principal offers to resign, removed from position as officials wrap up probe into hijab incident
High School principal Loizos Sepos has been relieved of his administrative duties at Saint Barnabas, following a controversy last week when he banned a female student who wore a hijab.
According to local media, an education ministry committee has issued a transfer order for Sepos to be assigned at another position away from his school, after the headmaster was caught in a media storm on Friday for asking a female student to walk out of the school and remove her headscarf before coming back.
"Officials have decided, in order to maintain a smooth and proper operation at the school, to transfer Mr. Loizos Sepos from Saint Barnabas High School to the State Institutes of Further Education," a statement said.
The minister said hundreds of students were preparing to storm the school in order to protest on Monday
The statement also said that a probe into the incident was to be concluded normally on Monday. The internal investigation had been ordered immediately following the incident to determine whether Sepos had acted within his authority or violated principles such as freedom of religion and cultural tolerance.
Senior high school student Alaa Harara, who told media she was stunned and hurt over the incident, was initially thinking about changing schools, after the principal had told her and her father to take up the issue with the Ministry.
But Education Minister Costas Hambiaouris told media over the weekend that a change of schools for the Cypriot-born Syrian refugee was out of the question.
"Don't you even think about it," Hambiaouris told reporters.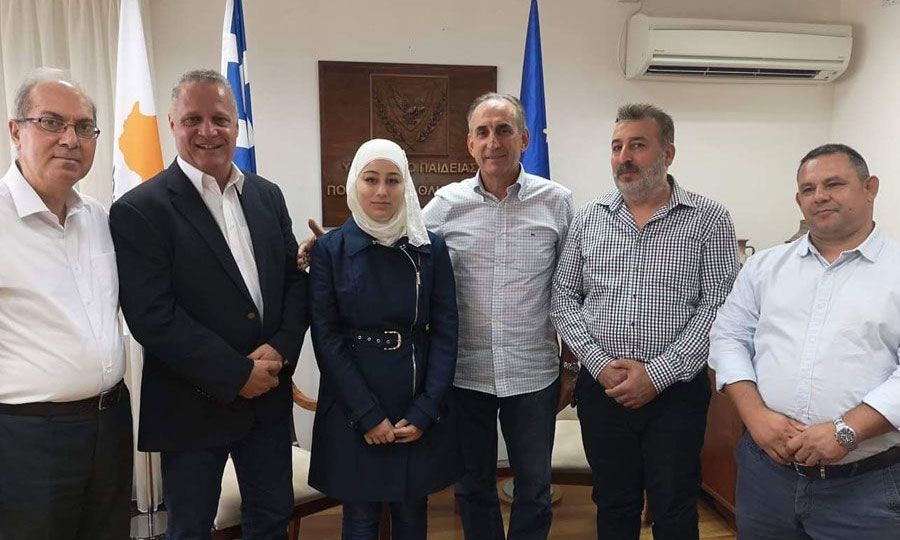 The minister had promised Alaa on Saturday that she would be able to go back to her school on Monday with his support, as well as her principal's support, following an impromptu meeting he held on Saturday with the student, her father, and Sepos.
"I will accept any outcome in this probe," said Sepos according to Hambiaouris, who said the school principal apologized to Alaa and the student replied she would go to school on Monday.
Earlier reports said Alaa and her father were deeply concerned over whether she would be allowed to enter school premises or whether Sepos would still ask her to remove the hijab.
The minister, who appeared on a TV morning show on Monday, clarified that the issue had been resolved during the meeting.
Sepos steps aside over escalation fears
But organized groups, according to Hambiaouris, kept calling for action that would include blocking Sepos from entering his school on Monday morning. The minister said hundreds of students were preparing to storm the school in order to protest on Monday, with the minister saying he had consultations with the police over the concerns.
Sepos later told the minister he was willing to resign in order to avoid further escalation, according to Hambiaouris, who added that an official statement later named Christos Zandiras as Sepos' replacement.
The issue had stirred up controversy with users on social media debating pros and cons of the transfer decision but also the initial request by Sepos to ban the student. Reports said Sepos had also pestered other students for wearing crosses and other items that he had taken to be violations of the dress code.
Alaa, who argued that she had been wearing the hijab in the last two years at the same school without problems, was reportedly told by Sepos that he was there to enforce the rules.
"It's not my problem if previous headmasters failed to enforce the rules, but I intent to uphold the law," Sepos reportedly said.
Hambiaouris said regulations allow female students to wear the hijab under certain circumstances, essentially contradicting the existence of a ban due to dress code issues.