Turkish Cypriot leader cold-shouldered by island's prominent bicommunal group of peace activists
Turkish Cypriot leader Ersin Tatar got the cold shoulder as he was out and about in north Nicosia on Saturday, when a mixed group of peace activists on the island refused to be cordial with the man they view as "Ankara's puppet."
Tatar on Saturday walked into Buyuk Han, a popular weekend brunch hangout where a mixed group of Greek Cypriot and Turkish Cypriot peace activists also meet for coffee once a week.
But when Tatar approached the table to greet the guests he received a cold reception, with some members turning their backs and refusing to engage with the Turkish Cypriot leader.
"I was there. He came full of smiles and left petrified," a Greek Cypriot man wrote on social media, adding that he was sitting at the next table where a Turkish Cypriot told his mixed group of fellow diners "this is not the president we elected but the president appointed by Turkey."
Tatar has been criticized by the Greek Cypriot side for calling on sovereign equality between two community states on the island, a move seen by political pundits as contrary to a federal solution now widely favored by Greek Cypriots.
The conversation spilled into other social media pages, with Greek Cypriots and some Turkish Cypriots praising the icy reception, while others found the incident rude
The conversation about the incident quickly spilled onto other social media pages, including the space of one of Buyuk Han's founding members – the group's unofficial photographer- who posts weekly photos from the meetings but had left out pictures from the Tatar controversy this Saturday.
Greek Cypriots who visited the page then wrote about the incident in the comments praising the icy reception, with one saying he preferred Tatar's predecessor. He then added "give me Mustafa Akinci any time as President of Federal Cyprus" while another called on people to "turn your back to extreme nationalist leaders and nationalism."
A Turkish Cypriot who replied to the comments said there was a difference between criticism and insult, adding "we elected our president and not yours. You can elect anybody you like on your side!"
"When you appoint a president on our behalf and criticize our president, it is democracy, when we disagree with your ideas, it is against peace! Nice!" he wrote.
The Buyuk Han Coffee Club has hosted many leading figures involved with peace negotiations and the broader Cyprus Problem, including ambassadors, foreign dignitaries, local journalists, and UN officials, who have described the group as a positive force for peace.
Tatar, whose father served as independent Cyprus' auditor general before the Republic collapsed after December 1963, appeared smiling again in a photo posted on Facebook on Sunday morning.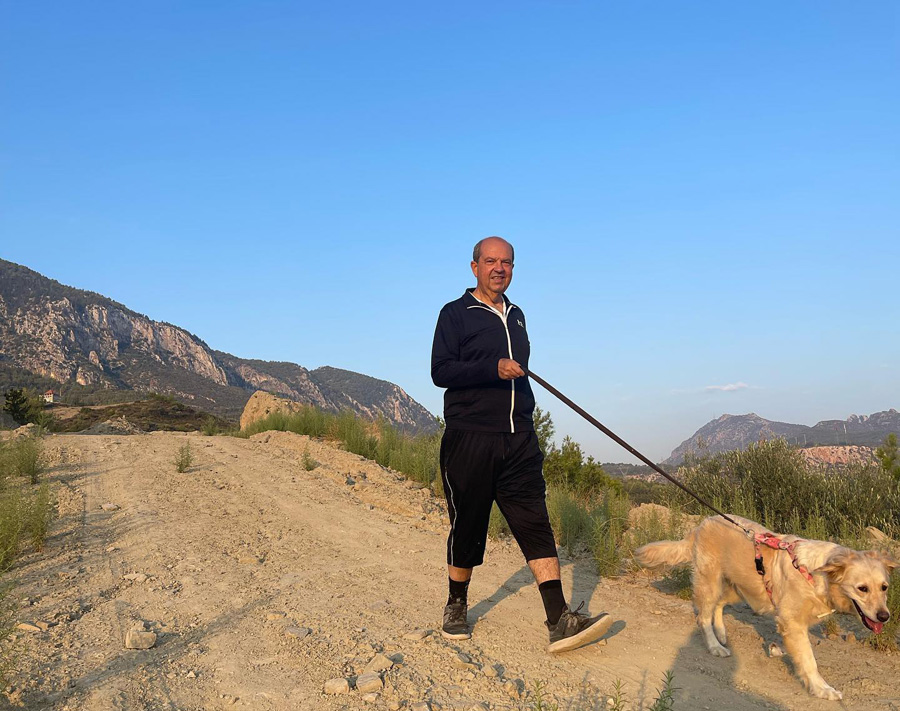 The Turkish Cypriot leader wished people to "have a nice Sunday" from Ozanköy/Kazafani, where he took his dog on a nature walk north of the Kyrenia mountain range.
Tatar, who rejects labels such as "puppet of Turkey" or being against peaceful solution, has said in multiple interviews that he always coordinates with Turkey on important issues.
Turkish troops landed in Cyprus in July 1974 following a short-lived Greek-inspired coup on the island. Peace negotiations since 1964 had failed to bring about peace on the island, with Greek Cypriots in the south calling Turkey an "illegal invader" and Turkish Cypriots in the north seeing the guarantor country as "protector."
Story has been updated to correctly state that Ersin Tatar's father had served as attorney general of the Republic of Cyprus