History and politics of Cyprus Problem front and center as Turkish Cypriots frown upon lottery image
A photo printed on lottery tickets in the north has landed officials in the hot seat and started a political media war, after it was revealed that depicted fighters holding a Turkish flag were actually Greek Cypriot paramilitaries rejoicing after capturing a Turkish Cypriot stronghold in 1964.
Local media on Sunday said the Turkish Cypriot lottery authority in the northern part of the island was recalling thousands of unsold tickets in a sweepstakes drawing scheduled for next month that had been issued to commemorate the Battle of Tillyria in 1964, after it emerged that the wrong photo used on the ticket had touched a nerve.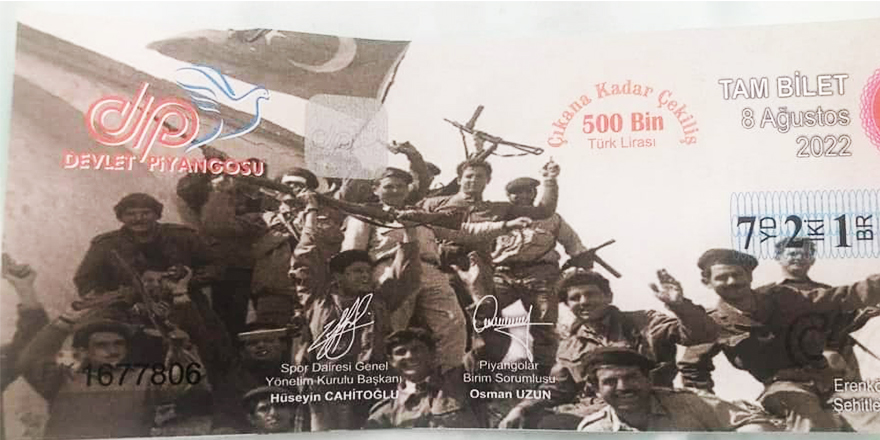 A publication on Sunday by Avrupa, a rogue newspaper formerly known as Afrika, accused Turkish Cypriot authorities of using a photo that had been touched up to obscure the location and context in the original image.
The lottery ticket was intended to commemorate the Battle of Tillyria in August 1964, known in Greek as Battle of Kokkina and in Turkish as Erenkoy Resistance, when Turkish planes bombed Greek Cypriot positions that had surrounded Turkish Cypriot enclaves.
But the photo printed on the lottery ticket was in fact showing Greek Cypriot paramilitaries. The men, including EOKA fighters and Red Beret volunteers, were shown hoisting a captured Turkish flag outside a chapel in the Kyrenia mountains following a generalized late-night assault in the area in April 1964, just months after the island embarked on a political crisis and ethnic violence.
But things got complicated after local politicians pointed out that the same exact photo had also been used by Tatar's office in a video to commemorate 20 July 1974
Turkish Cypriot leader Ersin Tatar called the lottery incident "a huge and unforgivable blunder" and said he would personally follow the developments to make sure those responsible would be punished.
"No one can humiliate our Erenkoy mujahideen, the glorious Erenkoy resistance, our national struggle and our holy martyrs no matter what," Tatar proclaimed.
The lottery administrator issued an apology and said revised tickets would re-circulate with a week's delay, placing the drawing a week later in mid-August, adding he wanted to reassure the public in the north that he would get to the bottom of what happened and make things right.
But things got even more complicated hours later after local politicians pointed out that the same exact photo had been used by Tatar's office, which published a video to commemorate 20 July 1974, when Turkish troops landed in Cyprus days after a short-lived coup on the island in the name of union with Greece.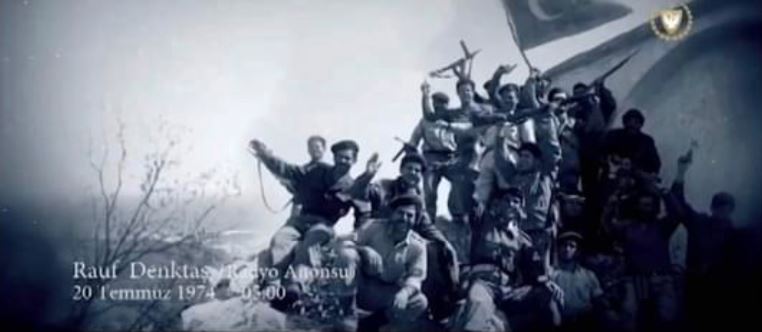 The administration quickly responded to the allegations on Sunday evening, saying in a statement that claims made by certain political circles were "false and malicious" and arguing a collection of photographs in the video was intended to portray "Greek atrocities and aggression" that caused "crying women and children to flee their villages."
Tatar went on argue that Greek Cypriot paramilitaries who took the "victory photo" had also taken the body of a dead Turkish Cypriot man and paraded him through nearby Greek Cypriot villages.
"With this photo in question, they were trying to send the message that they had crushed Turkish resistance in Cyprus," Tatar said.
After the political crisis began to unfold in December 1963, Greek Cypriot volunteers known as the Red Berets, a group backed by the late politician and socialist EDEK founder Vassos Lyssarides, joined other fighters and EOKA supporters for training activities in the Machera mountains in early 1964.
In a predawn surprise attack on 24 April 1964, hours after Turkish Cypriots celebrated Bayram, Greek Cypriots launched a late-night unexpected offensive in several enemy strongholds in the rugged Kyrenia Mountains, with EOKA fighters and Red Beret volunteers taking part in the assault that ultimately advanced government positions by a few miles.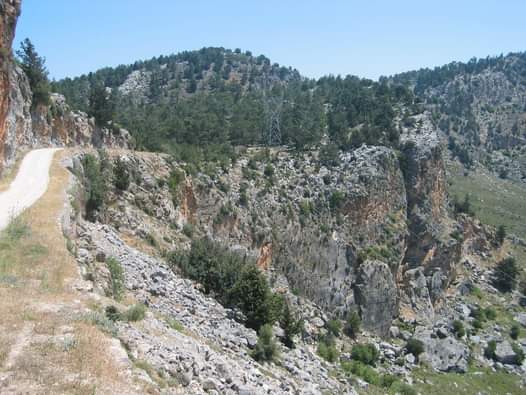 Based on historical accounts, Greek Cypriot residents in the region had been ordered to keep their dogs indoors as fighters stormed Turkish Cypriot outposts, including a location at Gomaristra with the Red Berets also capturing a crucial mountaintop enemy stronghold at Saint Elias.
The Saint Elias post, which looked straight down at an enemy landing strip, was reportedly abandoned by Turkish Cypriot fighters who were caught off guard and left guns and ammunition behind. Reports said the attackers had taken off their boots to eliminate noise, spreading out and firing shots to give the impression they had surrounded the place in large numbers, a move described as bold by UN observers.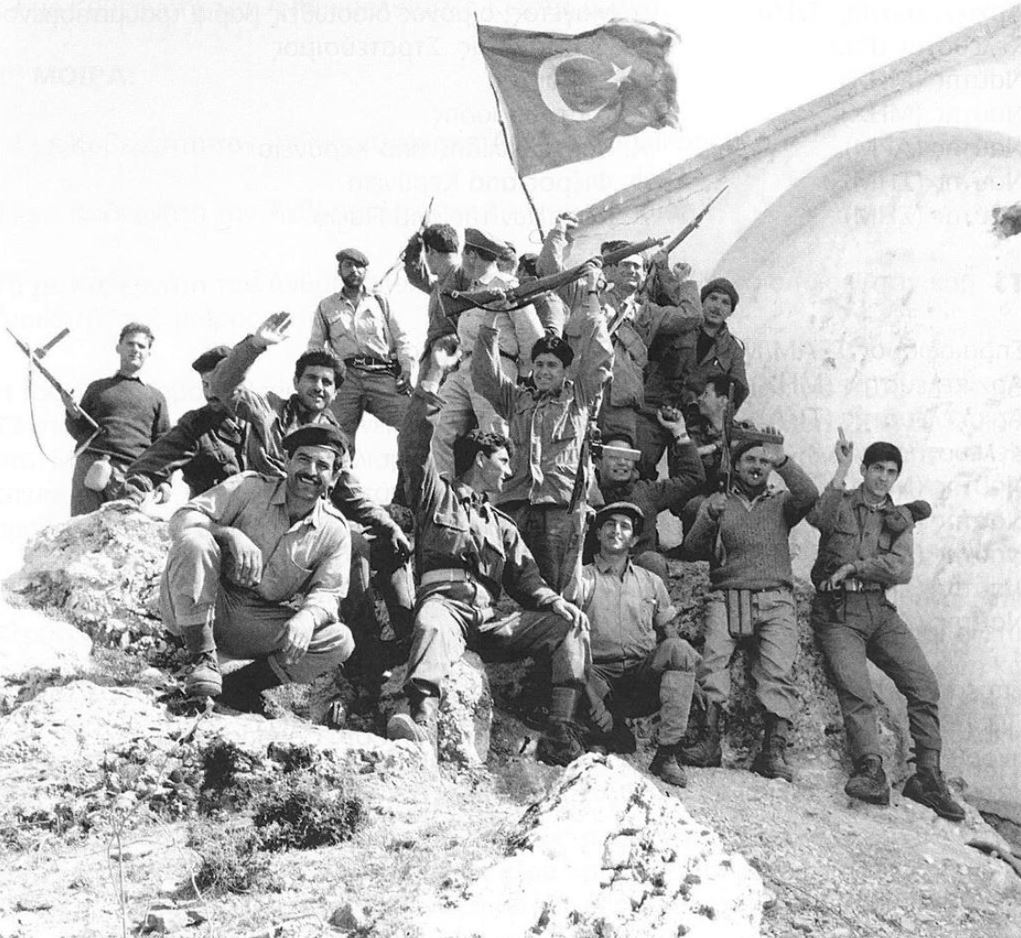 This was not the first time photo blunders were made in connection with the painful history of divided Cyprus.
A similar photo incident took place in the south years ago when EDEK leader Marinos Sizopoulos used an iconic photo of a crying woman to illustrate pain and suffering by Greek Cypriots.
Critics quickly pointed out that the image was in fact showing the late Nevcihan Olusum, a Turkish Cypriot woman who was photographed at the exact time she was being told her husband had been killed by Greek Cypriots.
War photographer Don McCullin had taken the photo in 1964 with the caption "A Turkish Cypriot woman mourning the death of her husband at Ghaziveram," but the photo had appeared in many publications making it a symbol of pain and suffering on both sides of divided Cyprus.